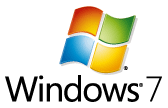 Windows 7 Home Premium
The Windows based operating system guarantees a familiar working environment, making is great for productivity. The touch-based functions are enhanced by the built-in Windows 7 Home Premium touch support.
Dual Core Processor for Exceptional Performance
Featuring an Intel® Atom® N570 dual-core processor, the S1080 achieves high-performance, providing exceptional functionality for daily mobile computing.
Stunning Capacitive Multi-touch Screen
Featuring a striking 10.1" capacitive multi-touch LED backlit 1024x600 display, the S1080 produces bright and clear images. The capacitive multi-touch provides a remarkable touch experience, perfect for making presentations, accomplishing business tasks, viewing media and playing games.
Touch Hot Keys For Quick Action
Touch hot keys are designed to make operating the S1080 fun and easy. To bring out the virtual keyboard or the handwriting feature simply press the keyboard icon. To scroll a page, there are up and down buttons that make it convenient to browse the web, read documents and view pictures. There is also a back button that can be used to quickly go back to a previous page.
Optical Finger Navigation and Mouse Buttons
The S1080 is equipped with an optical finger navigation button as well as left/right mouse buttons. This excellent design gives users the ability to operate the S1080 like they would with any non-slate computer. Now opening applications and making precise edits to documents is simply a breeze. The optical navigation button can also be used for clicking, dragging and page scrolling, just like a real mouse. The buttons can even be used to bring out the task manager by pressing them together at the same time.
Large Storage Capacity for Practicability
Never worry about space limitations with a massive 320GB hard drive! The large storage 2.5" 7mm hdd makes it easy to load the S1080 with all your important applications, files and media like music, photos and movies.
Full PC Connectivity with I/O Ports
The S1080 comes equipped with numerous I/O ports, providing exceptional connectivity to make it a great device at home and on the go. With USB it's easy to hook up useful peripheral devices like printers, flash drives, cameras or mobile phones. If you want something faster, then use the high-speed USB 3.0 connection that provides data transfer speeds up to 10 times faster!
There is also an SD card reader, which is perfect to use for viewing multimedia from a digital camera or video recorder. When at home or work, the S1080 can even transform itself into a full computer by using the D-sub port to hook up a second monitor for dual-screen multitasking. Users can also hook up the fixed line LAN port for superb internet connectivity.
Wireless Connectivity for Ultimate Mobility
When it comes to mobile connectivity, the S1080 is packed with options. With 802.11b/g/n, simply connect to Wi-Fi at places like your home, the office and coffee shops. The S1080 is also capable of 3.5G support that provides high-speed internet access anytime and anywhere. Bluetooth 3.0 is another excellent feature that provides instant wireless data transfers, great for sharing important files between devices in close proximity.
Battery Status Check
The innovative function of battery status check in off-modecan save your time instantly which brings you a convenientmobility life.Simply press the volume button "-" to check the remaining battery life of the main battery and the extended battery.

Extended Battery for Long-lasting Enjoyment (Optional)
The extended battery provides about 3 extra hours of battery life, great for long flights, all day meetings and those times when you are on the go. The small extended battery weighs just 100g and is smartly designed to make it very easy to carry.
Portfolio Carrying case with Built-in Stand (Optional)
The S1080 has a specially designed portfolio carrying case that comes with a keyboard kit to deliver a notebook like experience. The keyboard attaches to the S1080 by USB cable and makes it easy to stay productive while on the go. The carrying case not only protects the slate, but also comes with a useful built-in stand on the back. The stand makes it easy to prop the S1080 on a desk to watch movies, surf the internet and read documents.
Transform the S1080 into a Multimedia Center with the Docking Station (Optional)
While the S1080 is great to use as a business tool, there is also a fantastic docking station (D1080) that transforms the slate into a thrilling multimedia and entertainment center. The docking station comes with a DVD drive and a powerful audio system that is great for enjoying music, movies and videos. The docking station also has full I/O ports that bring excellent connectivity options and also ensures that there is never any need to deal with the hassle of unplugging accessories or power cords.