WINDFORCE 2X cooling system
GIGABYTE introduces WINDFORCE, the latest cooling technology that differentiates the brand's graphics cards from the rest. GIGABYTE understands that a fan is crucial to the graphics card, so only the fan with the most efficiency is selected for WINDFORCE.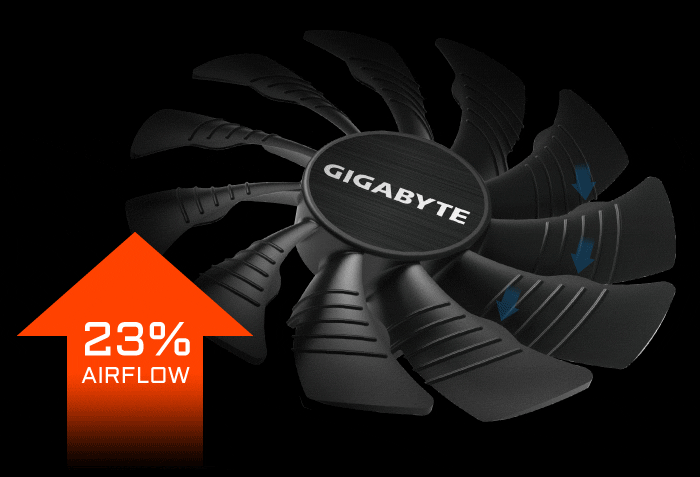 Unique Blade Fan Design
The airflow is spilt by the triangle fan edge, and guided smoothly through the 3D stripe curve on the fan surface, effectively enhancing the air flow by 23% over traditional fans.
Composite heat-pipes
The composite heat-pipes combines both thermal conductivity and phase transition for efficiently managing the transfer of heat between two solid interfaces which increases 29% of cooling capacity.
3D Active Fan
Featuring the new semi-passive fan design. When the GPU is under a set loading or temperature, the fans will remain off, creating an absolutely silent environment for gamers.
Heat Pipe Direct Touch
Equipped with pure copper heat pipe direct touch (HDT) technology, delivering superior cooling capacity and heat transfer efficiency at an extremely low noise level.
One-click Super Overclocking
With a simple click on OC GURU utility, gamers can easily tune the card to meet their various gaming requirements without any overclocking knowledge, while saving the hassle of manual adjustment.
Flex Display technology
GIGABYTE Flex display technology(patent-pending) can automatically detect any connected monitors and achieve multi-display gaming up to 4 monitors at the same time by using various output groups. Users could enjoy the best gaming experience in ultra HD resolution with extended flexibility in arranging monitor configurations and making future system upgrade extremely easy.
Ultra Durable VGA™




Lower GPU Temperature

Ultra Durable VGA board provides dramatic cooling effect on lowering both GPU and memory temperature by doubling the copper inner layer of PCB.




Better Overclocking Capability

Ultra Durable VGA board reduces voltage ripples in normal and transient state, thus effectively lowers noises and ensures higher overclocking capability.




Decrease Power Switching Loss

Ultra Durable VGA board allows more bandwidth for electron passage and reduces circuit impedance. The less circuit impedance, the more stable flow of current and can effectively improve power efficiency.
OC GURU ll
Brand-new intuitive user interface helps you easily modify important settings and directly update driver and BIOS. Clock speeds, voltage, fan performance, and OSD setting can be monitored and tuned in real-time according to your own preference.