Notice:
GIGABYTE Download Center is developed by Microsoft ActiveX technology. Please enable Active X related setting and use Windows XP/Vista/7 and IE 6.0 or above to ensure it works properly.

Microsoft update 912945 will cause conflict with GIGABYTE Download Center. Please remove Microsoft update 912945 first before using GIGABYTE Download Center.

If you are using Microsoft Internet Explorer 6.0 or above but still encounter errors when accessing Download Center, please click here to get more information.

If you are using

Windows Vista

, please use the following steps for the GIGABYTE Download Center.
Step1. Move your mouse to Internet Explorer icon and right-click "Run as administrator".
Step2. Choose the "Administrator mode", and then open Internet Explorer.
Step3. Follow the step by step procedure of the GIGABYTE Download Center.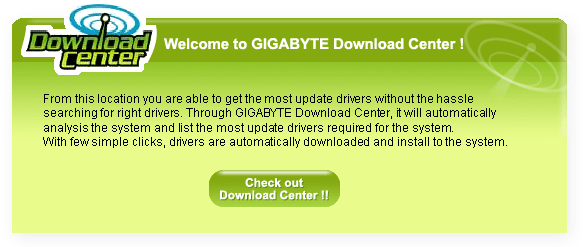 The following are the step by step procedures of using GIGABYTE Download Center.
When entering GIGABYTE Download Center for the first time, a trusted content dialog window will pop up, please click "Yes" button to accept in order to proceed to next step.
Click "GO" button, Download Center will begin to analysis system for the most update drivers needed.

Note: GIGABYTE Download Center will only scan for system hardware driver information. It will not send or retrieve any personal information from the system.
This image shows the progress of Download Center analyzing your system.
After the analyzing is completed, it will show the list of drivers required for the system,You may select:
1. Click on "

Click to Install All Drivers

" button to download and install all listed drivers
2. Click on the check box to select individual driver, click "

Install

" button to download the selected drivers.
After installation process is completed, click "

OK

" button to reboot system for new drivers to take effect.