GIGABYTE 8 Series Feature Highlights

Gaming Headphone Amplifier (Front Headphone)

GIGABYTE 8 Series motherboards feature a high capacity headphone amplifier which is able to drive 600Ω loads, allowing gamers to enjoy a fuller range of dynamic sound with crisper details and less distortion when using high quality professional headphones. Featuring a wide bandwidth, low noise, high slew rate and low distortion, GIGABYE 8 series motherboards are ideal for professional audio usage and gaming enthusiasts.

Enhanced Audio
Experience
GIGABYTE On/Off Charge™ 2
GIGABYTE On/Off Charge technology is revised and upgraded on all GIGABYTE 8 Series motherboards, with comprehensive and enhanced charging support for a broad range of devices that include those that run both iOS and Android. Users can enjoy fast AC charging over USB on mobile devices, even when the PC is turned off.
Quick Charge Your Mobile Devices
Intel® Gigabit LAN
The latest GIGABYTE 8 Series motherboards come equipped with Intel® Gigabit LAN networking, a popular choice with gamers that features several performance-enhancing features such as advanced interrupt handling to help reduce CPU overhead and Jumbo Frame support for extra large data packets.
Extensive System Fan Support
GIGABYTE OPT Fan Support

Many of today's 3rd party water cooling systems require CPU fan power support for both the cooling fan and the water pump. GIGABYTE 8 Series motherboards feature OPT fan support, an additional CPU fan pin header that can be used to connect a water pump and configured for continuous full speed operation. The OPT Fan is also useful for high performance coolers employing two fans.

Option 1

: OPT Fan Support for Water Pump

Option 2

: OPT Fan + CPU Fan Support Dual CPU Fans Cooler
New GIGABYTE EasyTune App
• Simple and easy-to-use interface that allows users to fine-tune their system settings
• Adjust system and memory clocks and voltages in a Windows environment
• System-related information display without the need to install additional software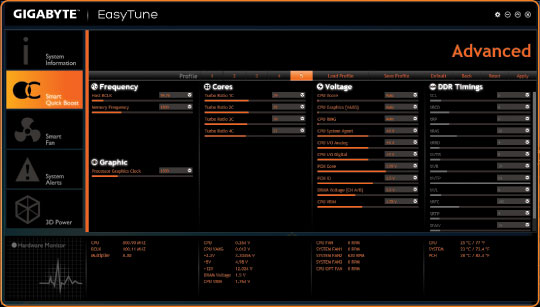 GIGABYTE Smart Fan 2
As well as offering more system fans than ever before, GIGABYTE 8 Series motherboards feature updated and improved CPU and system fan speed controls, with individual airflow and speed settings available via a dedicated digital controller. GIGABYTE Smart Fan 2 allows you to configure CPU fans and system fans.
New GIGABYTE App Center


GIGABYTE App Center gives you easy access to wealth of GIGABYTE apps that help you get the most from your GIGABYTE motherboard.

Using a simple, unified user interface, GIGABYTE App Center allows you to launch all GIGABYTE apps installed on your system.
GIGABYTE @BIOS App

The new and updated GIGABYTE @BIOS app allows you to update your system's BIOS from within Windows using a simple and slick graphical user interface by automatically downloading the latest version from the GIGABYTE servers.
GIGABYTE EZ Setup
GIGABYTE EZ Setup combines several key utilities designed to simplify install and configuration procedures for several exclusive GIGABYTE apps including Disk Mode Switch, Smart Connect, EZ Rapid Start and EZ Smart response.
New GIGABYTE UEFI DualBIOS™
• Take control of how your BIOS looks and feels with a fully customizable UI
• Adjust overclocking and performance settings in real-time
• Smooth mouse control and shortcuts for fast navigation

GIGABYTE's new Dashboard mode allows users to have complete access to all data related to your motherboards key components including CPU, graphics and memory clocks, temperatures and voltages.
For the first time ever, overclockers can adjust CPU clock, frequency and voltage settings in real-time within BIOS. This massively saves time, allowing users to find optimal settings without having to reboot.
Features and Actual component specifications may vary by model.
Photos are for reference only.