GIGABYTE presents the GS-AH6G3N Business Notebook
The Latest Intel® Technology Inside a Turnkey Solution
2011/04/26
The GS-AH6G3N embeds the new Intel® platform for mobile products, with the most powerful and efficient processor and chipset for a reliable and durable business notebook. Designed for professional end users, our product includes all the most important features required by a utilization in a business environment. The GS-AH6G3N is therefore a very versatile business notebook, with the highest standard of performance and quality from GIGABYTE. It is nevertheless a stylish product, with an excellent design and ultra-thin profile, as well as a very light weight and a large power autonomy for the smoothest mobility.
With its high value features, the GS-AH6G3N has everything to be the best work tool for your daily business life!
The Best Business Features
The GS-AH6G3N offers all the important features that a good business notebook should have. Probably the most critical feature, the GS-AH6G3N has a power autonomy of about 7 hours, which can be extended to 10 hours with a second battery docked in the swappable ODD bay (this bay can also dock a second HDD).
Then, it also includes top quality video conference, with a 1.3Mpx webcam and a digital microphone for the best audio and video quality, as well as a finger print recognition sensor for a fully secured access to the computer. Last but not least, we didn't forget to think about your mobility with a total weight inferior to 2 kilograms, the GS-AH6G3N is as light as possible to accompany you in your business trips.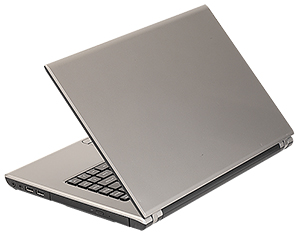 Sandy Bridge Microarchitecture
The GS-AH6G3N notebook supports Intel®'s new 32nm microarchitecture and the rPGA 988p socket, allowing our product to operate with the new Intel® Core™ processor family, which brings, among others, a 25% performance improvement and lower power consumption compared to the previous CPU generation.

USB 3.0
The GS-AH6G3N includes two USB 3.0 ports, enabling superfast transfer rates of up to 5Gbs. This new technology will make users experience a speed about 10 times faster than the previous USB 2.0, with which USB 3.0 ports will still be compatible. Moreover, USB 3.0 also delivers a 9 times bigger power transfer, which means a much faster charge of external devices such as cell phones, MP3 players, and so on.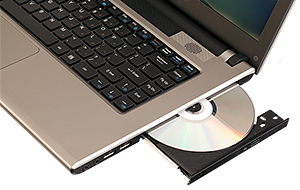 Memory
The GS-AH6G3N includes two SO-DIMM connectors supporting DDR3 memory for a maximum of 8GB.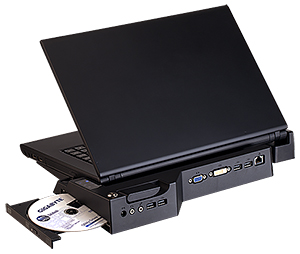 Complete specifications here!