Maxim 5 modele pentru comparare. Vă rugăm sa ştergeţi câteva modele înainte să adăugaţi. Mulţumim.
GB-BER7HS-5700 (rev. 1.0)
All new chassis design, Tall version
New AMD Ryzen 5000U mobile processors
AMD Radeon Graphic
Super Fast 2.5G LAN + Wifi 6 module
4x4K outputs, 2xHDMI, 1 mini DP and 1 USB type C DP, all support 4K@60P
Up to 7 USB 3.2 ports (up to 4 front+3 back)
Up to 3 x 2280 M.2 SSD storages
Optional Next Gen Upgrade KIT :
Add Second LAN/ M.2 / RS232 COM port
TPM security chip available*
VESA mount support

* Datasheet Download

New Modular Chassis
Performance
Low Noise
Upgrade Kit
BRIX Extreme (AMD) Series - Uncompromised Performance
Ryzen 5000U Series Performance
AMD
Connectivity
Output
DDR4
VESA
AMD Ryzen™ 5000 Series Overview
AMD Ryzen™ processors have all the best features to keep you in the game. With great processing power comes the bleeding-edge technologies to support. All AMD Ryzen™ 5000 Series processors come with a full suite of technologies designed to elevate your PC's processing power including Precision Boost 25, Precision Boost Overdrive6, PCIe® 4.0 on select processors and Resi zable BAR.
Optimized for Enthusiasts
Pair your AMD Ryzen™ processor with a high-performance cooling system for unparalleled performance.
7nm "Zen 3" Architecture
The world's fastest processor core for the world's fastest gaming processors1.
AMD Ryzen™ processors are easy to configure and easy to customize
Not only are these processors drop-in ready on AMD 500 and select 400* series motherboards with a simple BIOS update, you can easily tweak and tune your processor with Ryzen™ Master and AMD StoreMI.
Home PC
Vertical Markets
Graphics Powerhouse
Commercial
Office
Digital Life
Small Outside, Powerful Inside
Challenging the essence of how we define a desktop PC, GIGABYTE engineers have developed an ultra compact PC with pure black stylish chassis design. Ideal for a broad range of computing applications at home or in the office, the BRIX expounds sheer simplicity and convenience. With a broad choice of processors covering the entire performance spectrum, the BRIX sets a new standard for desktop miniaturization that makes it perfect as a discreet HTPC/multimedia hub, an ultra-low power PC for the family, an office PC or as a digital signage unit.
The Perfect Compact Home PC
Living room
Bedroom
Kitchen
Study
Product Pictures
Front
Back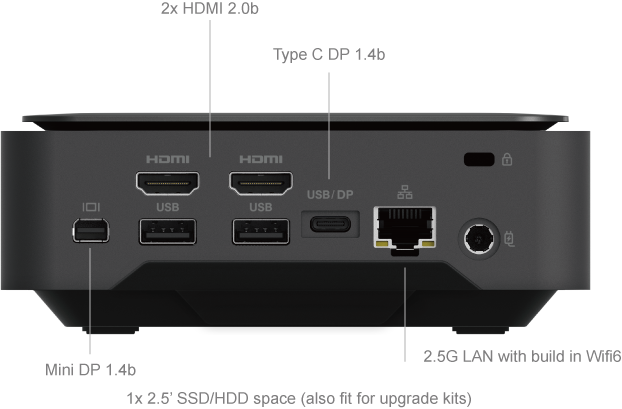 Tall Version
139.1x 134.2 x 50.06mm- 0.87L
The BIOS of GIGABYTE BRIX Mini PC Features TPM 2.0 Function to Support Windows 11 Upgrade
Select Intel® and AMD models can pass the OS upgrade verification by BIOS setting.
Windows 11 is the latest operating system from Microsoft®, and features dozens of exciting new functions and Android APP support to effectively improve productivity, system security, and gaming performance. However, most of the users might be confusing that Windows 11 requires TPM 2.0 support means they need a TPM module on board for Windows 11 upgrade.

In fact, TPM 2.0 hardware is not a must to pass TPM 2.0 verification. GIGABYTE BRIX mini-PCs are not only known for their world-renowned durability, but also play a leading role in product design, especially when it comes to the TPM 2.0 support in the BIOS. Lots of GIGABYTE Intel®and AMDBRIX Mini PCs can pass the TPM 2.0 verification of the Windows 11 by simply enabling the TPM-related function in the BIOS, on which Intel® based chipset (11th Gen Core i / 10th Gen Core i processor) and above platforms will be featured firmware based fTPM function, and on the AMD models will loaded with hardware TPM chip. By this advanced BIOS setting, GIGABYTE BRIX min-PC can pass the TPM 2.0 verification of Windows 11 to prevent TPM 2.0 support becoming an issue to users during their system upgrade.
* Specificațiile produselor și aparența acestora poate varia de la țară la țară. Vă recomandăm să verificați cu comercianții locali despre specificațiile și aspectul produselor disponibile în țara dvs. Culorile produselor ar putea fi diferite din cauza variatiilor fotografice sau setări ale monitoarelor, deci ar putea exista variațiuni față de acest website. Deși facem eforturi pentru a prezenta cele mai precise și cuprinzătoare informații la momentul publicării, ne rezervăm dreptul de a face modificări fără notificare prealabilă.