Smart Whiteboard for Enterprise
A technological revolution for enterprise to optimize communication, share ideas and collaborate information during online-to-offline meetings
Introduction
GIGABYTE Smart Whiteboard integrates GIGAIPC Smart Display Module (SDM) to create an intelligent whiteboard. Meeting members will feel encouraged to collaborate information using graphics and on-screen handwriting. Meeting attendees can access files, annotate content and share documents through this solution. The end result is a more productive meeting and brainstorming session.

Wherever You Can Do with Smart Whiteboard
Education
Teachers and students can "interact" with the images directly on the screen with stylis pen, fingers or other tools. Multimedia contents can be shared and used in the course, keeping students engaged.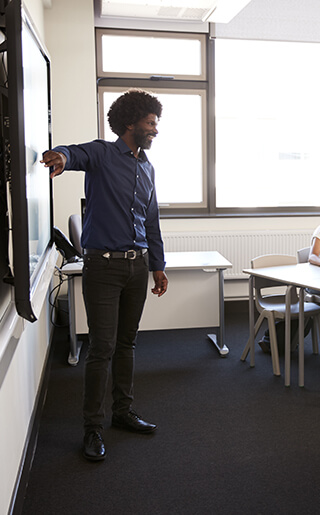 Enterprise
Freelancer can have conference call to discuss project status, annotate content that can be mirrored on other project team members' digital devices.
Entertainment / News Media
Commentators or anchors can emphasize key points or annotate details on whiteboard during news program or in the political talk show.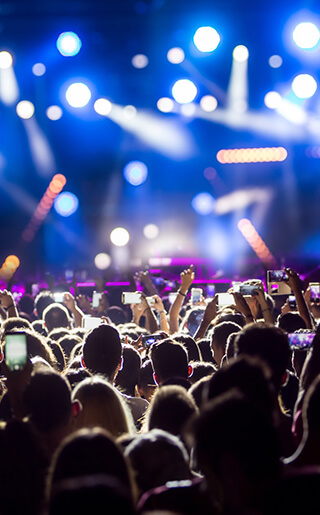 What Difficulties Do We Find With Traditional Meeting Equipment?
・Meeting rooms are not available, so people have to squeeze together at a desk to look at a small laptop screen for discussion.
・Team members gather into a meeting room only to find out the projector is not working.
・Projector works fine, but the VGA or HDMI cable is missing or broken.
・VGA or HDMI cable is found, but it's too short to pass them around from one side of the meeting table to the other side.
・The projector can only display what is on one laptop screen at a time. Team members need to take turns to share information.
・Only one person can do the meeting minutes or revise what was just corrected word by word, but no one can guarantee that something won't be missed.
・Traditional whiteboards have a limited amount of space and some things will be left out.
・A "DO NOT ERASE" note on traditional whiteboard can be a nuisance to others that need to use it.
As technologies on smart modules and touch screen are advanced, GIGABYTE Smart Whiteboard offers a flexible offering to enhance employees and customers' communication and collaboration.
Smart Whiteboard for Enterprise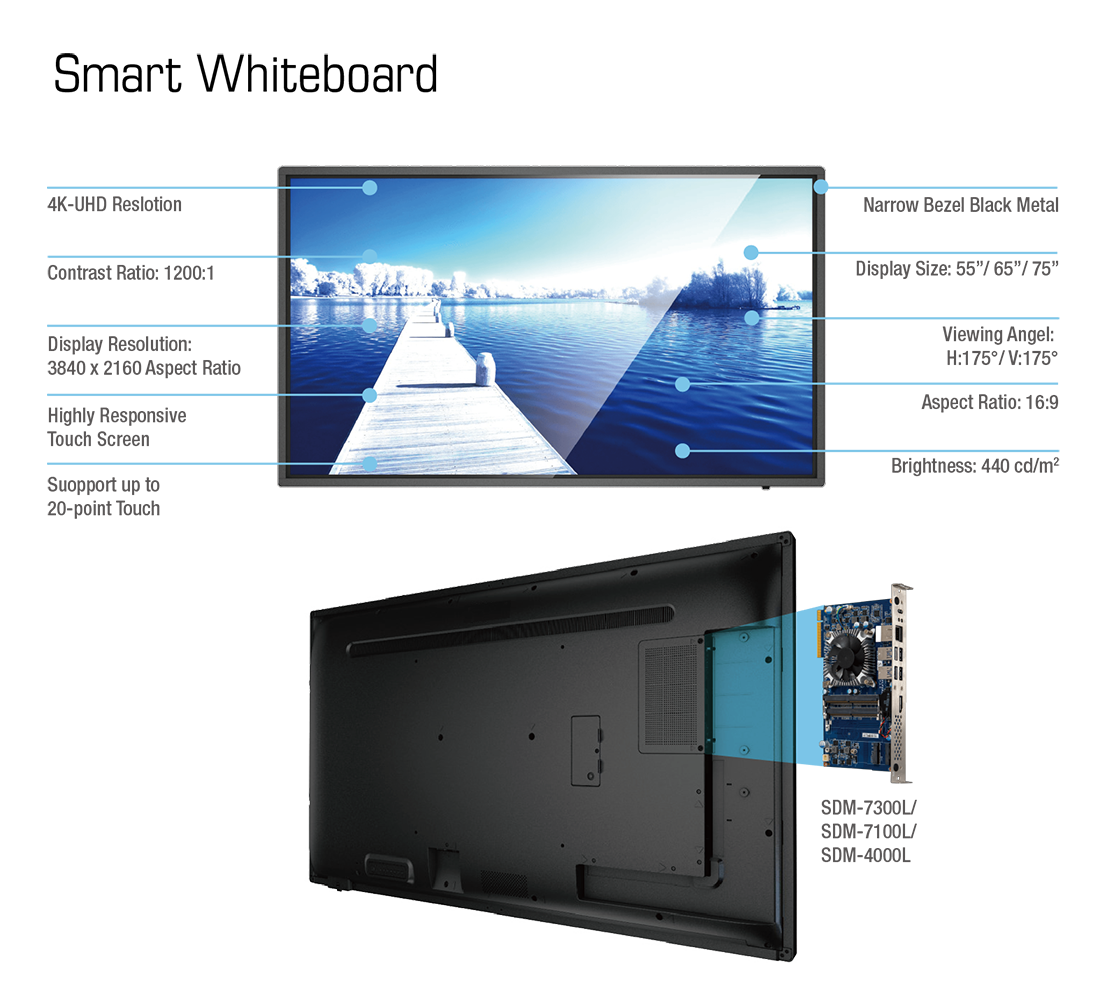 Smart Display Module (SDM) : Compact Size but Powerful Performance
As the display panels in the market keep getting thinner, a slim computing module is a necessity for an all-in-one display solution. Smart Display Module (SDM), a form factor defined by Intel®, is the next generation of display hardware solution that delivers the same level of intelligence and interoperability as the Open Pluggable Specification (OPS), yet the housing is only a 1/3 of the size. GIGAIPC SDM series, supported by Intel® Celeron® N4000 to Core™ i3/i5 processors, is designed for low power consumption, which significantly improves longevity and high computing performance and stability.
With the dimensions of 175mm x 100mm, SDM is designed and built-in a thin client or PC box, but also acts as a standalone module with Windows or Linux operating systems preinstalled for users to "plug-and-play". It is also a convenience for system upgrades and ease of maintenance. It offers multiple I/O interfaces to be connected with various devices based on users' needs, and supports dual independent display outputs of 1 x HDMI and 1 x Display Port. It delivers 4K Ultra HD resolution for eye-catching video content used on multi-screen digital signage. In addition, it incorporates high-speed PCIe connectivity with expansion slots that eliminate the need for external I/O devices. With the benefits and advantages of SDM, GIGABYTE has an incredible product in the GIGABYTE Smart Whiteboard.
Accessories for Conferencing Environment
GIGABYTE is cooperating with NUGENS, a multimedia accessory brand company in Taiwan, to provide auto-framing conference camera and USB 2.4G Dual-Mode Conference Speakerphone as advanced conferencing gadgets for corporate users to select as optional kits, to help them build an ideal conference room in the office.
Related Technologies
The Internet of Things (IoT) refers to a network of devices connected to the internet that can record or receive data without requiring any human to machine interaction. These devices can be any kind of physical object in daily life, business or industry – for example, the thermostat in your home, a trash can on the roadside, or a piece of equipment on a factory production line.
In simple terms, Cloud Computing is the delivery of computing services to a user or an organization—servers, storage, databases, networking, software, analytics, intelligence and more—over the Internet ("the Cloud"). Cloud Computing is usually provided using virtualization, in where the physical computer hardware is abstracted from the software & applications that are running on that hardware. Cloud Computing services can be provided several different ways, via public, private or hybrid clouds. Public cloud computing is provided by 3rd party service providers (such as Amazon Web Services, Microsoft Azure, or Google Cloud) who own the physical hardware and then sell these resources online via a secure internet connection. In a private cloud, an enterprise builds a cloud within their own data center by running applications on virtual servers that may reside on any number of available physical machines. Hybrid cloud computing is where a mixture of private and public cloud computing services are used together in tandem. As part of RightScale's 2018 State of the Cloud report, an in-depth survey was conducted of 997 IT professionals about their adoption of cloud infrastructure and related technologies, an astonishing 96% of respondents indicated that they run their enterprise's workloads in a cloud – either public, private or hybrid.
What is Multi-access Edge Computing (Mobile Edge Computing)? Multi-access Edge Computing (MEC), also known as Mobile Edge Computing, is a network architecture that enables cloud computing capabilities and an IT service environment at the edge of a cellular network. MEC technology is designed to be implemented at cellular base stations or other edge nodes, and enables flexible and rapid deployment of new applications and services for customers. MEC is ideal to be used for the next generation of 5G cellular networks.