Distance Education and 3D Design Collaboration on NVIDIA Omniverse Platform
The COVID-19 pandemic has impacted numerous sectors of the economy since the outbreak. To improve work efficiency and lower unnecessary costs, enterprises have shifted to video conferencing platforms to achieve effective team collaboration and communication. Industries that produce 3D content, such as animation, CGI, and architecture design, usually need to be able to collaborate spontaneously and remotely. Therefore, enhancing the ability to cooperate remotely is what enterprises have been pursuing lately. GIGABYTE has done such by promoting distance education and 3D design collaboration solutions.
A virtual reality platform that breaks the confines of space and permits real-time collaborations among creators – NVIDIA Omniverse
In response to the disruption caused by the pandemic, more and more companies are pivoting to remote work to ensure smooth business operations. Meanwhile, IT specialists face the challenge of enabling team members to cooperate and communicate at different locations. Compounding that challenge, the work involved in 3D design is diverse and usually relies on the strengths of different software to assemble projects. Needing to convert and integrate files between various software makes projects very complicated and fraught with headaches. For instance, dealing with file compatibility and importing/exporting files, these alone prolong the time needed to complete a project. NVIDIA Omniverse, a 3D virtual collaboration platform, is designed to solve the abovementioned problems with NVIDIA RTX rendering technology and PIXAR's USD (Universal Scene Description) format at the core. This allows the industry's mainstream design and visualization software to share and exchange files simultaneously in real-time so designers can seamlessly collaborate across different time zones and software. And for creators, they can focus on content creation without worrying about technical issues.
GIGABYTE took note of the technology and promotes distance education and 3D design collaboration solutions through the advantages of the NVIDIA Omniverse virtual collaboration platform. The solution utilizes NVIDIA Omniverse as the core architecture upon GIGABYTE's workstation,
W771-Z00
, to set up virtual hosts with the help of connected BRIX Extreme products,
GB-BEi7HS-1260
and
GB-BER7HS-5800
. The setup provides a complete solution containing both high performance computing and flexible deployment, which is well suited for 3D design industries, including but not limited to game development, engineering, manufacturing, architecture, and healthcare.
NVIDIA Omniverse Platform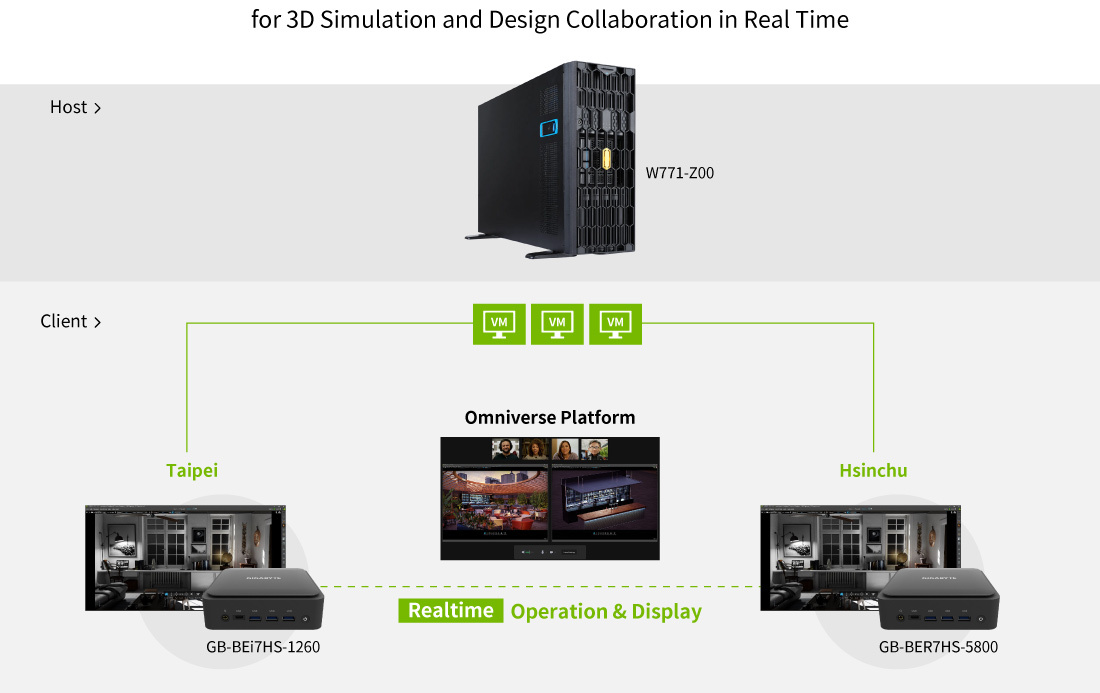 Simply put, one can place the W771-Z00 workstation in a room or data center in San Francisco and permit designers from different regions of the world to utilize the plentiful compute resources that the workstation provides via virtual hosting on a BRIX Extreme.
"It is the prevailing way to create 3D design by using combining the efforts of various software. Nevertheless, dealing with file compatibility and importing/exporting files alone prolong the time needed to complete a project. NVIDIA Omniverse, a 3D virtual collaboration platform, is designed to solve the abovementioned problems"
High-end workstations maintain stable and efficient operations to satisfy all kinds of content creation needs
The various components of NVIDIA Omniverse can simultaneously collaborate with third-party digital content creation (DCC) tools and renderers that vary from concept design, 3D characters, scenes, and visual effects (VFX) to AI computing. Additionally,
W771-Z00
is a workstation that brings stability and performance. It is also one of the few models on the market that supports the latest AMD Ryzen™ Threadripper™ PRO 5000WX/3000WX-Series processors. The top tier processor - 5995WX - has 64 CPU cores, 128 threads, and 8-channel DDR4 memory that could be expanded to 2TB of memory storage. For storage, there are two onboard NVMe (Gen4) M.2 2280 SSD slots and additional SATAIII and SlimSAS ports. Being a workstation, it has support for four (PCIe 4.0 x16) dual-slot GPUs. In other words, there is room for four NVIDIA RTX A6000 cards that can quickly process and transfer data over high bandwidth PCIe 4.0 lanes. This solution satisfies the needs of CPU and GPU computation requirements for deploying virtual hosts while handling the rendering demand from multiple users on the local host. Furthermore, the user can either assemble 3D scenes and simulations collaboratively with NVIDIA Omniverse Create or review 3D design projects through NVIDIA Omniverse View.
Server grade remote management is also possible on the GIGABYTE W771-Z00. Users can remotely manage their workstation directly on a device, such as a phone, through an app or browser, making it convenient for IT specialists to monitor and control hardware. Furthermore, because of VDI (virtual desktop infrastructure), computing resources can be better allocated, vulnerability threats are mitigated, all while reducing the maintenance costs of each device, such as the DCC software licensing fee.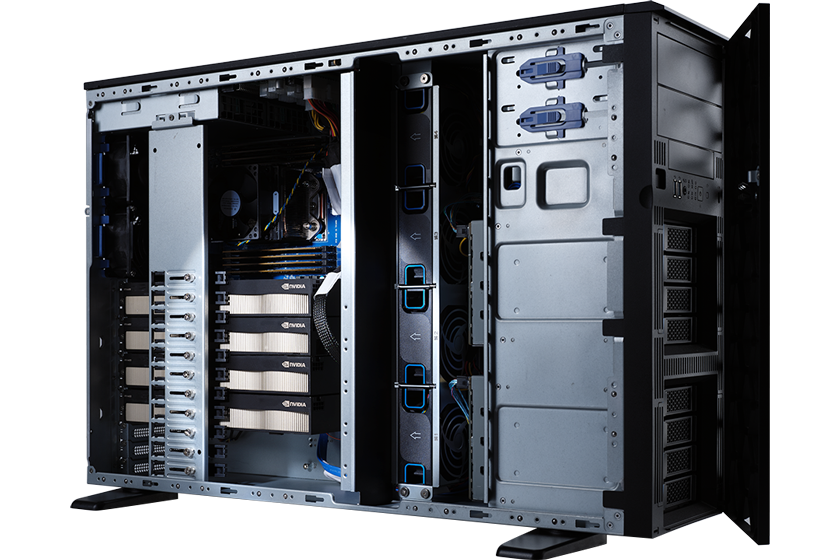 The W771-Z00 is a high-performance workstation to boost productivity with high stability and efficiency.
The versatile use of Mini PCs optimizes the work environment and space
Besides breaking the barriers involved with cross-functional teams across various locations, the NVIDIA Omniverse platform and the virtual host built on the GIGABYTE W771 substantially increase the flexibility of hardware planning. GIGABYTE's BRIX Extreme Mini PCs are the key components to expand flexibility as they redefine the essence of desktop computers. They are light-weight and have a modern design, which is very suitable for households, businesses, institutions, education, and other vertical industries.
Two of the models in this series are worth mentioning here:
GB-BER7HS-5800
with an AMD Ryzen™ 5800U processor and AMD Radeon™ Graphics;
GB-BEi7HS-1260
with a 12th Gen Intel® Core i7-1260P and Intel® Iris® Xe Graphics. Both models can simultaneously export four 4K video outputs via HDMI, miniDP and a USB-C port, which can maximize the workplace flexibility for the designers and engineers who need to work on multiple monitors working on architecture, exterior and interior design, animation, etc. Lastly, they also support DDR4-3200 and NVMe/SATA M.2 SSDs, which meet the needs of people whose work is related to multimedia video editing and 3D drawing.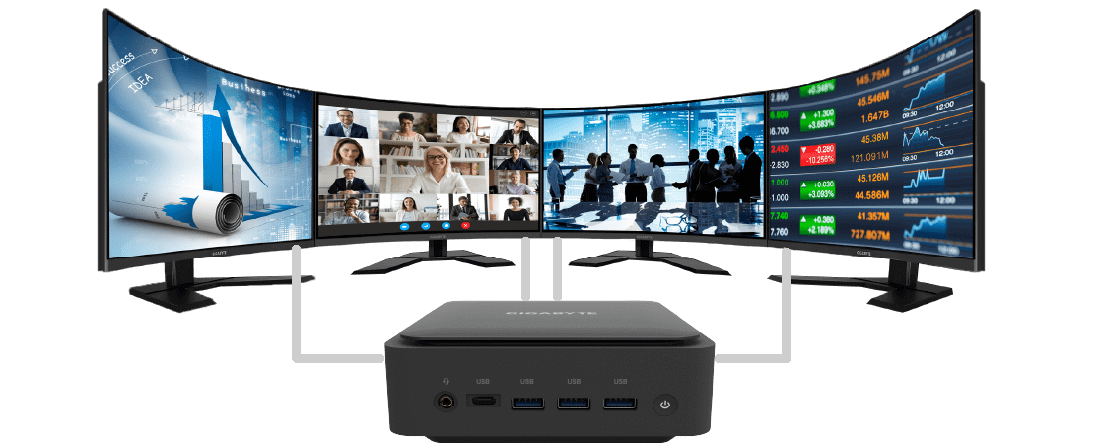 To optimize the working environment, both BRIX Extreme GB-BEi7HS-1260 and GB-BER7HS-5800 can connect four 4k monitors.
"To ensure NVIDIA Omniverse works with various design software on GIGABYTE products, including providing users from server to client an exceptional user experience and high-performance computing, GIGABYTE actively participates in NVIDIA's product certification programs and continues to be one of their loyal, strong partners."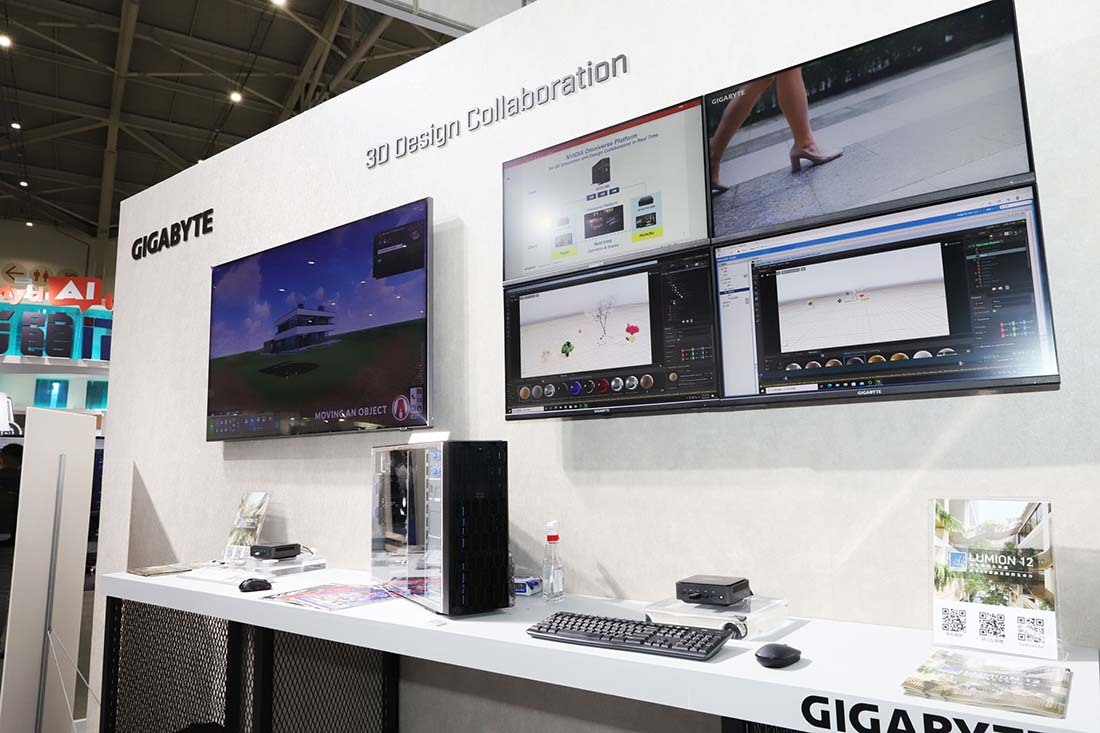 GIGABYTE displayed the distance education and 3D design collaboration solutions at Computex Taipei 2022
NVIDIA certified software and hardware are optimized for performance
Remote, collaborative work has been practiced across industries worldwide for many years. For example, the well-known visual effects and animation company DNEG uses virtual hosts for hundreds of special effect artists who work in their Montreal office. To assure this type of deployment can sustain the heavy workloads of 3D drawing so that the designers get to experience the same operational performance as a physical workstation, GIGABYTE actively collaborates with NVIDIA for seamless integration. By earning NVIDIA's approval in both hardware and performance verification, it ensures NVIDIA Omniverse and various design software will maximize their performance by using GIGABYTE products. As an NVIDIA partner, GIGABYTE guarantees users a great user experience with optimal workloads via remote management, information security, and high-density GPU scalability.
The distance education and 3D collaboration solution address the needs for remote work, including supporting the trend of creating content with CPU-GPU hybrid computing. Thus, it is a highly recommended option for schools, new office deployments, and consumers who need to collaborate or work on projects online and anywhere. If you would like to know more about how to install this solution, please contact local dealers that are authorized by GIGABYTE.
Why to have Distance Education and 3D Design Collaboration on NVIDIA Omniverse Platform
Resource Allocation Flexibility

Easy to Maintain and Manage
Distance Education and 3D Design Collaboration on NVIDIA Omniverse Platform with GIGABYTE Workstations and Brix
Distance Education and 3D Design Collaboration on NVIDIA Omniverse Platform with GIGABYTE Workstations and Brix
Related Products
BRIX Extreme / Ultra Compact PC kit

BRIX Extreme / Ultra Compact PC kit

BRIX Extreme / Ultra Compact PC kit

BRIX Extreme / Ultra Compact PC kit

BRIX Extreme / Ultra Compact PC kit