AMD EPYC™ 8004 Series Solutions
The perfect balance between performance and power consumption. GIGABYTE has all kinds of solutions ready for AMD EPYC™ 8004 Series processors.
Another Step Forward in Energy Efficiency and TCO
Building on the tremendous success of their predecessors, the new AMD EPYC 8004 Series processors continue to push AMD's 5nm "Zen 4c" architecture with a focus on greater energy efficiency and cost optimization. Providing higher performance/watt and performance/$ compared to prior EPYC series processors, the new 8004 series retains EPYC features that include multithreading technology, PCIe 5.0, and DDR5 memory with ECC support. For applications, the new AMD EPYC 8004 Series processors are best suited for cloud service providers, edge/telco, storage, and SMB.
4th Gen AMD EPYC™ Processors for SP6 Socket
5nmprocess
Greater compute density with more transistors packed in less space
Zen 4ccores
Smaller cores allows for higher core density in a small footprint
SP6

compatibility

The new socket lowers BOM cost while keeping future upgrade potential
DDR5memory
Increased memory throughput and higher DDR5 capacity per DIMM
PCIe 5.0

lanes

Increased I/O throughput achieving 128GB/s bandwidth
CXL 1.1+

support

Disaggregated compute architecture possible via Compute Express Link
LowTDP
Under 200W TDP in the EPYC portfolio with improved perf/W and perf/$
SFFdesign
Smaller form factor enables shallow depth and small-footprint server designs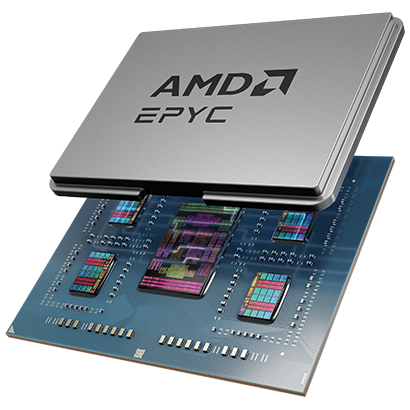 Select GIGABYTE for the AMD EPYC™ 8004 platform
High Performance

Servers and motherboards by GIGABYTE are tested to ensure peak performance for demanding CPU workloads. All the latest technology is supported.

Fast & Stable Connectivity

Keeping pace with the challenges for next gen technology, well designed GIGABYTE boards provide users the signal integrity for PCIe 5.0.

Modularity

Our building block design allows new models to quickly come to market. And users can now have BMC on a OCP module customized by GIGABYTE.

Optimal Price

Our broad portfolio of products allows customers to only select the features they require while doing so at a lower TCO.

Continuous Operation

Systems are rigorously designed and tested to ensure downtime will not occur. Customers have come to expect stable performance around the clock.

Energy Efficiency

Our engineers have baked in features to achieve higher efficiency by customizing fan curves and by the choice of PSU - Titanium or Platinum.
Featured New Products
Rack Server - AMD EPYC™ 8004 - 1U UP 8+4-Bay Gen4 NVMe/SATA/SAS | Application: Networking

AMD EPYC™ 8004 UP Server Board

Rack Server - AMD EPYC™ 8004 - 2U UP 12-Bay SATA/SAS | Application: AI , AI Inference & HPC

AMD EPYC™ 8004 UP Server Board

Rack Server - AMD EPYC™ 8004 - 1U UP 4-Bay SATA/SAS | Application: Networking

AMD EPYC™ 8004 UP Server Board

AMD EPYC™ 8004 UP Server Board

Rack Server - AMD EPYC™ 8004 - 1U UP 4-Bay Gen4 NVMe/SATA/SAS | Application: Networking

Rack Server - AMD EPYC™ 8004 - 2U UP 12-Bay SATA/SAS | Application: AI , AI Inference & HPC