GIGABYTE Introduces ATA 100 SolutionGA-6VX7B-4X
2000/11/07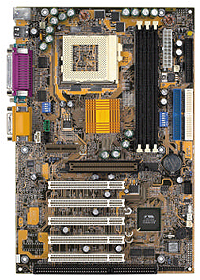 Gigabyte Technology Co., Ltd, a leading highperformance motherboard manufacturer, islaunching an enhanced model, GA-6VX7B-4X,an ATA–100 version of the award winningGA-6VX7-4X.
Designed with VIA Apollo Pro family chipsetand the latest South Bridge VT82C686B, itenables this motherboard to support UltraDMA 100 Bus Master interface which providesan excellent and faster connection for IDEdevices. Therefore, GA-6VX7B-4X can takefull advantage of the ATA-100 hard drives.GA-6VX7B-4X also provides an ideal CPUKeep Out Zone to hold Type C Heat Sinks.These features make this motherboard readyto reach the speed that the user had neverexperienced before. In addition, this boardsupports speeds Above 1Ghz for your futureupgrades.
To optimize the system performance, Gigabyte provides 2 superior utilities,EasyTune
TM
III and @BIOS
TM
. EasyTune
TM
III is a Windows based programwhich allows the users to easily overdrive the PC without the need to meddle withjumper settings. @BIOS
TM
is another Windows based utility for updating newBIOS upgrades via the Internet. With only a few clicks, the user can update thelatest BIOS, everything will be done all within windows mode.
There are more features, such as: AC 97 audio, one AMR slot, 3 DIMMs, oneAGP 4X slot, infrared connector, wake-on-lan, external/internal modem wake-upand 4 USB ports (2 ports by optional USB cable), 5 PCI slots, one ISA slot.Equipped with these features, GA-6VX7B-4X is your perfect choice forhigh-performance and cost-effective solution.