GIGABYTE entwickelt GPU-zentrierte Server für 8+ Beschleuniger und 160 PCIe-Lanes
Konzipiert für Dual-AMD-EPYC-Architektur der 2. Generation
2020.11.12
Taipei, Taiwan, November 12th 2020 – GIGABYTE Technology (TWSE: 2376), ein führender Anbieter von Hochleistungsservern und Workstations, kündigte heute drei neue GPU-zentrierte Server (G482-Z53, G482-Z54 und G292-Z43) für Anwendungen in den Bereichen HPC, KI, wissenschaftliche Simulation, Modelling und vielen anderen an. Die AMD-EPYC™-Architektur ermöglicht eine Realisierung von acht GPUs in PCIe-x16-Lanes der 4. Generation bei Einsparung von Kapazitäten, Speicher und Netzwerk. G482-Z53, G482-Z54 und G292-Z43 sind für acht oder mehr GPUs ausgelegt, verfügen jedoch außerdem über weitere Kapazität für Speicher, Netzwerk oder weitere Beschleuniger.
Höhere Beschleunigerleistung:
Die PCIe-Gen-4-Lanes der drei neuen Server können mit x16 laufen, d. h. es können bis zu 160 PCIe-Lanes zur Verfügung stehen, die alle über eine theoretische Bandbreite von 32 GB/s für eine schnelle Kommunikation zwischen CPU und GPU verfügen. Ermöglicht wird dies durch die AMD-EPYC-7002-Architektur, die einen einzelnen Socket-to-Socket-Infinity-Fabric-Link (einen von vier) zur Umverteilung der Bandbreite auf PCIe-Lanes für andere Zwecke ermöglicht. Dies wiederum wird durch die Verwendung von 64 PCIe-Lanes von jeder CPU durch ein duales AMD-EPYC-7002-System zur Verbindung mit der benachbarten CPU gewährleistet. Durch Freimachen einer dieser vier Verbindungen können 16 Lanes pro CPU zur Umsetzung von schnellen PCIe-Gen-4-Geschwindigkeiten in Speicher, Beschleunigern oder Netzwerken umgeleitet werden.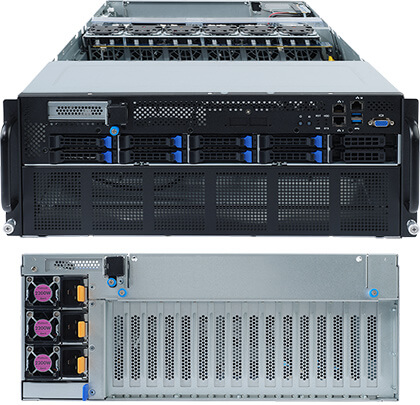 ▲ G482-Z53
▲ G482-Z54
Vorstellung von G482-Z53 und G482-Z54:
G482-Z53 und G482-Z54 sind für 8 x GPUs wie den AMD Instinct™ MI50 konzipiert, nebeneinander gesteckt und über einen AMD-Infinity-Fabric-Link verbunden. Diese Server wurden für den AMD Instinct MI50 und andere Beschleuniger getestet und entwickelt. Die Server nutzen duale AMD-EPYC-7002-Prozessoren, die mit 128+ PCIe-Gen-4-Lanes arbeiten. Die AMD-EPYC-Prozessoren der 2. Generation nutzen das volle Potenzial der PCIe-Gen-4-Lanes mit hoher Bandbreite und sind dadurch in der Lage, die für die CPU vorgesehene Bandbreite auf die CPU-Konnektivität umzuverteilen und so für Beschleuniger und Netzwerke zu nutzen. Noch beeindruckender ist, dass alle GPUs über eigene dedizierte PCIe-Gen-4-x16-Lanes verfügen, ohne dass ein PCIe-Switch erforderlich ist, um einzelne Lanes für zwei GPUs zu nutzen. Alle G482-Server unterstützen AMD-EPYC-Prozessoren der 2. Generation mit bis zu 280 W, 32-GB-DIMMs sowie 3200MHz-DDR4- und 128GB-Speichermodule. Die Server der Serie G482 weisen einige wesentliche Unterschiede auf, wie aus der folgenden Tabelle hervorgeht.
Serie G482
Modell
G482-Z50
G482-Z51
G482-Z52
G482-Z53
G482-Z54
PCIe
Gen 3
Gen 4
Gen 4
Gen 4
Gen 4
PCIe slots
10 GPUs + 1 LP*
8 GPUs
8 GPUs + 1 LP*
8 GPUs + 1 LP*
8 GPUs + 1 FHFL*
Unterstützung von AMD Infinity Fabric
Nein
Ja
Ja
Ja
Ja
LAN ports
2 x 10Gb/s and 2 x 1Gb/s
2 x 1Gb/s
Speicher
12 x 3.5" SATA/SAS
10 x 2.5" Mix
10 x 2.5" SATA
8 x 2.5" SATA
2 x 2.5" NVMe
8 x 2.5" SATA
Latenz
Gut
Gut
Gut
Sehr gut
Sehr gut
*
LP = low-profile
FHFL= full-height full-length
Vorstellung von G292-Z43:
G292-Z43 steht für die Ausreizung der GPU-Dichte (Single-Slot) bis zum Maximum. In einem 2U-Gehäuse ermöglichen zwei AMD-EPYC-7002-Prozessoren die Nutzung von 16 DIMMs an DDR4-Speicher mit bis zu 3200 MHz und in 128GB-Speichermodulen. Bei diesem GPU-zentrierten Design werden die Prozessoren der Serie EPYC 7002 für Modelle mit einer TDP von bis zu 240 W unterstützt. Ganz im Sinne der Bedeutung von PCIe-Lanes, bietet G292-Z43 Unterstützung für 16 Low-Profile-Beschleuniger mit PCIe-Switches. Dies ermöglicht eine zukünftige Erweiterung bzw. erweiterte Netzwerke.
▲ G292-Z43
Serie G292
Modell
G292-Z43
CPU
Dual EPYC 7002 (240W)
Speicher
16 DIMMS (3200MHz)
PCIe
Gen 4
PCIe slots
16 single slot GPUs + 2 LP
Unterstützung von AMD Infinity Fabric
Nein
LAN ports
2 x 10Gb/s
Speicher
4 x 2.5" U.2/SATA/SAS
4 x 2.5" SATA/SAS
For all GIGABYTE servers and related products, visit: https://www.gigabyte.com/
For further enquiries or assistance, contact us directly through server.grp@gigabyte.com
Follow GIGABYTE on Twitter: https://twitter.com/GIGABYTEServer
* AMD, the AMD Arrow logo, AMD EPYC, AMD Instinct, Infinity Fabric, and combinations thereof are trademarks of Advanced Micro Devices, Inc. Other product names used in this publication are for identification purposes only and may be trademarks of their respective companies.