Boosting Your Work n' Play
Still thinking KVM switch is only capable of controlling computers? The time has changed! GIGABYTE's built-in KVM provides you a brand new notion of what monitors can do. Play harder, work smarter or both? Take your pick!
What We Offer
Easy & Convenience
The signature feature of USB Type-C is the reversible and symmetrically shape, meaning there's no wrong way to plug it in.
Excellent Charging Performance
With power delivery capabilities, mobile devices can be fully charged within a short period of time.
Future Connectivity
Since USB Type-C interface has come to dominate the market, our monitor is capable of accommodating future devices.
How to Use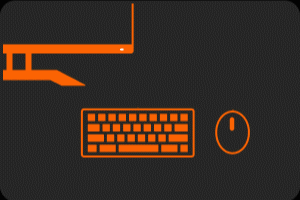 STEP 1
Connect both of the keyboard and mouse to the monitor.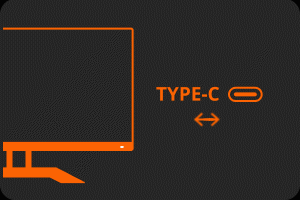 STEP 2
Then, connect your USB Type-C device to the monitor.
STEP 3
Done. Now you can switch devices by pressing the KVM button.
Device and Cable Requirement
All of the USB Type-C interfaces on our monitors support DisplayPort Alternate Mode, please make sure your devices and cables meet the following requirements:
Applicable Devices
|

USB Type-C devices with DisplayPort Alternate Mode Support
Applicable Cables
|

USB 3.1 Type-C Cable with 10Gbps bandwidth
USB Type-C
USB Type-C is physical shape for the most advanced USB connector for data, power, and video transmission. With the benefits USB Type-C entails, a majority of electronic devices are shifting its interface towards the standard.
USB Type-A
USB Type-B
USB Type-C
* All the images in this page are for illustration only.