GIGABYTE Unveils Latest Monster Graphics Accelerator for Hardcore Gaming
DirectX® 10 Compliant GIGABYTE GV-NX88U768H-B
2007/05/09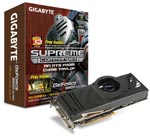 GIGABYTE UNITED INC., a leading manufacturer of motherboards and graphics cards, today launched their new graphic accelerator, the GV-NX88U768H-B. Equipped with NVIDIA's latest graphics processor, the GeForce 8800 ULTRA, the GIGABYTE GV-NX88U768H-B features 768 MB GDDR3 memory and 128 stream processors to provide sophisticated 3D game rendering for an enhanced level of game play. The GV-NX88U768H-B also provides High-bandwidth Digital Content Protection (HDCP) support, for advanced, theater-quality High-Definition video at home.
The GIGABYTE GV-NX88U768H-B comes equipped with the world's first DirectX
®
10 GPU, which fully supports Shader Model 4.0 for next-generation, 3D gaming effects. Through DirectX
®
10, the GIGABYTE GV-NX88U768H-B is able to deliver the highest Windows
®
Vista™ Premium experience with outstanding AERO™ effects. Supporting NVIDIA GigaThread™ Technology, with its massively multi-threaded architecture, the GIGABYTE GV-NX88U768H-B provides extreme processing efficiency for advanced shader programs. The GIGABYTE GV-NX88U768H-B also utilizes NIVIDIA Quantum Effects™ Technology, enabling a new level of physics processing effects to be simulated and rendered on the GPU, as well as the NVIDIA Lumenex™ engine, introducing 16x Anti-aliasing and 128-bit floating point High-Dynamic-Range (HDR) for rendering highly realistic lighting effects.
Integrated with NVIDIA eXtreme-HD™ technology to enhance graphic resolution, the GIGABYTE GV-NX88U768H-B supports the latest video output interfaces including Dual-Link DVI, for the highest 2560X1600 resolution screen. Wanting gamers to experience the full power of the GV-NX88U768H-B, GIGABYTE also includes two of the world's most famous game bundles: Chris Taylor's Supreme Commander™ and Warhammer 40,000 Dawn of War - Dark Crusade™.
For more details of GIGABYTE GV-NX88U768H-B, please visit the GIGABYTE VGA website:
/products/main.aspx?s=43