Primeur voor GIGABYTE: ondersteuning voor AM3+ processors op entry-level moederborden
Meer dan 25 GIGABYTE-moederborden nu met AM3+ ondersteuning
2011-06-17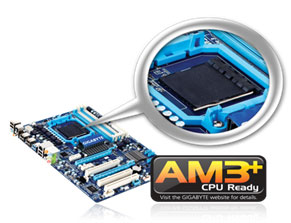 Taipei (Taiwan), 17 juni 2011 – GIGABYTE TECHNOLGY Co. Ltd., toonaangevend fabrikant van moederborden en grafische kaarten, heeft vandaag de nieuwe revisie 3.1 aangekondigd van de GA-M52LT-D3P, GA-M68MT-D3P en GA-M68MT-S2P. Deze moederborden bieden nu ondersteuning voor de AMD AM3+ processor, zodat nu ook met een instapmodel moederbord kan worden geprofiteerd van de binnenkort te verschijnen FX-processors van AMD.

"GIGABYTE blijft zijn moederborden voorzien van nieuwe opties, zoals compatibiliteit met de krachtigste processors ook op de eenvoudigere modellen. Het is namelijk onze ervaring dat er klanten zijn die deze combinatie nodig hebben", aldus Henry Kao, VP of Worldwide Service and Marketing van GIGABYTE. "Wij doen er alles aan om de typische GIGABYTE-features als Ultra Durable 2 Classic, de spanningsregelaar met 4+1 fasen, On/Off Charge en 3X USB Power ook in te voeren voor het mainstream en entry-level segment. En nu weten de gebruikers dus ook zeker dat ze zullen kunnen profiteren van alle performanceverbeteringen van de nieuwe AM3+ processors van AMD."




Ondersteuning voor AMD FX-processors
GIGABYTE AM3+ moederborden hebben de nieuwe AM3+ socket voor de aanstaande high-performance AMD FX-processors. Dit zijn de eerste op de consument gerichte processors met maar liefst acht native processorkernen. Dit maakt ongelooflijke prestaties mogelijk bij applicaties die intensief gebruikmaken van de processor, zoals videomontage en het renderen van 3D-modellen. Multitasking tussen applicaties is hiermee ongeëvenaard.


AM3+ Black Socket
GIGABYTE AM3+ moederborden zijn verder voorzien van de nieuwe AM3+ 'Black Socket', wat wijst op ondersteuning voor de binnenkort te verschijnen FX-processors van AMD, evenals neerwaartse compatibiliteit met Phenom II- en Athlon II-processors voor de AM3-socket. De AM3+ 'Black Socket' gaat bovendien efficiënter om met energie en heeft een verbeterde heatsinkmontage.


Ultra Durable™ 2 Classic
GIGABYTE was de eerste producent van moederborden die inzag dat voor de spanningsregeling van de processor alleen componenten van de allerhoogste kwaliteit goed genoeg zijn, want die onderdelen zorgen ervoor dat de processor op een stabiele stroomtoevoer kan rekenen. GIGABYTE Ultra Durable™ 2 Classic is een ontwerp op basis van massieve condensators van Japanse makelij met een gebruiksduur van minstens 50.000 uur en MOSFET's met een lagere RDS(on), die een lagere weerstand hebben en dus minder energie verbruiken en minder warmte opwekken.



4+1-fasen spanningsregelaar
Deze nieuwe AM3+ moederborden hebben een Split Power Plane-ontwerp met een 4+1-fasen spanningsregelaar. Dit ontwerp zorgt voor een stabielere stroomtoevoer naar de processor en gaat rimpelstroom en storing tegen, opnieuw erg belangrijke zaken voor een schone stroomvoorziening.

On/Off Charge


GIGABYTE On/Off Charge maakt het mogelijk om altijd een iPhone, iPad of iPod touch op te laden. Het maakt niet uit of het systeem aan of uit is of in stand-by staat. On/Off Charge werkt samen met de bekende GIGABYTE-feature die 3x USB Power heet en ervoor zorgt dat apparaten meer stroom kunnen trekken uit de USB-poorten van een GIGABYTE-moederbord dan bij gewone USB-poorten. Opladen via de pc kan hierdoor net zo snel als met een lader.




GIGABYTE 3X USB Power
GIGABYTE-moederborden hebben 3X USB Power voor meer compatibiliteit en een verbeterde stroomvoorziening naar de USB-apparaten. Het unieke voedingsontwerp dat GIGABYTE toepast voor de USB-poorten zorgt er tevens voor dat het uitgangsvermogen efficiënt wordt verdeeld over het hele spanningsbereik, wat een sterk verbeterde compatibiliteit oplevert voor de USB-apparatuur. Verder wordt gewerkt met speciale zekeringen die minder weerstand hebben en garant staan voor minder voltagedrops en een stabiele, krachtige stroomvoorziening.

GIGABYTE AM3+ 'Black Socket'-moederborden

Chipset
Model

Chipset
Model

990FX

990FXA-UD7

870

870A-UD3

990FXA-UD5

870-UD3P

990FXA-UD3

870A-USB3

990XA-UD3

870A-USB3L

990FXA-D3

770

MA770T-UD3P

970

970A-UD3

MA770T-UD3

970A-D3

770T-D3L

890FX

890FXA-UD5

760G

780T-USB3

890GX

890GPA-UD3H

78LMT-S2P

880G

880GA-UD3H

GeForce7025/ nForce630a

M68MT-D3P*

880G-USB3

M68MT-S2P*

880GMA-USB3

nForce 520LE

M52LT-D3P

880GM-USB3

880GM-USB3L

880GM-D2H
* Opmerking: AM3+ systemen met Microsoft® Windows® XP hebben een aparte grafische kaart nodig.