GIGABYTE brengt GPU-centrische servers op de markt voor 8+ accelerators en 160 PCIe-lanes
Ontwikkeld voor Dual 2e generatie AMD EPYC-architectuur
2020-11-12
Taipei, Taiwan, 13 novemberth 2020 – GIGABYTE Technology, (TWSE: 2376), marktleider op het gebied van krachtige servers en werkstations, heeft vandaag drie nieuwe GPU-centrische servers aangekondigd (G482-Z53, G482-Z54 en G292-Z43) gericht op HPC, AI, wetenschappelijke simulatie en modellering, en meer. Met behulp van de AMD EPYC™-architectuur is het mogelijk acht GPU's in PCIe Gen 4 x16-lanes te realiseren, waarbij er ruimte overblijft voor opslag en netwerken. De G482-Z53, G482-Z54 en G292-Z43 zijn ontwikkeld voor acht of meer GPU's, maar hebben ruimte beschikbaar voor opslag, netwerk of andere accelerators.
Verbeterde accelerator prestaties:
Alle drie de nieuwe servers kunnen al hun PCIe Gen 4-lanes draaien om te functioneren op x16. Dit betekent dat er maar liefst 160 PCIe-lanes beschikbaar kunnen zijn en dat deze elk beschikken over een theoretische bandbreedte van 32 GB/s voor snelle communicatie tussen CPU en GPU. Dit wordt mogelijk gemaakt door de AMD EPYC 7002-architectuur. Hierbij kan een enkele socket-to-socket Infinity Fabric-link (een van vier) de bandbreedte opnieuw toewijzen aan PCIe-lanes voor andere doeleinden. Dit is mogelijk doordat een Dual AMD EPYC 7002-systeem 64 PCIe-lanes van elke CPU gebruikt om verbinding te maken met de aangrenzende CPU. Door een van deze vier links vrij te maken, kunnen 16 lanes per CPU worden omgeleid voor hoge PCIe Gen 4-snelheden in opslag, accelerators of netwerken.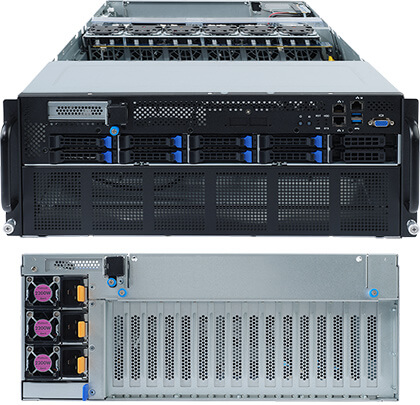 ▲ G482-Z53
▲ G482-Z54
Inleiding tot de G482-Z53 en G482-Z54:
De G482-Z53 en G482-Z54 zijn ontwikkeld voor 8 x GPU's, zoals de AMD Instinct™ MI50, naast elkaar geplaatst en gekoppeld via de AMD Infinity Fabric-link. Deze servers zijn getest en ontworpen voor AMD Instinct MI50 en andere accelerators. De servers maken gebruik van Dual AMD EPYC 7002-processors die werken met 128+ PCIe Gen 4-lanes. De 2e Gen AMD EPYC-processors kunnen gebruik maken van het volledige potentieel van PCIe Gen 4-lanes met hoge bandbreedte. Ze zijn in staat om de bandbreedte die is toegewezen aan de CPU opnieuw toe te wijzen aan de CPU-connectiviteit en om te leiden voor accelerators en netwerken. Nog indrukwekkender is het feit dat alle GPU's hun eigen speciale PCIe Gen 4 x16-lanes hebben, zonder dat er een PCIe-switch wordt gebruikt om één lane te delen met twee GPU's. Alle G482-servers bieden volledige ondersteuning voor maximaal 280W 2e Gen AMD EPYC-processors, 32 DIMM's, 3200MHz DDR4 en 128GB geheugenmodules. De G482-servers hebben enkele belangrijke verschillen, zoals te zien is in de volgende tabel.
G482 serie
Modelnaam
G482-Z50
G482-Z51
G482-Z52
G482-Z53
G482-Z54
PCIe
Gen 3
Gen 4
Gen 4
Gen 4
Gen 4
PCIe slots
10 GPUs + 1 LP*
8 GPUs
8 GPUs + 1 LP*
8 GPUs + 1 LP*
8 GPUs + 1 FHFL*
AMD Infinity Fabric ondersteuning
Nee
Ja
Ja
Ja
Ja
LAN-poorten
2 x 10Gb/s en 2 x 1Gb/s
2 x 1Gb/s
Opslag
12 x 3.5" SATA/SAS
10 x 2.5" Mix
10 x 2.5" SATA
8 x 2.5" SATA
2 x 2.5" NVMe
8 x 2.5" SATA
Latency
Goed
Goed
Goed
Uitstekend
Uitstekend
*
LP = low-profile
FHFL= full-height full-length
Inleiding tot de G292-Z43:
De G292-Z43 heeft een maximale GPU-dichtheid (single slot). In een 2U-chassis maken de dual AMD EPYC 7002 processors het mogelijk om gebruik te maken van 16 DIMM's DDR4 3200MHz geheugen van 128GB. Met dit GPU-centrische ontwerp is ondersteuning voor processors uit de EPYC 7002-serie beschikbaar voor modellen met een TDP tot 240W. Om het belang van PCIe-lanes te behouden, voegt de G292-Z43 ondersteuning toe voor 16 low-profile accelerators met behulp van PCIe-switches. Dit maakt toekomstige uitbreiding of uitgebreid netwerken mogelijk.
▲ G292-Z43
G292-serie
Modelnaam
G292-Z43
CPU
Dual EPYC 7002 (240W)
Geheugen
16 DIMMS (3200MHz)
PCIe
Gen 4
PCIe slots
16 + 2 halve lengte
AMD Infinity Fabric ondersteuning
Nee
LAN-poorten
2 x 10Gb/s
Opslag
4 x 2.5" U.2/SATA/SAS
4 x 2.5" SATA/SAS
* AMD, the AMD Arrow logo, AMD EPYC, AMD Instinct, Infinity Fabric, and combinations thereof are trademarks of Advanced Micro Devices, Inc. Other product names used in this publication are for identification purposes only and may be trademarks of their respective companies.