GIGABYTE Lanceert Servers voor Ampere® Altra® Processors
2021-06-01
June 1st 2021 – GIGABYTE Technology, (TSE: 2376), een marktleider op het gebied van krachtige servers en workstations, heeft vandaag nieuwe servers aangekondigd die zijn ontworpen voor Ampere® Altra®-processors gebaseerd op de de Arm-architectuur. Deze op Arm-architectuur gebaseerde servers zullen naar verwachting een grote sprong maken in de cloud en edge servermarkt., Deze vier nieuwe modellen zullen de verschillende deployment scenarios aanpakken door middel van het verbeteren van de scalability en flexibiliteit. Bovendien zal GIGABYTE de bezoekers tijdens Computex 2021 (31 mei - 30 juni) diepgaande inzichten geven van deze Ampere Altra-servers om de digitale transformatie uitdagingen van industrieën in het post-pandemie-tijdperk aan te pakken.
GIGABYTE brengt al meer dan 20 jaar ervaring mee op het gebied van server producten, en werkt al bijna tien jaar met Arm gebaseerde systemen, waardoor het zo een soepele samenwerking tussen Ampere en GIGABYTE kan garanderen. GIGABYTE's in-house ontwerpinnovaties en bouwsteenconcept hebben ondersteuning gekregen van Ampere om gezamenlijk één socket-servers te ontwerpen voor HPC, cloud en edge.
▲ G242-P31: GPU Server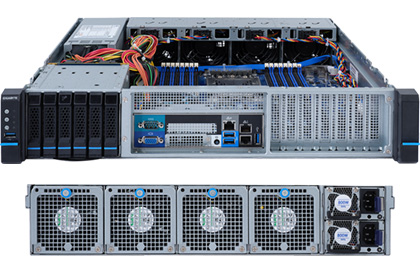 ▲ E252-P30: Edge Server
Op GTC21 onthulde NVIDIA de NVIDIA Arm HPC Developer Kit. Dit developer systeem omvat een Ampere Altra-processor, twee NVIDIA A100 Tensor Core GPU's en twee NVIDIA BlueField®-2 DPU's, allemaal opgenomen in een toonaangevende GIGABYTE G242-server. Met behulp van de NVIDIA HPC-software development kit biedt deze server een hardware- en software development platform voor HPC en AI. Om meer keuzes te bieden voor toekomstige deployments met behulp van een single socket Ampere Altra-processor, heeft GIGABYTE vier nieuwe modellen ontworpen: R272-P30, R152-P30, G242-P31 en E252-P30.
▲ R272-P30: Rack Server
▲ R152-P30: Rack Server
Al deze servers ondersteunen tot en met de 80-core (250W) processor en doen dit met optimale verlagingen van de TCO dankzij de ongelooflijke single socket prestaties. Geheugen is een ander gebied waarop deze servers uitblinken, aangezien ze 16 DIMM's, tot 4TB systeemgeheugen en 3200MHz DDR4 ondersteunen. Voor een snelle doorvoer zijn er 128 PCIe Gen 4 lanes, waarvan 64 lanes kunnen worden toegewezen aan GPU's. De efficiëntie, prestaties en doorvoer maken op Ampere Altra gebaseerde systemen een uitstekende keuze voor HPC, cloud en edge-servers.
Model Name
R152-P30
R272-P30
E252-P30
G242-P31
Processor
Single socket Ampere® Altra® Processor, TDP up to 250W
Memory
16 DIMMs (8-channels 2DPC), up to 3200MHz DDR4
Storage
6 x SATA/SAS
4 x U.2 (Gen3)
2 x M.2 (Gen4)
8 x SATA/SAS
2 x M.2 (Gen4)
6 x SATA/SAS
2 x M.2 (Gen4)
4 x SATA/SAS
2 x M.2 (Gen4)
Expansion Slots
(Gen4)
1 x FHHL
6 x HHHL
6 x HHHL
4 x FHFL
3 x HHHL
Network
2 x 1GbE LAN ports (Intel® I350-AM2)
1 x dedicated management port
Power Supply
650W redundant
800W redundant
800W redundant
2 x 1600W
"Ons Ampere Altra-platform levert efficiënte prestaties en is tegelijkertijd voorspelbaar en scalable", zegt Andy Chen, AVP in Network and Communication Business Unit bij GIGABYTE. "GIGABYTE's uitgebreide achtergrond in serverontwerp en productie trok aanvankelijk Ampere aan, en we leverden niet alleen een uitstekend platform voor Ampere's Mt. Snow Platform, maar ook voor verschillende deployments met GIGABYTE-servers."
Bezoek GIGABYTE op Computex (31 mei - 30 juni) om meer te weten te komen over onze servers met AMD, Intel en Ampere CPU's en NVIDIA accelerated computing. Daarnaast zullen we stands hebben voor HPC, 5G / Edge en meer. Bezoek de onderstaande link en registreer gratis.
Registeer voor Computex: https://virtual.computextaipei.com.tw/area/gigabyte
GIGABYTE Tech Tune-in: https://www.gigabyte.com/Tech-Tune-In?COMPUTEX21
Leer meer over GIGABYTE servers: https://www.gigabyte.com/Enterprise
Voor meer informatie of hulp kunt u een e-mail sturen naar: server.grp@gigabyte.com
Volg GIGABYTE op Facebook: facebook.com/gigabyteserver
Volg GIGABYTE op Twitter: twitter.com/GIGABYTEServer
* Ampere-, Altra- en Ampere-logo's zijn gedeponeerde handelsmerken of handelsmerken van Ampere Computing. Andere bedrijfs- en productnamen kunnen handelsmerken zijn van de respectievelijke bedrijven waarmee ze zijn geassocieerd.