GIGABYTE Extends Ultra Durable VGA Series Graphics Cards with GeForceTM GTX 465
Ultra durable, power-saving, high performance graphics card
2010-06-15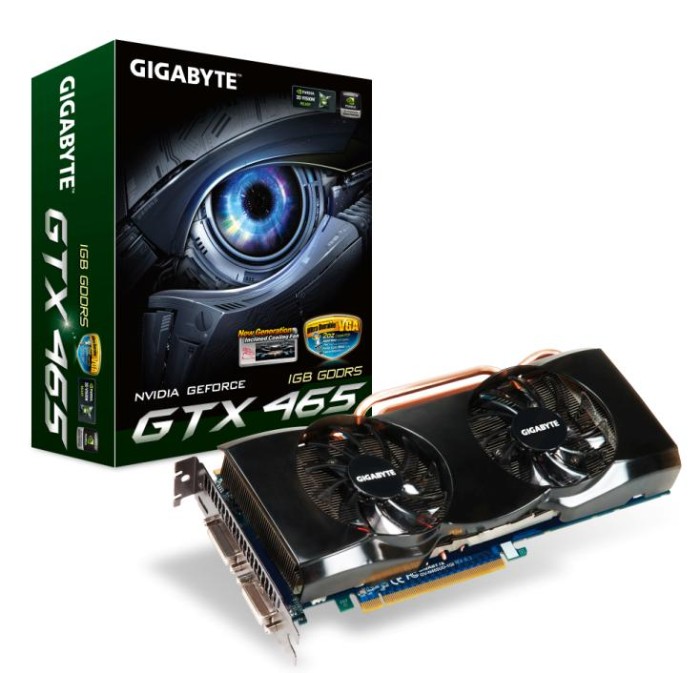 Taipei, Taiwan, June 15th, 2010 –  GIGABYTE Technology Co. LTD., a leading manufacturer of motherboards and graphics cards, is pleased to launch the latest in-house designed GIGABYTE GV-N465UD-1GI graphics cards featuring GIGABYTE's own Ultra Durable VGA Technology and anti-turbulence Inclined Dual Fan. Along with NVIDIA®'s new generation Fermi GPU architecture and high speed GDDR5 memory technology, GV-N465UD-1GI delivers immersive gaming experience. In addition, GIGABYTE GV-N465UD-1GI features a wide range of the latest graphics technologies, including DirectX®11, NVIDIA® CUDATM, PhysX®, and 3D Vision technologies, to deliver visually-stunning graphics.
Industry Leading Component Quality
GV-N465UD-1GI is equipped with NVIDIA®'s latest Fermi GPU (GF100) architecture and GDDR5 memory. It uses GIGABYTE's own Ultra Durable VGA Technology which guarantees better overclocking capability, lower GPU temperature, and great power efficiency by using 2 oz PCB board, Samsung and Hynix memory, Japanese solid capacitors, Ferrite/Metal core chokes, and Low RDS (on) mosfet. Industry's leading quality is able to meet the needs from the most critical gamers.
Anti-turbulence Inclined Dual Fan

The dual fan design doubles the cooling capability and offers extreme silent environment. In addition, the special inclined fan design effectively minimizes the flow turbulence between two fans and enhances heat dissipation of hot area right under each fan. Equipped with 4 heat-pipes, this anti-turbulence inclined dual fan has better heat dissipation capability than any other dual fan design.

GV-N465UD-1GI features NVIDIA®'s latest generation GPU architecture including geometry processing engines which is built for DirectX® 11 tessellation. This revolutionary technology enables incredible realistic game characters and details. New high-speed 32x anti-aliasing smoothes all rough edges and provide unrivaled image quality. Supporting NVIDIA® 3D Vision Surround, GV-N465UD-1GI provides users with three displays in full stereoscopic 3D with SLI. Along with NVIDIA® CUDA™ and PhysX® technology, gamers will see lifelike, interactive environments.

For more details of GIGABYTE GV-N465UD-1GI, please visit the GIGABYTE VGA website: http://www.gigabyte.com/products/main.aspx?s=43