GIGABYTE Announces to Extend Aivia™ Series at CeBIT 2012
iF Product Design Award Winner Aivia™ M8600 Outshines in Hannover, Germany
2012/03/05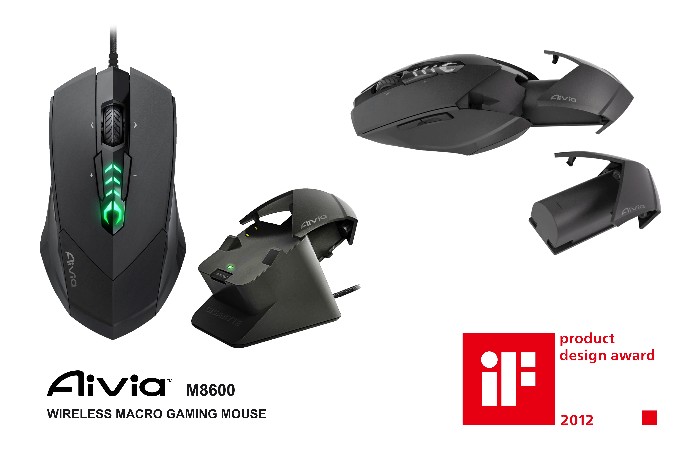 Taipei, Taiwan, 2nd March, 2012 – GIGABYTE, a leading manufacturer of motherboards and graphics cards exhibits AiviaTM Series keyboard and mouse at CeBIT 2012. GIGABYTE is proud to announce that Aivia™ M8600 Wireless Macro Gaming Mouse has received iF Product Design Award 2012. GIGABYTE's marvelous design has been honored with the world's best-known prestigious award, iF Award which also seen as Oscar Award in design industry. Winning iF seal means that Aivia™ M8600 Wireless Macro Gaming Mouse has stood out from a total of 4,322 entries by 1,605 international top brands from 48 countries. We are pleased to share its unique and ergonomic designs again. Earlier, Aivia™ K8100 Gaming Keyboard has also won red dot award by its exceptional design. Winning the 2011 red dot award signifies a label of the highest quality and international repute guaranteed by Germany's Design Zentrum.
AiviaTM Series has outshines all over the world and becomes one of the favorite peripheral brands of gamers. It has also recommended by IT editors and has won over 200 awards from worldwide last year. GIGABYTE announces to extend AiviaTM Series and indicates to present new peripheral products dedicated for gamers in April 2012.
AiviaTM - Advanced, Intuitive, and Versatile Interface Archetype
Adding to the already popular gaming device, GIGABYTE first announced its brand new AiviaTM product line at 2010 Computex. AiviaTM, an integrated acronymic word, is derived from its key features – advanced, intuitive, and versatile interface archetype. The series is to emphasize the combination of the subconscious, design and function as well as the pursuit of archetype. GIGABYTE believes each mouse and keyboard are the scrupulous work of mankind's brainpower. AiviaTM is not only an extension to the human intellect, but also an intuitive extension to the use of artificial intelligence. For that reason, AiviaTM can also be interpreted as the AI via GIGABYTE.
Aivia™ M8600 Wireless Macro Gaming Mouse

GamePlayTM

Wireless Technology
100-hour long-lasting Li-ion battery
Quick-Swap Battery System

GHOSTTM

Engine with

32KB

onboard memory

Aivia™ K8100 Macro Gaming Keyboard


Enhanced ergonomic gaming keyboard design
Touch and slide volume control
20 anti-ghosting keys
GHOSTTM Macro Engine
For more details of PC Peripheral products, please visit the GIGABYTE website at: http://www.gigabyte.com/products/main.aspx?s=50
Facebook: http://www.facebook.com/GIGABYTE.VGA
Twitter: http://twitter.com/GIGABYTE_VGA