News
Building a Private Cloud With AI / ML Capabilities PART 3: Software Defined Storage
GIGABYTE @ COMPUTEX 2018 DAY 3 SPECIAL FEATURE
2018/06/07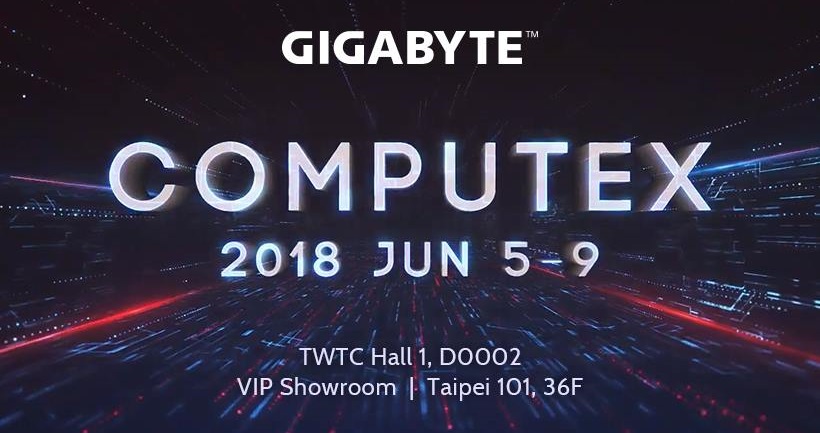 COMPUTEX Taipei, 7th June 2018 - GIGABYTE, an industry leader in server systems and motherboards, has collaborated with local cloud and storage platform providers to showcase an integrated AI / Data Science Cloud at COMPUTEX 2018, demonstrating how customers can build a private cloud to own & protect their data while connecting with public cloud services, and incorporate inbuilt AI capabilities to use Big Data for real-time deep learning and inference processing (AIoT).
As part of a daily feature series published during the show, today we will look into more detail into a software defined storage solution combining GIGABYTE servers and Bigtera VirtualStor™ Scaler storage, as featured as part of our AI / Data Science Cloud demonstration.
Why Software Defined Storage?
Enterprises are experiencing rapid storage requirement growth due to the expansion of the digital universe. IDC forecasts that by 2025 there will be more than 163 zettabytes (or 163 trillion gigabytes) of data in the world1. While the amount of data that businesses are generating is ever increasing, IT budgets are not keeping pace with what traditional storage infrastructure would cost to facilitate handling this data. Traditional storage solutions scale up which requires heavy investment and massive over provisioning.
A Software Defined Storage (SDS) solution introduces enterprises to a far more effective and efficient scale-as-you-grow infrastructure model. A SDS system scales out, so enterprises can add capacity to an existing system whenever they need it, eliminating over-provisioning. Additionally, the virtualized and disaggregated nature of SDS means that new and legacy storage systems and different storage types such as file, block and object storage can be unified together in a single platform, eliminating "storage islands" that increase the complexity of managing infrastructure as well as wasting time and resources for data duplication. A SDS system is the most suitable solution for a broader software defined infrastructure such as a private cloud.
1 IDC, Data Age 2025: The Evolution of Data to Life-Critical, April 2017
GIGABYTE Servers - Optimized for Software Defined Storage
How are GIGABYTE servers optimized for software defined storage? Firstly, their standard x86 architecture allows interoperability with all major and well-known storage software & applications for easy deployment and scale-out. GIGABYTE servers also all feature rich expansion capacity and configuration flexibility on each model. This allows storage system builders to add on capacity (storage drives, memory etc.) as needed only, with no over-provisioning necessary. Our servers also support flexible networking connectivity choices for different storage needs – high speed options for high-performance hot storage, or cost efficient options for archiving and warm / cold storage. GIGABYTE's server line-up features a broad range of products that are suitable for different storage applications, including the following:
Product
Application
Features
S451-3R0

High Capacity Block or Object Storage

• Dual Intel Xeon Scalable processors for excellent performance

• 4U 36 x 3.5" HDD capacity for an optimized balance of high storage density and throughput

D120-C21

Cost Efficient Bulk Data Storage

• Storage optimized Xeon D-1541 processor

• 1U 16 x 3.5" HDD capacity, market leading storage density for 1U w/ low power consumption and minimum failure domain.

R281-Z92

High-End File System

• Dual AMD EPYC™ 7000 series processors, high performance capability for heavy workloads

• 2U 24 x 2.5" U.2 and 1 x M.2 NVMe capacity for ultra-fast, ultra-dense storage

R281-NO0

High-End File System

• Dual Intel Xeon Scalable processors, high performance capability for heavy workloads

• 2U 24 x 2.5" U.2 and 2 x 2.5" SATA/ SAS HDDs for ultra-fast, ultra-dense storage
Finally, GIGABYTE servers deliver superior power & cooling efficiency, as well as high availability and user friendly design features to lower OPEX and enable a lower total cost of ownership (TCO) than competing products on the market.
GIGABYTE's AI / Data Science Cloud Demonstration Overview
A logical overview of GIGABYTE's AI / Data Science Cloud can be seen in the following diagram:
The hardware topology of this cloud can be seen in the following diagram:
The hardware topology consists of three main clusters:
1. Cloud Service System Cluster (Yellow Block)
2. AI / High Performance Computing Cluster (Orange Block)
3. Integrated Data Storage Cluster (Green Block)
The Integrated Data Storage Cluster is a software defined storage pool created with Bigtera VirtualStor™ Scaler, running on GIGABYTE's S-Series Storage Servers.
Bigtera VirtualStor™ Scaler
Bigtera's VirtualStor™ Scaler is a high-performance, highly efficient and resilient scale-out software storage platform optimized for enterprise use and cloud infrastructure. The main features of VirtualStor™ Scaler can be seen in the following diagram: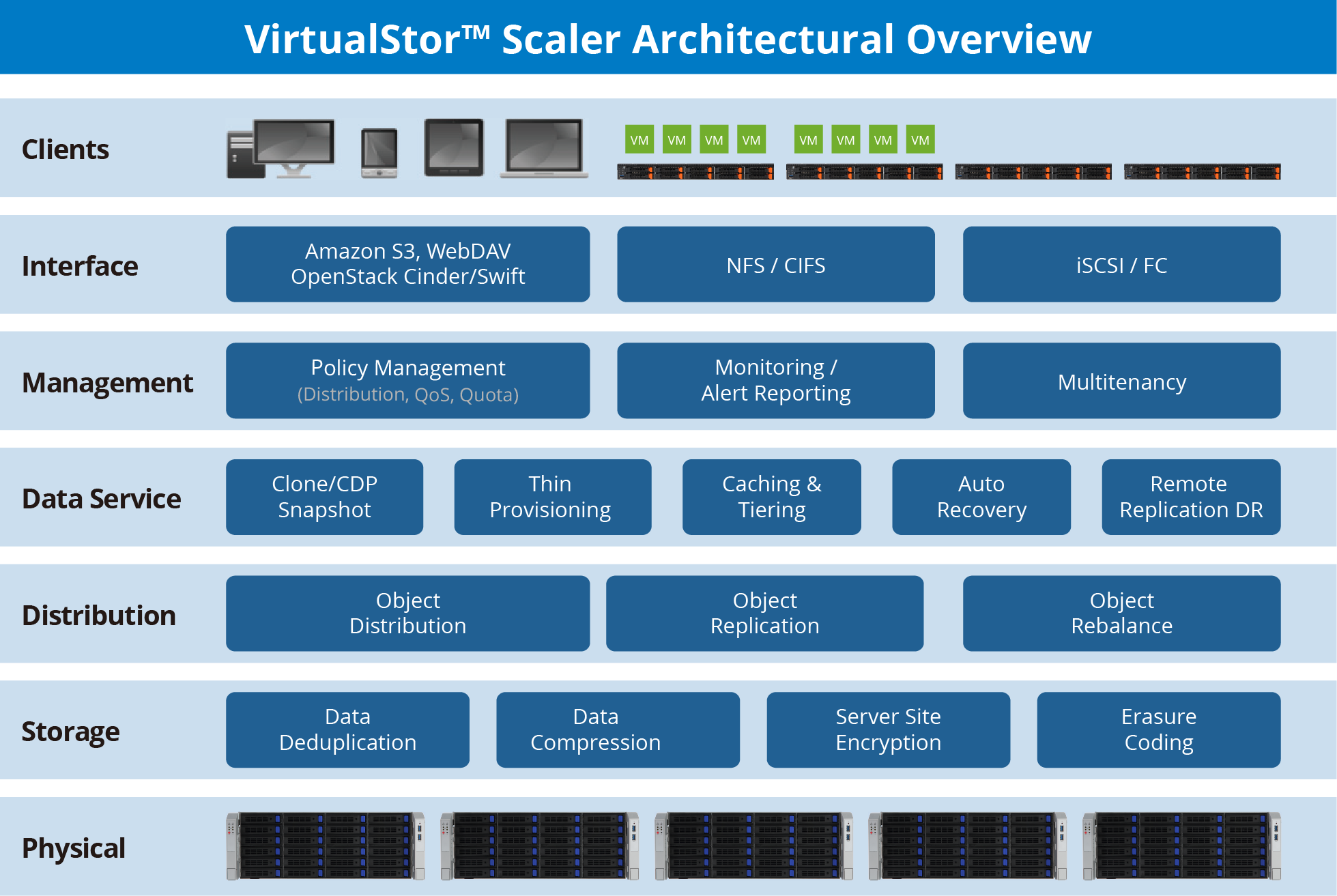 VirtualStor™ Scaler offers the following compelling benefits to your organization:
High Performance - VirtualStor™ Scaler features a high-performance backend storage engine – BigteraStore. It also provides SSD acceleration technology such as data caching and merging small I/Os into sequential I/Os to further improve IOPS. Data workload and application performance can be improved by at least 10X compared with a standard open source platform.
Unified Storage - VirtualStor™ Scaler provides a unified storage platform so companies do not need to choose between the types of storage they need. As more appliances are added, the appliances seamlessly become part of a single massive decentralized storage entity. VirtualStor™ Scaler can be partitioned into storage of any type, accomplished by abstracting the storage hardware from the control layer, and allowing for network attached storage (NAS) and storage area networks (SAN) that can run simultaneously. These storage types are supported by several storage protocols: SAN (iSCSI / FC), NAS (CIFS / NFS), Object Storage (Amazon S3 / OpenStack Swift) and OpenStack Cinder RBD.
High Efficiency - VirtualStor™ Scaler can use RAID-5 together with two replica copies or N+M Erasure Coding, so as to provide more efficient space utilization than other software defined storage with 3 replica copies. Administrators can also assign various services on Bigtera's unique multi-tenant storage technology "Virtual Storage" to virtually extend the available space, and enable compression and data deduplication for backup or archiving. VirtualStor™ Scaler automates efficient optimization of storage resources in several ways. First, Thin Provisioning functionality provides resources just as they are needed. Secondly, storage resources are balanced across storage nodes so no single node carries more than their fair share of the load.
Resilience - VirtualStor™ Scaler data availability functions include data replication, erasure coding, self-repairing, and RAID features. Erasure coding offers administrators an alternative to data replication, to ensure that there is no single point of failure for any of the data blocks. VirtualStor™ Scaler uses round-robin DNS and IP takeover services. Round-robin DNS uses a list of IP addresses for workload balancing , if any of the appliances encounter issues, the remaining appliances take over application and workload services seamlessly by taking over the IP of the appliance that encounters issues. VirtualStor™ Scaler can protect data stored with Amazon S3 API using Intel® AES-NI encryption technology. Encryption can be enabled for critical data or applications, while data that has a lower level of confidentiality can be left unencrypted.
Easy Data Migration & Management - VirtualStor™ Scaler can seamlessly migrate existing data from a customer's legacy storage with minimum downtime, and then consolidate the legacy storage in to the storage pool. VirtualStor™ Scaler also optimizes SSD usage to significantly reduce SSD write wear, and can notify the administrator when SSD life is running out, and predict storage capacity and performance. These features help an administrator to plan ahead and decreases management headaches.
Use Case Scenario: Broadcast Media Industry
The broadcast media industry is currently experiencing strain on their traditional storage infrastructures. Demand for high definition and 4K video continues to rise, placing pressure on storage capacity and scalability. A high quality 90-minute TV show's raw materials might consume TBs of storage. Furthermore, the different media processes in the industry, such as collection, editing, broadcasting, archiving and content management, with different characteristics for storage (protocols, performance, availability etc.) have led customers to purchase different storage technologies across their workflows (such as SAN, NAS or Object Storage), creating "storage islands". With multiple storage islands, data must be manually copied between heterogeneous environments, increasing workflow complexity, duplicating data, and wasting time and resources.
A storage system using GIGABYTE S-Series Storage Servers and Bigtera's VirtualStor™ Scaler could be an ideal scale-out storage cluster solution for the broadcast media industry. GIGABYTE's S451-3R0 is optimized for media workloads, with dual Intel Xeon Scalable processors able to handle multiple 4K video streams simultaneously, and the server's x86 architecture is compatible with all major and well-known video applications. Furthermore, VirtualStor is a truly unified storage solution that can support multiple storage technologies in one cluster (SAN, NAS and Object Storage). This virtualized storage cluster can host many 3rd-party TV and media systems, including content creation and acquisition, post production with non-linear editing and special effects, transcoding, archiving, and more. Also, multiple virtual storage devices can be housed on a single storage cluster. With functions like zero copy, media systems don't need to duplicate data across the workflow, creating a more agile and streamlined business.
For more information on building a software defined storage solution with GIGABYTE and Bigtera VirtualStor™ Scaler as part of a private or hybrid cloud, please visit GIGABYTE's booth during COMPUTEX 2018 to talk to a GIGABYTE or Bigtera professional, or contact either company for more information.
Date & Time:
Tuesday 5th June to Friday 8th June 9.30am ~ 6.00pm, Saturday 9th June 9.30am ~ 4.00pm
Location:
Taipei World Trade Center Hall 1, Booth D0002