GIGABYTE Teams Up with AMD for AMD Instinct™ MI100 Based Servers
New Servers Provide High-performance CPU and GPU Combination
2020/11/16
Taipei, Taiwan, November 17th 2020 – GIGABYTE Technology, (TWSE: 2376), an industry leader in high-performance servers and workstations, today announced further collaboration with AMD in development of solutions with the newly unveiled AMD Instinct™ MI100 GPU accelerators. GIGABYTE, working with AMD, has developed two new servers featuring the AMD Instinct MI100 that are tailored to deliver optimal system level performance in HPC and machine learning workloads supported by the use of the AMD Infinity Architecture technologies.
▲ AMD Instinct™ MI100
This year has seen a sharp rise in products with support for PCIe 4.0 from CPUs to motherboards to NAND, to accelerators that benefit from high throughput in the new generation of high-speed data interfaces. Incorporating PCIe 4.0 support for drives and accelerators has been crucial as GIGABYTE continues to create servers that tackle HPC and AI workloads. As the first accelerator based on the AMD CDNA architecture, and its impressive single and double precision performance, along with new full range of mixed-precision formats, the AMD Instinct MI100 is extremely well suited for GIGABYTE servers, namely the G-series of servers that are GPU-centric and that use 2nd Gen AMD EPYC™ processors.
In support of customers that want to start down the path to exascale computing, for HPC and machine learning workloads, the GIGABYTE G482-Z53 and G482-Z54 are servers optimized for AMD EPYC and Instinct MI100 products. The G482-Z53 piggybacks off the success of the G482-Z52 and adds improvements in topology that allow for eight AMD Instinct MI100 GPUs with AMD Infinity Fabric™ for fast connectivity, to be slotted on the motherboard for reductions in latency. The G482-Z54 pushes computing even further by adding support for an additional AMD Instinct MI100, networking, and U.2 drive bays.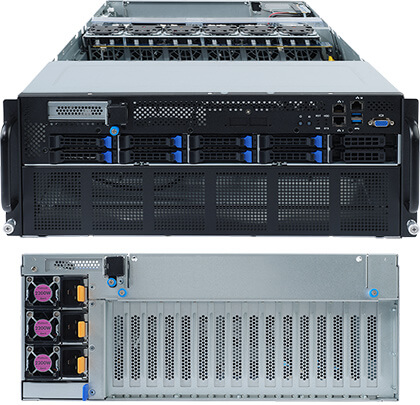 ▲ G482-Z53 Server
▲ G482-Z54 Server
"GIGABYTE relishes in opportunities to push the boundaries of compute in research fields, and pairing AMD EPYC and AMD Instinct MI100 technologies does just that," said GIGABYTE AVP Alan Chen. "Working with AMD architecture affords us the chance to design solutions using GIGABYTE know-how in server design and layout to squeeze every bit of performance possible out of technology."
"We're pleased with the inclusion of AMD Instinct MI100 accelerators in GIGABYTE servers to deliver immense computational power coupled with the performance of AI to enable researchers to tackle grand challenges," said Brad McCredie, Corporate Vice President, Data Center GPU and Accelerated Processing, AMD. "Powered by the first AMD CDNA architecture, and the perfect complement to 2nd Gen AMD EPYC processors, the AMD Instinct MI100 accelerators deliver ground-breaking GPU compute performance."
Supporting Resources:
For more about GIGABYTE G-series servers visit: https://www.gigabyte.com/G-Series
Read about the new G482-Z53 and G482-Z54: https://www.gigabyte.com/Press/News/1848
Learn about AMD Instinct MI100: AMD.com/InstinctMI100
Become a fan of GIGABYTE on Facebook: facebook.com/gigabyteserver
Follow GIGABYTE on Twitter: twitter.com/GIGABYTEServer
* AMD, the AMD Arrow logo, AMD EPYC, AMD Instinct, Infinity Fabric, and combinations thereof are trademarks of Advanced Micro Devices, Inc. Other product names used in this publication are for identification purposes only and may be trademarks of their respective companies.