GIGABYTE Launches Servers for Ampere® Altra® Processors
June 1st 2021 – GIGABYTE Technology, (TSE: 2376), an industry leader in high-performance servers and workstations, today announced new servers designed for Ampere® Altra® processors using Arm architecture. These Arm-based servers are expected to make a big splash in the cloud and edge server market, and the four new models will address the diverse deployment scenarios with scalability and flexibility. Additionally, at Computex 2021 (May 31 – June 30), GIGABYTE will present deep insights for these Ampere Altra servers for visitors to tackle the digital-transformation challenges of industries in the post-pandemic era.
GIGABYTE is bringing over 20 years of server products experience, including almost a decade working with Arm-based systems, to ensure smooth collaboration between Ampere and GIGABYTE. GIGABYTE's in-house design innovations and building block concept garnered support from Ampere to jointly design one socket servers for HPC, cloud, and edge.
▲ G242-P31: GPU Server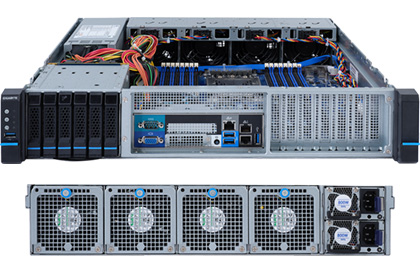 ▲ E252-P30: Edge Server
At GTC21, NVIDIA unveiled the NVIDIA Arm HPC Developer Kit. This developer system includes an Ampere Altra processor, two NVIDIA A100 Tensor Core GPUs, and two NVIDIA BlueField®-2 DPUs, all contained in a leading-edge GIGABYTE G242 server. Using the NVIDIA HPC software development kit, this server offers a hardware and software development platform for HPC and AI. To offer more choices for future deployments using a single-socket Ampere Altra processor, GIGABYTE designed four new models: R272-P30, R152-P30, G242-P31, and E252-P30.
▲ R272-P30: Rack Server
▲ R152-P30: Rack Server
All these servers support up to the 80-core (250W) processor and do so with optimal reductions in TCO thanks to the incredible single-socket performance. Memory is another area these servers excel as they support 16 DIMMs, up to 4TB system memory, and 3200MHz DDR4. For fast throughput, there are 128 PCIe Gen 4 lanes, of which 64 lanes can be devoted to GPUs. The efficiency, performance, and throughput will make Ampere Altra-based systems an excellent choice for HPC, cloud, and edge servers.
Model Name
R152-P30
R272-P30
E252-P30
G242-P31
Processor
Single socket Ampere® Altra® Processor, TDP up to 250W
Memory
16 DIMMs (8-channels 2DPC), up to 3200MHz DDR4
Storage
6 x SATA/SAS
4 x U.2 (Gen3)
2 x M.2 (Gen4)
8 x SATA/SAS
2 x M.2 (Gen4)
6 x SATA/SAS
2 x M.2 (Gen4)
4 x SATA/SAS
2 x M.2 (Gen4)
Expansion Slots
(Gen4)
1 x FHHL
6 x HHHL
6 x HHHL
4 x FHFL
3 x HHHL
Network
2 x 1GbE LAN ports (Intel® I350-AM2)
1 x dedicated management port
Power Supply
650W redundant
800W redundant
800W redundant
2 x 1600W
"Our Ampere Altra platform delivers efficient performance while also being predictable and scalable," said Andy Chen, AVP in Network and Communication Business Unit at GIGABYTE. "GIGABYTE's extensive background in server design and manufacturing initially attracted Ampere, and we delivered an excellent platform for not only Ampere's Mt. Snow Platform, but also for various deployments using GIGABYTE servers."
Join GIGABYTE at Computex (May 31 - June 30) to learn about our servers with AMD, Intel, and Ampere CPUs and NVIDIA accelerated computing. In addition, we will have booths for HPC, 5G/Edge, and more. Visit the link below and register for free.
Register for Computex: https://virtual.computextaipei.com.tw/area/gigabyte
GIGABYTE Tech Tune-in: https://www.gigabyte.com/Tech-Tune-In?COMPUTEX21
Learn more about GIGABYTE servers: https://www.gigabyte.com/Enterprise
For further enquiries or assistance: server.grp@gigacomputing.com
Follow GIGABYTE on Facebook: facebook.com/gigabyteserver
Follow GIGABYTE on Twitter: twitter.com/GIGABYTEServer
* Ampere, Altra and Ampere logos are registered trademarks or trademarks of Ampere Computing. Other company and product names may be trademarks of the respective companies with which they are associated.