GIGABYTE Announces GO OC 2010 Worldwide Final Champion
Matose from Romania is GO OC 2010 Worldwide Champion
2010/09/25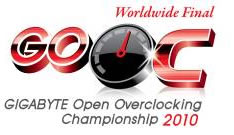 Taipei, Taiwan, September 25, 2010 – The GIGABYTE Open Overclocking Championship (GO OC) 2010, the world's largest Overclocking competition, successfully took place September 25, 2010. A total of 15 teams from 5 regional finals gathered at the Hua-Shan Creative Park (East 3 Hall) in Taipei, Taiwan to compete for the title of the GO OC 2010 World champion. After 4 hours 50 minutes of serious competition, GIGABYTE is pleased to announce that Matose from Romania was crowned GO OC 2010 Worldwide Final champion. Matose was able to maintain his lead throughout most of the competition with 64 points including the top score for Pifast at 13.830 seconds. Second place was stephenyeong from Hong Kong with 52 points and third place went to speedtime.wing from China with 42 points.
"We are setting a remarkable record of our own, by being host to the world's largest overclocking contest," said Dandy Yeh, President of GIGABYTE TECHNOLOGY CO., LTD in his opening speech for GO OC 2010. "as a leading motherboard manufacturer, GIGABYTE is committed to delivering the very latest technologies and innovative products to our customers, and we promise to continue developing high-performance, market leading technologies in the future." he added.
(Group photo: all venders and contestants)
Following was an opening ceremony to wish the contestants good luck and to get them ready to face off in overclocking battle.
(Opening Ceremony with Chinese tradition Lion Dance)
(Group Photo: (from Left to Right) ADATA VP, Ukyo Jeong; Intel Director, Ken K Lau; GIGABYTE President, Dandy Yeh; TAITRA CEO, Yuen-Chuan Chao; AMD VP, Billy Wong; Seagate GM, Rex Dong)
In addition to the overclocking competition area, GIGABYTE had on display a time tunnel highlighting GIGABYTE GO OC 2010's history, including images from this year's 33 country qualifiers and 5 regional finals. Also on showcase were several live and static demos, including motherboards featuring GIGABYTE's latest 333 (SATA 3, USB 3.0 and 3x USB power), Cloud OC, and Ultra Durable™ 3 technology, as well as a demo of GIGABYTE's latest X58A-UD9 motherboard.
(GO OC 2010 Venue: Hua-Shan Creative Park (East 3 Hall) in Taipei, Taiwan)
| | |
| --- | --- |
| | |
| (Time Tunnel of GO OC 2010) | (Time Tunnel of GIGABYTE Motherboard) |

GIGABYTE also showcased the latest high-end products from the sponsors of the event, as well as the hardware used for the competition. First class hardware is the key to achieving successful, record-breaking overclocks, and GIGABYTE was honored to have several industry-leading venders including Intel, ATI, ADATA, Seagate and ENVISION to participate in this historic event.
GO OC 2010 will be remembered by overclockers and enthusiasts alike as the biggest and most extreme overclocking competition in history. So what does GIGABYTE have in store for GO OC 2011? You'll just have to wait until next year to find out.
| | |
| --- | --- |
| | |
| (Hall of Fame for GO OC 2010) | |
(Contestants and Crowd at GO OC 2010)
GO OC 2010 Worldwide Final Competition Results
| | |
| --- | --- |
| | (Champions of GO OC 2010, Matose, Romania) |
| | |
| --- | --- |
| | (2nd Place of GO OC 2010, stephenyeong, Hong Kong) |
| | |
| --- | --- |
| | (3rd Place of GO OC 2010, Speedtime.wing, China) |
Prize for GO OC 2010 Worldwide Final
 

1st Prize

2nd Prize

3rd Prize

Cash

US$5,000

US$2,000

US$1,000

H/W Value

More than US$2,800

More than US$1,700

More than US$1,600

Details

Motherboard

GIGABYTE GA-X58A-UD9

GIGABYTE GA-X58A-UD9

GIGABYTE GA-X58A-UD9

Graphic Card

GIGABYTE GV-587SO-1GD*2

GIGABYTE GV-R577SO-1GD*2

GIGABYTE GV-R577SL-1GI*2

HDD

Seagate Momentus XT 500GB

Seagate Momentus XT 500GB

Seagate Momentus XT 500GB

Seagate Barracuda XT 2TB

Memory

ADATA XPG Plus Series DDR3-1866+ v2.0 6GB Triple Channel Kit*2

ADATA XPG Gaming Series DDR3-1600G v2.0 6GB Triple Channel Kit*2

ADATA XPG Gaming Series DDR3-1600G v2.0 6GB Triple Channel Kit*2

Monitor

EVISION H919wx

ENVISION H919wx

ENVISION H919wx
For more competition results, please visit the official GO OC 2010 website:
http://gooc2010.gigabyte.com