Airport Installation Art Piece Built from 1,200 GIGABYTE Motherboards
Motherboards and Graphics Cards to Bolster Taiwan Image and Technology
2010/11/19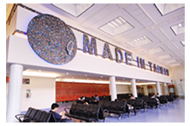 Anyone who was to pass by Terminal one of Taoyuan International Airport recently can't miss the 30-meter wide installation art piece made of motherboards.  Many passengers even took pictures of the gigantic "MADE IN TAIWAN" motherboard wall located in Gate B7 of Terminal 1. The wall was made purely of scrap motherboards and graphics cards provided by GIGABYTE Technology. Through the helps of Ever Rich Duty Free Shop, these scrap motherboards were turned into a art piece that makes an impression on domestic or international passengers.
As a leading brand in the motherboard industry, GIGABYTE is dedicated to support the government's renovation and decoration project on Taoyuan International Airport to bolster the first impression and strengthen our country's image to visitors from other countries. In response to the design theme of "Reaching out Taiwan Technology to the World", GIGABYTE has provided nearly 1,200 pieces of scrap motherboards and graphics cards to construct the "MADE IN TAIWAN" installation art piece and to show its care for Mother Earth with reused resources.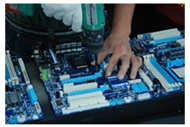 To construct the design wall, a designer and few craftsmen had spent days just to make the 30-meter wide background with motherboards in all different sizes. The craftsmen did all cutting and shaping of the circuit boards manually just to create the collage of "MADE IN TAIWAN". The pop-art piece was simple yet powerful in delivering the image of Taiwan and its technology strength. Upon completion, the renovated B7 lounge with the motherboard installation art piece immediately became the center of attention of all passengers.
GIGABYTE is glad to have the chance to participate the renovation and decoration project of the airport lounge. It is always dedicated to innovating its products to stay competitive and influential in the important industry. In the future, GIGABYTE will further focus on the development of crucial technology and product design to constantly delight its customers with marvelous products. If you have a chance to visit Taoyuan International Airport, don't forget to stop by Gate B7 and meet the art piece with Taiwan and GIGABYTE spirit.