GIGABYTE Announces Z77 OC Contest Winners
Highest Intel® Ivy Bridge Overclockers Win New Ultra Durable™ 5 Motherboards
2012/07/13
Taipei, Taiwan, July 11th, 2012 – GIGABYTE TECHNOLGY Co. Ltd., a leading manufacturer of motherboards and graphics cards, today announced the conclusion of its Z77 OC Contest hosted on HWBOT.org. The Z77 OC Contest invited the world's biggest overclocking community to push Intel® Ivy Bridge processors to the absolute max, with the winners offered an exclusive taste of forthcoming GIGABYTE Ultra Durable™ 5 motherboards.


GIGABYTE Z77 OC Contest Stages:
Stage 1: Maximum CPUz CPU Frequency Validation
Stage 2: Maximum CPUz DDR3 Speed Validation
Stage 3: SuperPi 32M
Stage 4: Wprime 1024M


GIGABYTE 'Z77 OC Contest' Winners
1st Place– Christian Ney
Stage 1: 6761.14 MHz (3rd)
Stage 2: 1612.6 MHz (1st)
Stage 3: 5min 23sec 250ms (4th)
Stage 4: 113sec 489ms (1st)
Total: 31 points


2nd Place– splmann
Stage 1:6764 MHz (2nd)
Stage 2: 1508.5 MHz (2nd)
Stage 3: 5min 19sec 470ms (3rd)
Stage 4: 120sec 385ms
Total: 27 points


3rd Place– der8auer
Stage 1: 6755.18MHz (4th)
Stage 2: 1414MHz (2nd)
Stage 3: 5 Min 3sec 859ms
Stage 4: 115ms 266ms
Total: 26 points


Contest winner Christian Ney will be one of the first to enjoy a GIGABYTE X79S-UP5 motherboard, featuring the latest Ultra Durable™ 5 technology. 2nd and third place finishers will take home a new Z77X-UP5 TH and Z77X-UP4 TH motherboard respectively.


For complete contest rules, scoring and more details, please visit the contest page hosted on HWBOT.org: http://hwbot.org/competition/gbt_z77_oc/


GIGABYTE Ultra Durable™ 5
The GIGABYTE X79S-UP5, Z77X-UP5 TH and Z77X-UP4 TH motherboards each employ the award winning GIGABYTE Ultra Durable™ 5 technology that includes high current capable components for the CPU power zone including IR3550 PowIRstage® ICs from International Rectifier, 2X Copper PCB and high current Ferrite Core Chokes rated up to 60A, which together are able to deliver up to 60°C* cooler temperatures than traditional motherboards. Featured on a range of new motherboards based the Intel® X79 and Z77 Express Chipsets, GIGABYTE Ultra Durable™ 5 technology is the next evolution in quality motherboard design.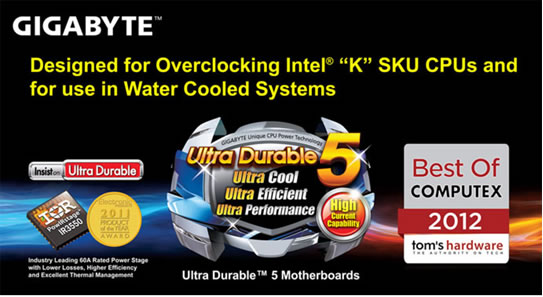 * Testing result for reference only. Results may differ according to system configuration.
* Up to 60° C lower temp. obtained using 4 phase IR3550 PowIRstage® with 2x Copper PCB vs. 4 phase D-Pak MOSFET @ 100A load 10 mins lab testing without heatsink


To learn more about GIGABYTE Ultra Durable™ 5, please visit: www.gigabyte.com.