You may only add up to 5 items for comparison at one time.
AORUS WATERFORCE 360 ( with ARGB lighting display AIO liquid cooler )
New high performance pump efficiently dissipates heat from high end CPUs.
AORUS ARGB lighting display.
Adjustable screen orientation can be rotated 330 degrees.
High performance, low-noise level, Graphene Nano Lubricant ARGB fans.
Supports RGB FUSION 2.0 synchronization with other AORUS devices.
Universal design for fan & pump RPM control, supports all MB brands.
5 years warranty.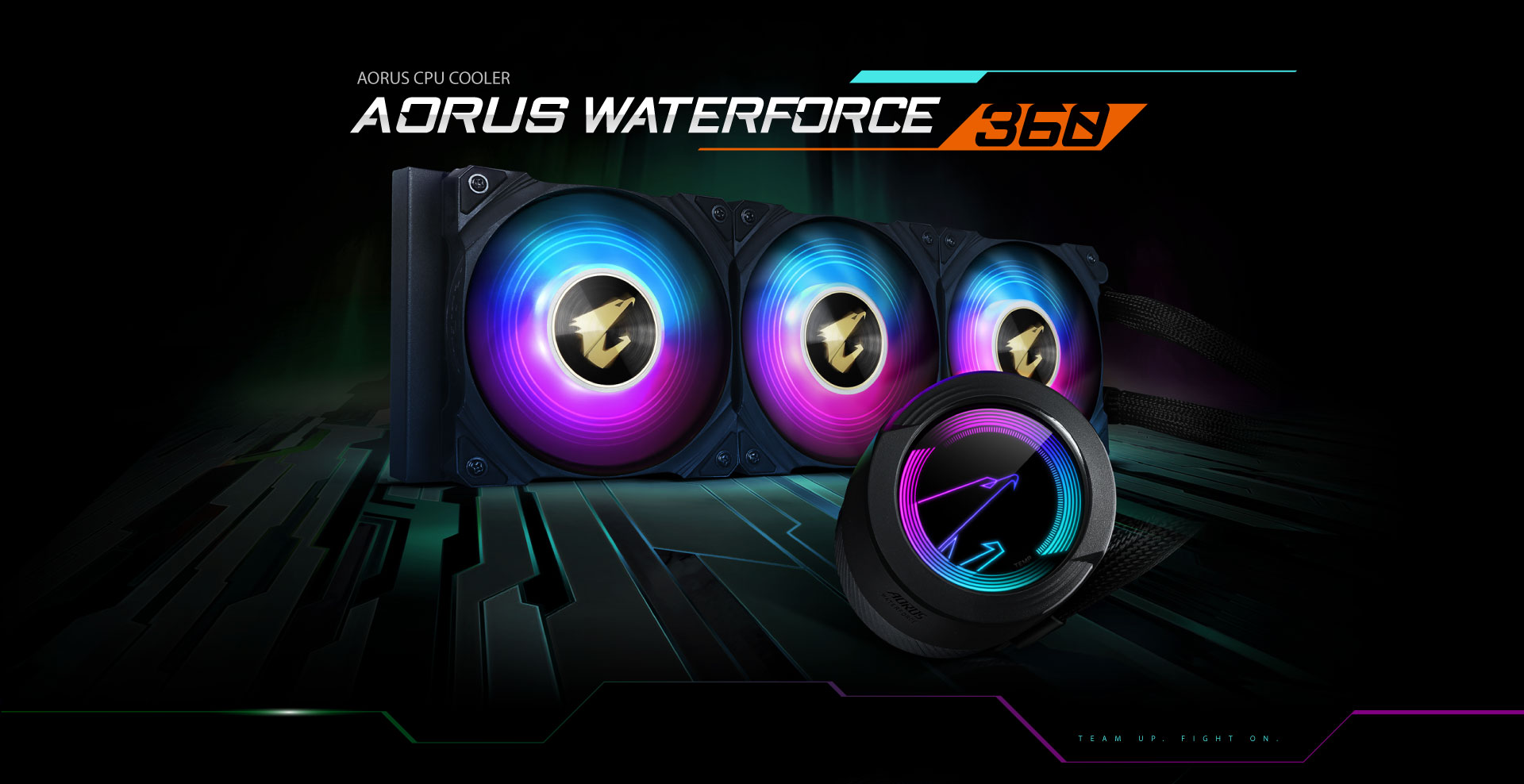 Радиатор и вентилатори
ВОДЕН БЛОК
AORUS ARGB СВЕТЕЩ ДИСПЛЕЙ
Серията AORUS WATERFORCE е високопроизводителна серия от течни охладители за процесори, които са специално проектирани за геймърски компютри. Светлинният дизайн AORUS ARGB с интелигентно разпознаване може да покаже температурата на процесора чрез светещия ARGB дисплей, така че потребителят може лесно да следи състоянието на системата.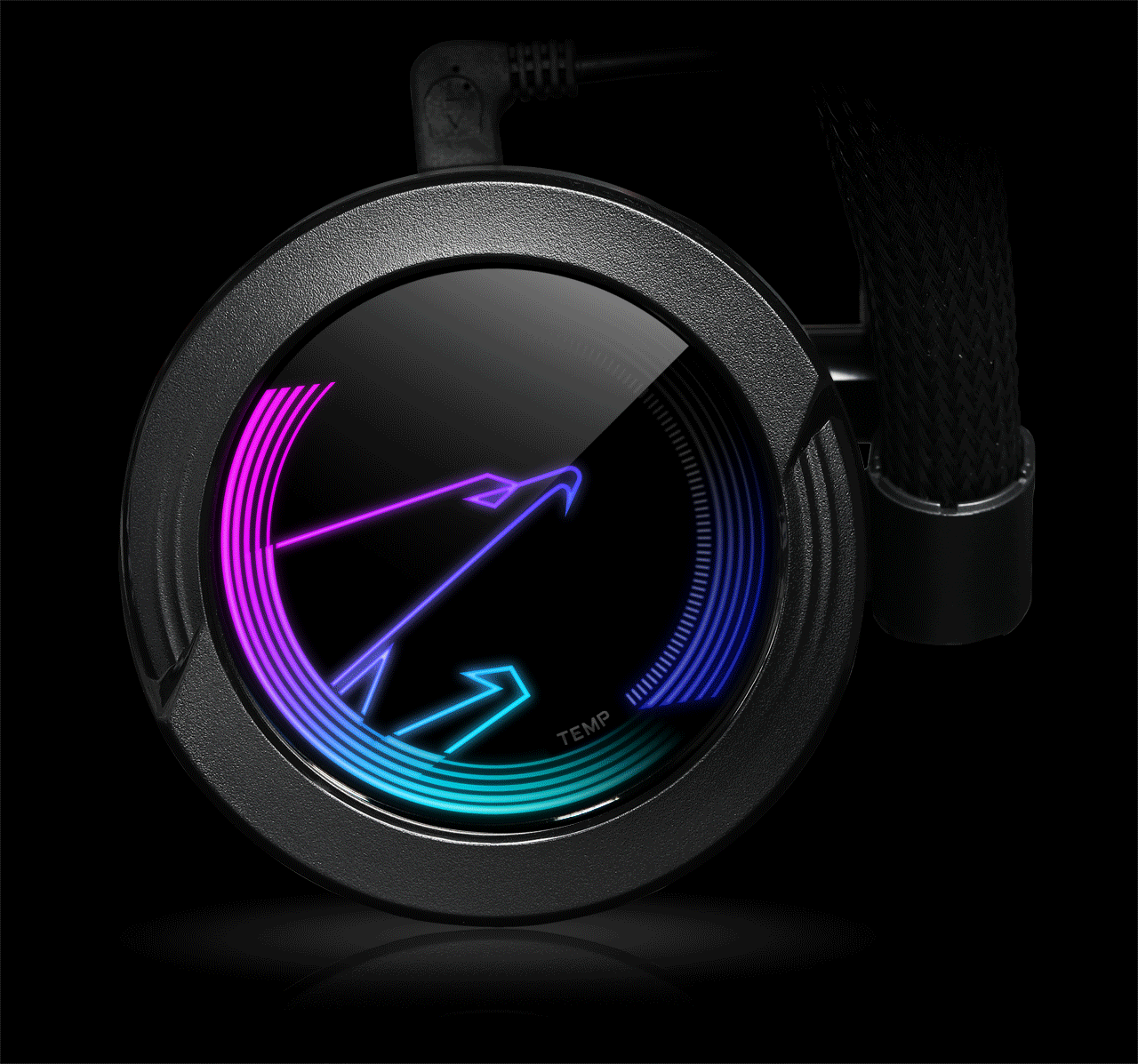 КРЪГЪЛ ДИЗАЙН
Дизайн с ръчно завъртане на 330 градуса.
Можете спокойно да настроите предпочитаната от вас посока.
РАЗШИРЕН ДИАМЕТЪР НА ВОДНАТА ТРЪБА

Тръба с диаметър 5.1 мм Ø разшриена до 7.8 мм Ø, Увеличава с до 37 % водния поток и осигурява по-бързо и по-ефикасно разсейването на топлината.
КЕРАМИЧНАТА ОС ВОДИ ДО ПО-ДЪЛЪГ ЖИВОТ
Керамичните оси имат по-дълъг експлоатационен живот (376,715 часа), който е сравним с този на традиционните метални оси. Също така, те са по-устойчиви и имат антикорозионни способности.
ТИХИ ВЕНТИЛАТОРИ AORUS С ЕФИКАСНО РАЗСЕЙВАНЕ НА ТОПЛИНАТА
Чрез мащабно тестване AOURUS разработи най-синергичния дизайн на 120-милиметрови вентилаторни перки, съчетани с 360-мм радиатор. Той ще предостави най-ефективното разсейване на топлината, като поддържа най-ниски нива на шум, дори при максимални скорости на въртене.
СТРУКТУРА НА ВЕНТИЛАТОРА С ГРАФЕНОВА НАНО СМАЗКА
Графеновата нано смазка във вентилатора с барабанен лагер намалява нивата на шум, като същевременно удължава живота на вентилатора 2,1 пъти (73 500 часа), което съответства на живота на схема с двойни сачмени лагери, като същевременно работи по-тихо.
УНИКАЛЕН БЛЕЙД ДИЗАЙН НА ВЕНТИЛАТОРА
120-милиметровият динамично настройваем вентилатор предоставя много тиха работа. Въздушният поток се разделя от триъгълния ръб на вентилатора и се насочва плавно през извитата като тримерна лента повърхност на вентилатора, ефективно подобрявайки въздушния поток в сравнение с традиционните вентилатори.
СИНХРОНИЗИРАНЕ С ПОВЕЧЕ СВЕТЕЩИ ВЕНТИЛАТОРИ AORUS
Всеки вентилатор AORUS предоставя ARGB мъжки и женски конектор.
Потребителят може да свърже повече вентилатори AORUS, синхронизирани със светлинния шаблон, създавайки забавна и еднородна светлинна система.
ПОДРЕЖДАНЕ НА КАБЕЛИТЕ
Кабелите за вентилатора и LED са преместени отстрани до радиатора. Много лесен и бърз начин за свързване на вентилаторите.
RGB Fusion 2.0
Напълно обновен RGB LED дизайн. Софтуерът RGB Fusion 2.0 дава възможност на потребителите да управляват светлинните шаблони на логото AORUS Falcon и на перките на вентилатора, като осигурява синхронизиране на осветлението с периферията, така че потребителите могат да демонстрират своя собствен стил.
Забележка: Изобразените светлинни ефекти са само за демонстрационни цели. Истинските светлинни ефекти може да варират според модела.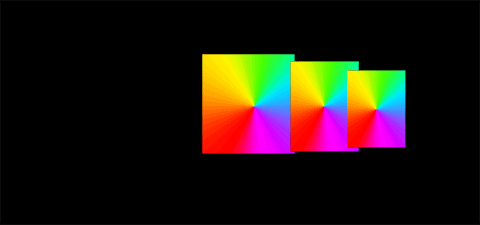 * Product specifications and product appearance may differ from country to country. We recommend that you check with your local dealers for the specifications and appearance of the products available in your country. Colors of products may not be perfectly accurate due to variations caused by photographic variables and monitor settings so it may vary from images shown on this site. Although we endeavor to present the most accurate and comprehensive information at the time of publication, we reserve the right to make changes without prior notice.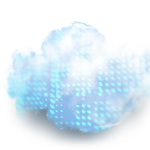 COMPUTEX
2022