Você possui no máximo 5 modelos para comparação! Exclua alguns modelos antes de adicionar.
Radeon™ RX 5700 XT GAMING OC 8G (rev. 2.0)
Features
Powered by AMD Radeon™ RX 5700 XT
Integrated with 8GB GDDR6 256-bit memory interface
WINDFORCE 3X Cooling System with alternate spinning fans
RGB Fusion 2.0 – synchronize with other AORUS devices
Metal Back Plate
PCI-Express 4.0 Support
Core Clock
Boost Clock : up to 1905 MHz
Game Clock* : 1795 MHz (Reference card is 1755 MHz)
Base Clock : 1650 MHz (Reference card is 1605 MHz)
WINDFORCE 3X COOLING SYSTEM
The WINDFORCE 3X cooling system features 3x 80mm unique blade fans, alternate spinning fan, 5 composite copper heat pipes, heat-pipe direct touch and 3D active fan functionality, together delivering an effective heat dissipation capacity for higher performance at lower temperatures.
ALTERNATE SPINNING
The GIGABYTE "Alternate Spinning" is the only solution that can solve the turbulent airflow of three fans. The biggest problem with the three fans is turbulence. Since the fans rotate in the same direction, the airflow direction is opposite between the fans, which will cause turbulent airflow and reduce heat dissipation efficiency. GIGABYTE turns the middle fan in the opposite direction, so that the airflow direction between the two fans is the same, reducing the turbulence and enhancing the airflow pressure.
UNIQUE BLADE FAN
The airflow is spilt by the triangular fan edge, and guided smoothly through the 3D stripe curve on the fan surface, effectively enhancing the airflow.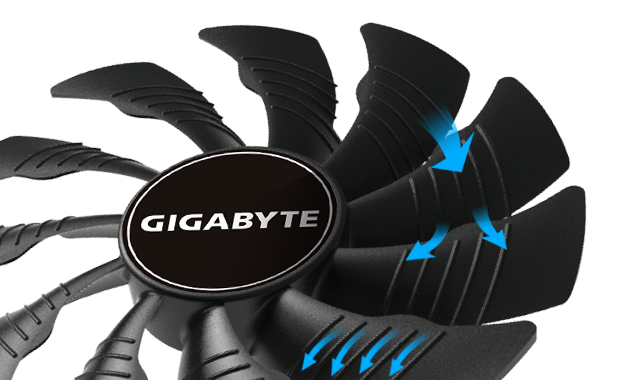 3D ACTIVE FAN
The 3D Active Fan provides semi-passive cooling, and the fans will remain off when the GPU is in a low load or low power game. It allows gamers to enjoy gameplay in complete silence when the system is running light or idle.
HEAT PIPES DIRECT TOUCH GPU
The shape of the pure copper heat pipes maximize the direct contact area with the GPU, enhancing heat transfer. The heat pipes also cover the VRAM through a large metal plate contact to ensure proper cooling.
COMPOSITE HEAT-PIPE
The composite heat-pipe combines thermal conductivity and phase transition to efficiently manage the heat transfer between two solid interfaces which increases cooling capacity.
CYCLING
Smoothly cycles through all colors
CONSISTENT
Choose a color for static light
FLASH
Choose a color for flash effect
DUAL FLASH
Choose a color for double flash effect
BREATHING
Choose a color to fade in and out
BUILT STRONG
EXTREME DURABILITY AND OVERCLOCKING
The graphics card uses 8+2 power phases design to allow the MOSFET to operate at lower temperature, and over-temperature protection design and load balancing for each MOSFET, plus the Ultra Durable certified chokes and capacitors, to provide excellent performance and longer system life. (Reference card is 7+2 power phases.)
POWER INDICATOR
The smart power LED indicator alerts the player when any PCI-E power supply is abnormal.
Light on :
power cable disconnected
Light off :
stable power supply
Blinking :
abnormal power supply
PCI-E 4.0 SUPPORT
Gigabyte Radeon RX 5600 XT GAMING OC features PCI-Express 4.0 support, with a throughput of 16 GT/s and enables two times the bandwidth compared to PCI Express 3.0. With the PCI-Express 4.0 supported motherboard, and get ready for the next generation of PC gaming.
FRIENDLY PCB DESIGN
Fully automated production process ensures top quality of the circuit boards and eliminates sharp protrusions of the solder connectors seen on the conventional PCB surface. This friendly design prevents your hands from getting cut or inadvertently damaging components when making your build.
Protection Metal Back Plate
The metal back plate not only provides an aesthetical shape, but also enhances the structure of the graphics card to provide complete protection.
IN TOTAL COMMAND
The interface and functionality of the software is subject to each model.
AORUS Engine
The cutting edge intuitive interface allows you to adjust the clock speed, voltage, fan performance and power target in real-time according to your game's requirements.
(*Click the logo for more information)

FOOTNOTES
*: "Game Clock" is the expected GPU clock when running typical gaming applications, set to typical TGP (Total Graphics Power). Actual individual game clock results may vary.
* All the images in this page are for illustration only.
* As especificações e design do produto podem diferir de país para país. Recomendamos que você verifique com seus revendedores locais as especificações e a aparência dos produtos disponíveis. Cores de produtos podem não ser perfeitamente precisas devido a variações fotográficas e configurações de monitor. Nos esforçamos para apresentar as informações mais precisas e abrangentes no momento da publicação, porém reservamos o direito de fazer alterações sem aviso prévio.