You may only add up to 5 items for comparison at one time.
GIGABYTE Ultra Durable VGA Series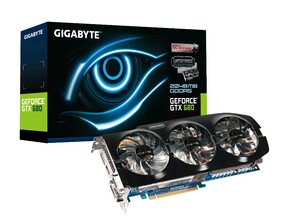 Downloads
Manual
Support List
FAQ
Downloads
CPU Support
Support List
Manual
FAQ
Download from the server closest to you – Asia, China, North America, Europe, Russia.
You will need to view these PDF files with Acrobat Reader.

Downloads
VGA Driver

VGA Driver

Version

Size

Date

BIOS(+5)

Version

Size

Date

Description

F5

0.27 MB

2013/04/25

NVIDIA Source BIOS Version:80.04.28.00.51
Base Clock/Boost Clock : 1071/1137MHz
Memory Clock : 6008MHz
Release for HYNIX Memory
UEFI BIOS

F93

0.27 MB

2013/04/25

NVIDIA Source BIOS Version:80.04.28.00.52
Base Clock/Boost Clock : 1071/1137MHz
Memory Clock : 6008MHz
Release for HYNIX Memory
UEFI BIOS

F22

0.27 MB

2013/03/22

NVIDIA Source BIOS Version:80.04.47.00.11
Base Clock/Boost Clock : 1071/1137MHz
Memory Clock : 6008MHz
Release for SAMSUNG Memory
UEFI BIOS

F92

0.18 MB

2012/08/22

NVIDIA Source BIOS Version:80.04.28.00.52
GPU CLOCK:Base Clock:1071 / Boost Clock:1137MHz
Memory Clock: 6008MHz
Release For HYNIX Memory
Enhance system compatibility
Manual

Manual(+1)

Accessory Lists