You may only add up to 5 items for comparison at one time.
GV-R928XOC-3GD-GA (rev. 2.0)
GIGABYTE Ultra Durable VGA Series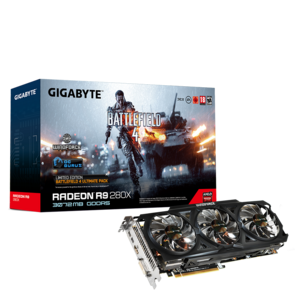 Downloads
CPU Support
Support List
Manual
FAQ
Download from the server closest to you – Asia, China, North America, Europe, Russia.
You will need to view these PDF files with Acrobat Reader.

Downloads
BIOS(+3)

Version

Size

Date

Description

F71

0.25 MB

2015/01/14

Release for HYNIXMemory
ATI Source BIOS Version: 015.041.000.003
Base Clock/Boost Clock:1000/1100 MHz
Memory Clock:6000 Mhz
Modify FAN DUTY

F4

0.25 MB

2014/06/03

Release for ELPIDA Memory
ATI Source BIOS Version:015.036.000.006.
Base Clock/Boost Clock : 1000/1100 MHz
Memory Clock : 6000 MHz
Correct Core Clock

Description

Version

Size

Date

VGA Tools -- @BIOS Support ATI Radeon HD 5000-series,6000-series,7000-series, R7 200-series, R7 300 series, R9 200series, R9 300series, R9F/NANO series Models,RX400 series Models ,RX500 series Models ,RX VEGA series Models

OS

: Windows XP 64bit,Windows XP 32bit,Windows 8.1 64bit,Windows 8.1 32bit,Windows 8 64bit,Windows 8 32bit,Windows 7 64bit,Windows 7 32bit,Windows 10 64bit,Windows 10 32bit

7.04

2.89 MB

2018/07/02