GeForce® GTX 1650 D6 OC 4G (rev. 1.0)
Features
Powered by GeForce® GTX 1650
NVIDIA Turing™ architecture and GeForce Experience™
Integrated with 4GB GDDR6 128bit memory interface
80mm unique blade fan
170 mm compact card size
Core Clock
1635 MHz (Reference Card: 1590 MHz)
SISTEMA DE REFRIGERACIÓN WINDFORCE
SISTEMA DE REFRIGERACIÓN DE DISEÑO PERSONALIZADO DE GIGABYTE
El sistema de enfriamiento de diseño personalizado de GIGABYTE cuenta con un ventilador de aspa única de 90 mm, que brinda una capacidad de disipación de calor efectiva para un mayor rendimiento a temperaturas más bajas.
TAMAÑO COMPACTO PARA UNA FÁCIL INSTALACIÓN
Con menos de 172 mm de longitud, la tarjeta gráfica se puede instalar fácilmente en cualquier chasis pequeño.
VENTILADOR DE ASPA ÚNICA
El flujo de aire se divide por el borde triangular del ventilador y se guía suavemente a través de la curva de rayas 3D en la superficie del ventilador, lo que mejora efectivamente el flujo de aire.
FORTALECIDA
ULTRA REFRIGERACIÓN
Los MOSFET de bajo RDS(on) están especialmente diseñados para producir una resistencia de conmutación más baja para una carga y descarga de corriente eléctrica más rápida a temperaturas extremadamente bajas.
BAJA PÉRDIDA DE POTENCIA
Los chokes metálicos retienen la energía mucho más tiempo que los cokes de núcleo de hierro comunes a alta frecuencia, por lo que reducen eficazmente la pérdida de energía del núcleo y la interferencia EMI.
VIDA MÁS LARGA
Los capacitores sólidos de bajo ESR aseguran una mejor conductividad electrónica para un excelente rendimiento del sistema y una vida útil más larga.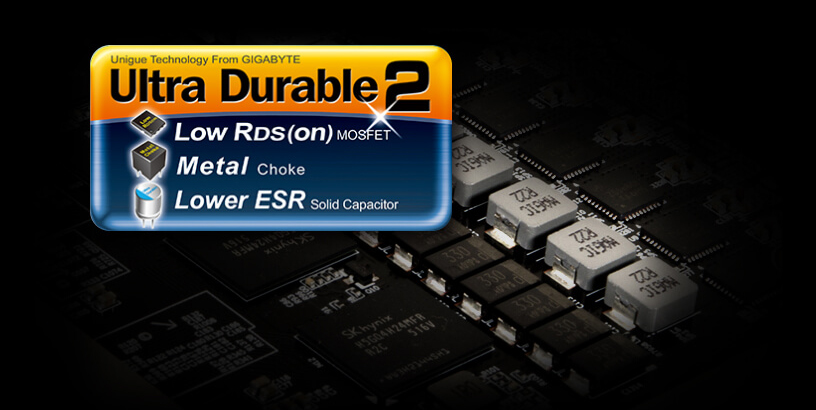 DISEÑO DE PCB AMABLE
El proceso de producción totalmente automatizado garantiza la máxima calidad de las placas de circuito y elimina las protuberancias afiladas de los conectores de soldadura que se ven en la superficie del PCB convencional. Este diseño amigable evita que sus manos se corten o dañen inadvertidamente los componentes al hacer su ensamble.
EN COMANDO TOTAL
La interfaz de usuario y las funcionalidades reales del software dependen de cada modelo de dispositivo.
AORUS Engine
La interfaz intuitiva de vanguardia te permite ajustar la velocidad del clock, el voltaje, el rendimiento del ventilador y el objetivo de potencia en tiempo real de acuerdo con los requisitos de su juego.
* Todas las imágenes de esta página son solo ilustrativas.
* Las especificaciones del producto y su apariencia pueden ser diferentes de un país a otro. Te recomendamos que compruebes las especificaciones y apariencia disponibles en tu país con tu vendedor local. Los colores de los productos pueden no ser perfectamente exactos debido a las variaciones causadas por las variables fotográficas y los ajustes de color de tu monitor, por lo que pueden ser diferentes a los colores mostrados en esta página web. Aunque nos esforzamos por ofrecer la informacion más exacta y detallada en el momento de su publicación, nos reservamos el derecho de realizar cambios sin notificación previa.
* GIGABYTE graphics cards, except those labeled "Mining Series", are intended only for use with desktop PCs. Other types of use, such as blockchain computing or cryptocurrency mining, will render the product warranty void.