Vous pouvez ajouter jusqu'à 5 items à comparer.
BRIX / Ultra Compact PC kit
PC Ultra Compact Hautes Performances (34.7 x 119.5 x 119.5 mm)
Design Ultra compact en 2 formats (Slim /HDD)
Compatible HDD/SSD 2.5", 7.0/9.5 mm d'épaisseur (1x6Gbps SATA 3)
1 x connecteur M.2 SSD (2280) avec support PCI-e x4 /SATA
2 x ports SO-DIMM DDR4 3200Mhz, Max 64Go
Intel WIFI6 +BT5.1
Realtek 2.5G LAN RTL8125
QUAD display : 2x Type C / HDMI / mDP avec HDCP @4x4K/60P
5x USB 3.2 Gen1 Type A + 2x USB 3.2 Gen2 Type C (4F,3R)
Codec Realtek ALC255
Prise Jack pour Casque Audio
Support de Montage VESA (75 x 75mm + 100 x 100mm)
Adaptateur AC-DC : 100-240V, 19V/135W
OS : Microsoft Windows 10 64Bit
1x Emplacement pour Verrou Kensington
Température de Fonctionnement du Système : 0°C to +35°C
Température du Stockage : -20°C to +60°C
Prise en Charge d'une Carte Fille Optionnelle, 2nd port COM + Réseau




* Télécharger fiche d'information
La solution idéale pour tout type d'espace
Aperçu de l'AMD Ryzen 4000U
Petit à l'extérieur, puissant à l'intérieur
Remettant en question l'essence même de la définition d'un PC de bureau, les ingénieurs de GIGABYTE ont développé un PC ultra compact avec un châssis noir pur au design élégant. Idéal pour une large gamme d'applications informatiques à la maison ou au bureau, le BRIX est d'une simplicité et d'une commodité absolues. Avec un large choix de processeurs couvrant tout le spectre des performances, le BRIX établit une nouvelle norme de miniaturisation des ordinateurs de bureau qui le rend parfait comme hub HTPC/multimédia discret, comme PC à très faible consommation pour la famille, comme PC de bureau ou comme unité de signalisation numérique.
Ordinateur Personnel
Institutions
Puissance Graphique
Commercial
Bureau
Vie Numérique
Le PC compact parfait pour la maison
.Salon
.Chambre
.Cuisine
.Bureau
Institutions
.Écoles
.Laboratoires universitaires
.Bibliothèques
.Hôpitaux / Équipement médical
.Gouvernemental
Une puissance graphique ultime
.Jouez aux derniers jeux 3D
.Création Multimédia
.Montage Vidéo
.Design 3D
De puissantes applications commerciales
.Machine d'essai en usine
.Guichet automatique bancaire
.Equipement gaming
.Distributeur automatique
.Système de sécurité
Au bureau
.Dispositif pour salle de réunion
.Station de travail
.Studio
.Espace de bureau freelance
Une vie numérique plus simple et plus intelligente
.Panneau de signalisation d'un centre commercial
.Tableau de bord
.Affichage à double volet
.Affichage LED intérieur / extérieur
Aperçu de l'AMD Ryzen 4000U
Les processeurs AMD Ryzen série 4000U sont basés sur la technologie 7nm et offrent un incroyable bond en avant en termes d'efficacité énergétique. Ces nouveaux processeurs utilisent la technologie de base Zen 2 avec 15 % plus d'instructions par horloge et 20 % moins de puissance SOC.
MEILLEUR NOYAU DE PROCESSEUR
15 % plus d'instructions par fréquence d'horloge
Fréquence d'horloge plus élevée
TECHNOLOGIE 7nm
2x Leader en Technologie de Densité des Transistors
EFFICACITÉ ÉNERGÉTIQUE
20% de Réduction de l'alimentation du SOC
2x plus de performances par Watt
Performances AMD Ryzen 4000U
Les processeurs AMD Ryzen série 4000U surpassent la concurrence. La supériorité des noyaux, avec jusqu'à 8 noyaux physiques et 16 threads, en fait les APU les plus puissants. Ils dominent sur le plan des performances créatives, mais aussi dans les jeux, ce qui en fait la solution idéale pour toute application.


Performances CPU
Performances CPU 3D Mark Single Core vs Multi Core
3,060
5,644
4,363
5,644
Intel Core-i7-1165G7
AMD 4800U
Performances CPU
Benchmark CPU-Z
2,156
4,703
2,440
4,703
Intel Core-i7-1165G7
AMD 4800U
Performances GPU
Score 3D Mark
924
1,138
Performances GPU
Benchmark CineBench R20
1,537
3,396
1,936
3,396
Intel Core-i7-1165G7
AMD 4800U
Support Quad-Display (4x4K)
La série GIGABYTE AMD Ryzen 4000U prend en charge jusqu'à 4 écrans indépendants, grâce à ses 4 ports HDMI, avec une résolution de 4K donnant aux utilisateurs la possibilité de configurer leur environnement de travail sans aucune limitation.
Intel Wi-Fi 6 802.11ax
La solution sans fil d'Intel prend en charge la norme 802.11ax, permet des performances sans fil de l'ordre du gigabit, offre un flux vidéo fluide, une meilleure expérience de jeu, peu de pertes de connexion et des vitesses allant jusqu'à 2,4 Gbps.


Réseau 2.5 GbE
L'adoption du réseau local 2,5G offre une connectivité réseau allant jusqu'à 2,5 GbE, avec des vitesses de transfert au moins deux fois supérieures à celles du réseau 1GbE général, parfaitement conçu pour les joueurs en offrant une expérience ultime des jeux en ligne.
Prise en charge Ethernet RJ-45 Multi-Gig(10/100/1000/2500Mbps).


Étendez la capacité avec la carte Add-On GC-BRCML-DLC
GIGABYTE BRIX est équipé d'un port COM pour supporter le RS232, il peut être facilement utilisé dans une variété d'applications commerciales, telles que système de sécurité, distributeur automatique, système ATM, KIOSK, etc. GIGABYTE BRIX peut utiliser la carte additionnelle en version HDD, la carte additionnelle peut fournir 1 x RJ45(Lan) et 1 x RJ45 à RS232 pour augmenter la connectivité du marché de l'IoT. Grâce à la conception modulaire des différents blindages E/S, le système BRIX de petite taille peut offrir des possibilités illimitées !
* A acheter séparément.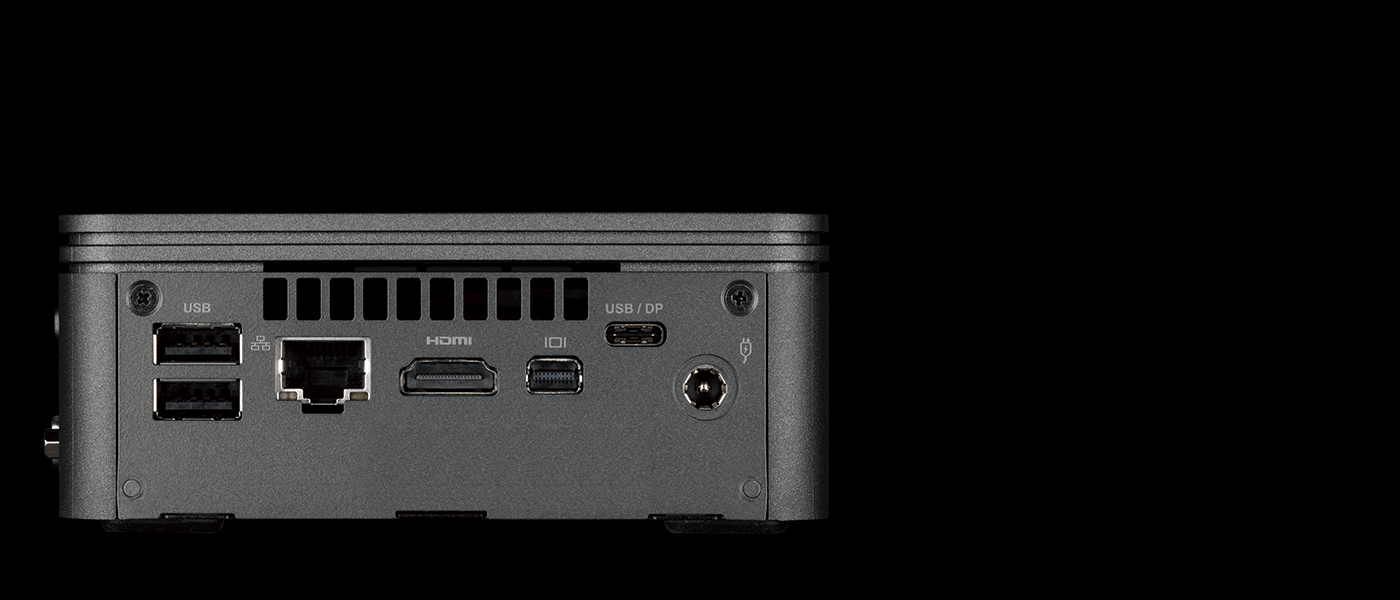 Connectique
La série GIGABYTE BRIX AMD Ryzen 4000U offre une multitude de connexions disponibles. Tous les modèles offrent plusieurs ports, de la connexion de type C jusqu'à la connectivité Wi-Fi AC, en passant par 4 sorties moniteur capables de couvrir les besoins d'une entreprise en permanence.


* Les spécifications et l'aspect du produit peuvent varier d'un pays à l'autre. Nous vous recommandons de contacter votre revendeur local pour connaître les spécifications et l'apparence des produits disponibles dans votre pays. Les couleurs des produits peuvent ne pas être parfaitement exacts en raison de variations causées par des variables photographiques ou les paramètres du moniteur et les images présentes sur notre site peuvent varier. Bien que nous nous efforçons de présenter des informations précises et complètes au moment de la publication, nous nous réservons le droit d'apporter des modifications sans préavis.