AORUS WATERFORCE 280 (ARGB-világításos, kijelzővel szerelt AIO folyadékhűtés)
A nagy teljesítményű szivattyú hatékonyan vezeti el a hőt a csúcskategóriás CPU-król.
AORUS ARGB lighting kijelző.
Változtatható kijelző-orientáció; 330 fokos elfordítási lehetőség.
Nagy teljesítmény, alacsony zajszint, nanografit csapágy-kenőanyag, ARGB-ventilátorok.
Támogatja az RGB FUSION 2.0 szinkronizációt más AORUS eszközökkel.
Univerzális kialakítás a ventilátor és szivattyú fordulatszám-szabályzásához, minden alaplapmárkát támogat.
5 év garancia.
Radiátor and Ventilátorok
VÍZBLOKK
AORUS ARGB LIGHTING KIJELZŐ
Az AORUS WATERFORCE sorozat nagy teljesítményű CPU-folyadékhűtő, amelyet speciálisan gaming PC-khez terveztek. Az AORUS ARGB lighting dizájn az intelligens szenzorokkal képes megmutatni a CPU hőmérsékletét az ARGB lighting kijelzőn, így a felhasználó egyszerűen és stílusosan monitorozhatja gépének állapotát.
ELFORGATHATÓ DIZÁJN
330 fokban elforgatható dizájn.
Szabadon beállíthatod a kívánt szöget.
MEGNÖVELT ÁTMÉRŐJŰ TÖMLŐ
A tömlő megnövelése 5,1 mmØ-ről 7.8 mmØ-re pontosan 37%-kal javította a folyadékáramlást, ezáltal a hőt gyorsabban és hatékonyabban vezeti el a rendszer, ráadásul halk is.
KERÁMIATENGELY A HOSSZABB ÉLETTARTAMÉRT
A kerámia tengely jelentősen hosszabb élettartamú (376 715 óra), mint a hagyományos, fémtengely. Emellett sokkal strapabíróbb és a korrózió sem veszélyezteti.
AZ AORUS CSENDES VENTILÁTORAI HATÉKONYAN HŰTIK A RENDSZERT
Alapos tesztelést követően az AORUS megalkotta az ideális kombinációját a 140 mm-es ventilátoroknak és a 280 mm-es radiátornak. Ez a kombináció a legideálisabb hődiszipálást teszi lehetővé, miközben garantáltan zajmentes marad akár maximális sebesség mellett is.
VENTILÁTOR NANOGRAFIT KENŐANYAGGAL
A nanografit kenőanyag jelentősen csökkenti a zajszintjét a csúszócsapágynak, miközben a ventilátor élettartamát akár 2,1x meghosszabbítja (73 500 óra), ami eléri a dupla golyócsapágyas változatokét sokkal alacsonyabb zajszint mellett.
EGYEDI VENTILÁTOR-LAPÁT DIZÁJN
A 140 mm-es, dinamikusan szabályozott ventilátor csendes működést tesz lehetővé. A légáramot a háromszög-profilú ventilátorlapát szeli ketté, a 3D-s vezetősávok pedig végigvezetik a levegőt lapátok felszínén, ezáltal hatékonyan növelve a légáramlást a hagyományos ventilátorokhoz képest.
SZINKRONIZÁLD AZ AORUS VENTILÁTOROK VILÁGÍTÁSÁT
Minden AORUS ventilátor felkínál ARGB APA és ANYA csatlakozókat.
A felhasználók több AORUS ventilátort kapcsolhatnak egybe és szinkronizálhatják a világítási effektet, hogy egyedi és menő világítás kerüljön gépükbe.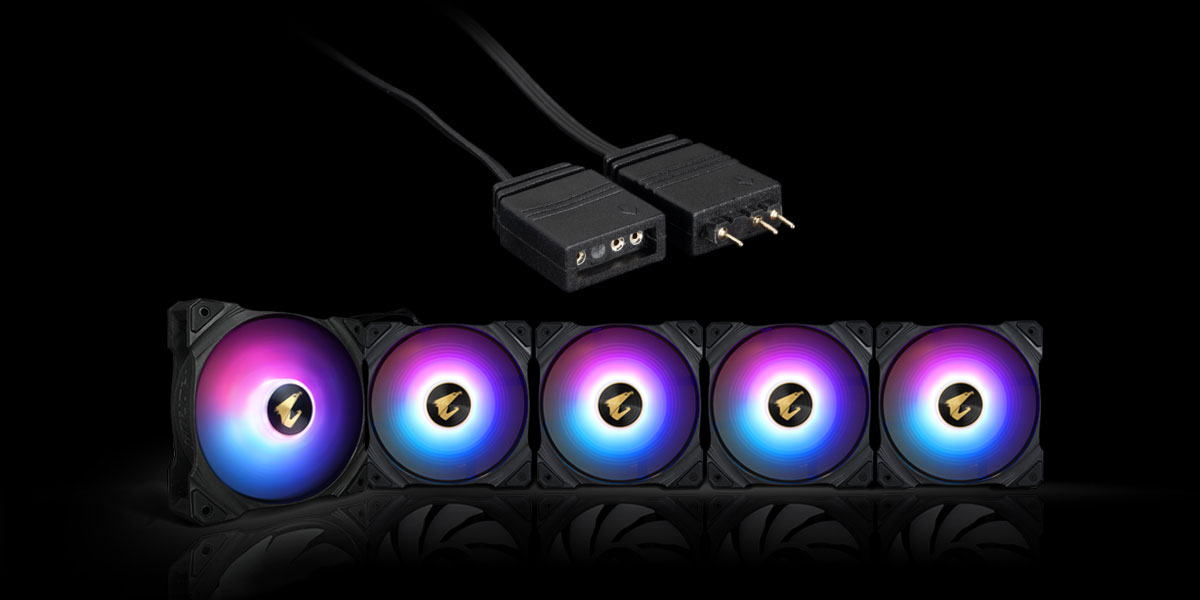 KÁBELMENEDZSMENT
A ventilátor- és LED-kábelek a radiátor szélére kerültek, így sokkal egyszerűbb és gyorsabb a ventilátorokat csatlakoztatni.
RGB Fusion 2.0
Teljesen új RGB LED Dizájn. Az RGB Fusion 2.0 szoftver segítségével a felhasználók vezérelhetik a világítási effekteket az AORUS Falcon logón és a ventilátorok lapátjain is, sőt, a többi perifériával szinkronizálható effekteket állíthatsz be, hogy megmutathasd saját stílusodat.
Megjegyzés: A látható világítási effektek csupán demonstráció célját szolgálják. A tényleges világítási effektek modellenként változhatnak.
* Product specifications and product appearance may differ from country to country. We recommend that you check with your local dealers for the specifications and appearance of the products available in your country. Colors of products may not be perfectly accurate due to variations caused by photographic variables and monitor settings so it may vary from images shown on this site. Although we endeavor to present the most accurate and comprehensive information at the time of publication, we reserve the right to make changes without prior notice.