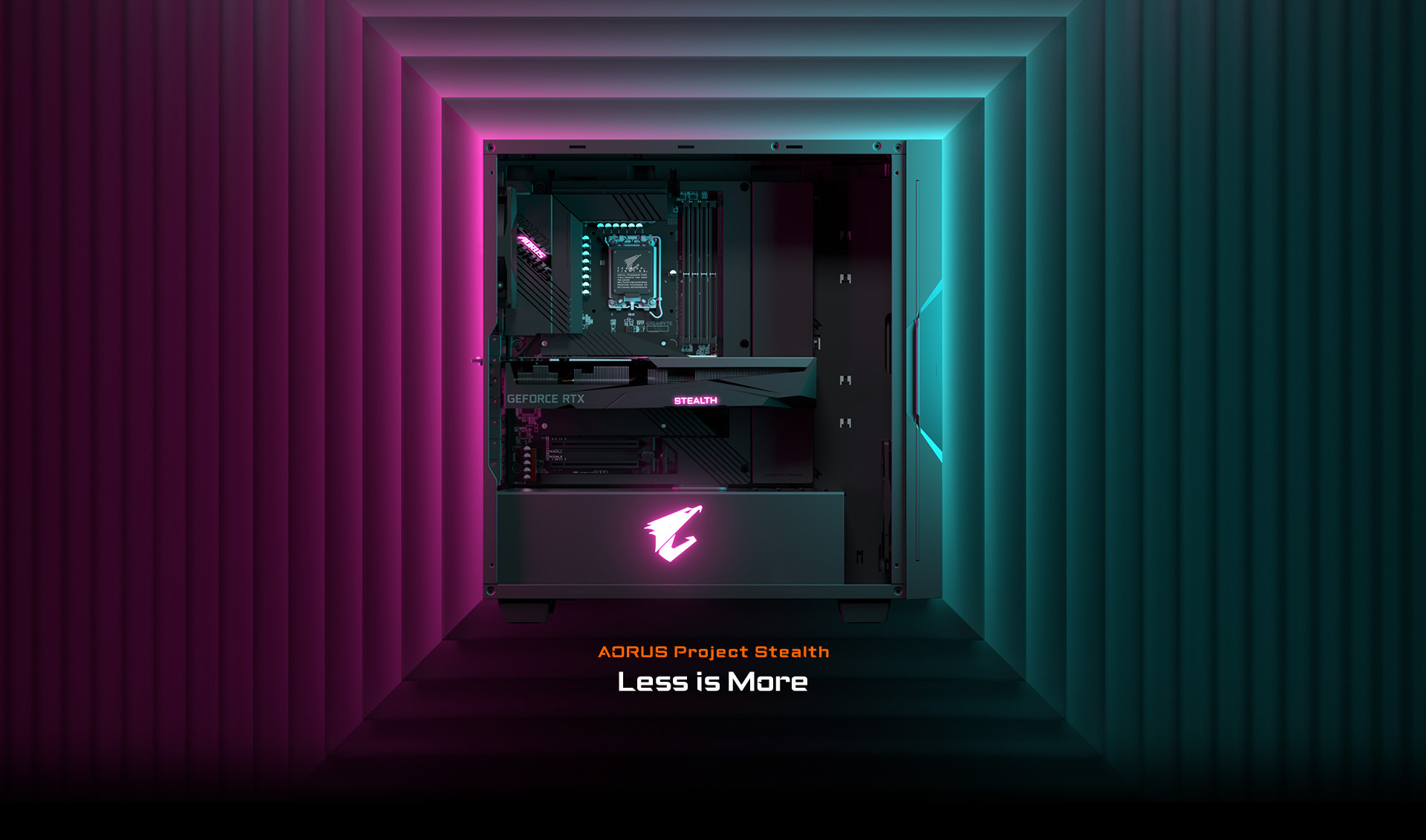 PROJECT STEALTH
A Project Stealth nem csak egy PC-s építőkészlet, hanem forradalmi PC-összeszerelési élményt is nyújt. Gyakorlatilag búcsút inthetsz a kábelektől zsúfolt belsőnek, rövidebb idő alatt összeszerelheted géped, hatékonyabb a légáramlás és jobb a teljesítmény, így a látszólag kábelmentes asztali gép makulátlan belsőjével vonzza az irigy tekinteteket.
Nagyon Kényelem

Kevesebb Nyűg

Nagyobb Tér

Kevesebb Zavaró Tényező
Egyszerűség
Kevesebb Akadály. Jobb Légáramlás
Egyszerű Hozzáférhetőség
Pattintsd fel. Szereld be. Ennyire egyszerű.
Tökéletesre Hangolva
Intuitív Szerelés, Rendezett belső
A GAMING ÚJ KIRÁLYA
Z690 AORUS Elite Stealth
A robosztus tápellátási áramkörrel és hatékony hűtési dizájnnal, továbbá megfejelve a teljes memória-tuninggal az Alder Lake-alapú gaming PC-d az elérhető legjobb teljesítményt fogja nyújtani.
WINDFORCE 3X Hűtőrendszer
RTX 3070 Gaming OC 8G Stealth
A három darab, ellentétes irányban forgó, egyedi lapátkialakítású ventilátorral és Screen Cooling technológiával bámulatos hatékonyságú hőelvezetést sikerült elérnünk, ezáltal a grafikus kártya alacsony hőmérséklet mellett is nagyobb órajeleken képes üzemelni.
SZABADÍTSD FEL A VASADAT!
AORUS C300G Stealth
Az egyedi, rendezettebb belsőt, letisztult külsőt, jobb légáramlást és gyorsabb szerelést mind megtapasztalhatod ezzel a házzal. Oldalt betekintve többé egyetlen kábel sem rondítja el a látványt, így saját ízlésedhez szabhatod géped belsejét is.
RGB FUSION 2.0
A 16,7 millió, tetszőlegesen beállítható színárnyalat és a számtalan világítási effekt segítségével bámulatos látványt érhetsz el, és már AORUS eszközzel is szinkronizálhatod a beállításokat.




CIKLIKUS
PULZÁLÁS
VILLOGÁS
FOLYAMATOS
* Az oldalon szereplő összes kép csupán illusztráció.
* Product specifications and product appearance may differ from country to country. We recommend that you check with your local dealers for the specifications and appearance of the products available in your country. Colors of products may not be perfectly accurate due to variations caused by photographic variables and monitor settings so it may vary from images shown on this site. Although we endeavor to present the most accurate and comprehensive information at the time of publication, we reserve the right to make changes without prior notice.