AORUS RGB Memory DDR5 32GB (2x16GB) 6000MT/s
ARS32G60D5R
AORUS RGB Memory DDR5 6000MHz 32GB Memory Kit, XMP 3.0, Supports AORUS Memory Boost and RGB Fusion 2.0, Selected High Quality Memory ICs, INTEL Z690 certified.
Memory Size :32GB Kit (2 x 16GB)
Frequency : DDR5-6000 MHz
Timing : 40-40-40-76 (XMP 6000MHz)
Performance Profile : XMP 3.0
Copper-aluminum composite heat spreaders with nano carbon coating to keep performance
Intel Z690 certificated
Lifetime warranty
Comply with industrial standard JEDEC DDR5
RGB Fusion 2.0 Supported
* Please refer to support list for more detail
Új Generáció, Új Élmények
AORUS RGB Memory DDR5 6000 MHz (2x 16 GB) Memória Kit
Copper-aluminum Composite with
NanoCarbon Heat Spreader
Az AORUS DDR5 RGB memóriamodul vadonatúj réz-alumínium ötvözet hűtőbordával szerelt. Kombinálva a réz hővezetésének és az alumínium hődisszipációjának előnyeit, így nincs kompromisszumkényszer még tuning során sem. A NanoCarbon bevonat javítja a passzív borda hatékonyságát különösen nagy terhelés alatt. A bevonat a teljes bordát beborítja, ily módon a hő gyorsabban távozik. A magas feszültség 70°C feletti hőcsúcsot és adatvesztést okozhat. Azonban a réz-alumínium kompozit NanoCarbon hűtéssel, amelyet egyedileg a DDR5-höz terveztünk, elkerülhető a túlhúzáskor jelentkező minden probléma, ráadásul a hőmérséklet is végig 70°C alatt marad.
A gyorsabb hőelvezetésért
Alacsonyabb Működési Hőmérséklet a NanoCarbon-bevonatú, Réz-Alumínium kompozit hűtőbordának köszönhetően. (Feszültség: 1.35V)
AORUS DDR5 RGB memóriamodul hűtőbordával
DDR5 modul hűtőborda nélkül
* A teszteredmények belsős méréseken alapulnak és csupán referenciaként szolgálnak. A tényleges teljesítmény változhat a különböző körülmények függvényében.
Nagyobb Stabilitás & Javított Hatékonyság
Az összes többrétegű NYÁK-lapot szigorú minőségellenőrzésnek vetettük alá, hogy garantálhassuk a stabil teljesítményt.
Az AORUS DDR5 RGB memory modul új funkciója a NYÁK-lapi ECC, amely önjavító DRAM cellákat jelent. Az On-die ECC-nek hála a PC-d minden eddiginél stabilabb lehet.
3.
Integrált Energiagazdálkodási áramkör (Power Management integrated circuit - PMIC)
A legújabb DDR5 modulok integrált feszültségszabályzóval rendelkeznek (PMIC). Ez lehetővé teszi a DDR5 feszültségének finomhangolását, ami jelentősen jobb tuning-potenciált jelent.
Támogatja az új XMP 3.0-t, Állítsd Be Saját XMP-Profilodat
Az AORUS DDR5 memóriamodul támogatja a legújabb XMP 3.0 specifikációt, ezáltal egyszerűbb tuningot és több profilt kínál. Nem csupán az előre meghatározott XMP-profilokat tudod mostantól aktiválni, akár egyedi, saját XMP-profilt is kialakíthatsz, amely a memóriamodul SPD ROM chipjében tárolódik. Az AORUS DDR5 memória segít kihasználni az XMP 3.0 nyújtotta minden előnyt.
Kitűnőre tervezve
Az új AORUS RGB Memória KIT-eket úgy terveztük, hogy a lehető legjobb teljesítményt nyújtsák, így mindenki mást maguk mögé utasítva.
A stílusos, luxus dizájn és a fényes felületkezelés kiemeli a többi vetélytárs közül.
A beépített RGB LED-ek és az alumínium hűtőborda kiváló kombináció: tökéletesen elvezetik a hőt, miközben lebilincselő látványt nyújtanak. Ha olyan memóriacsomagot szeretnél, ami a következő szintre emeli PC-det, az AORUS RGB Memóriacsomagot neked találták ki! A géped ragyogni fog vele!
Memória kit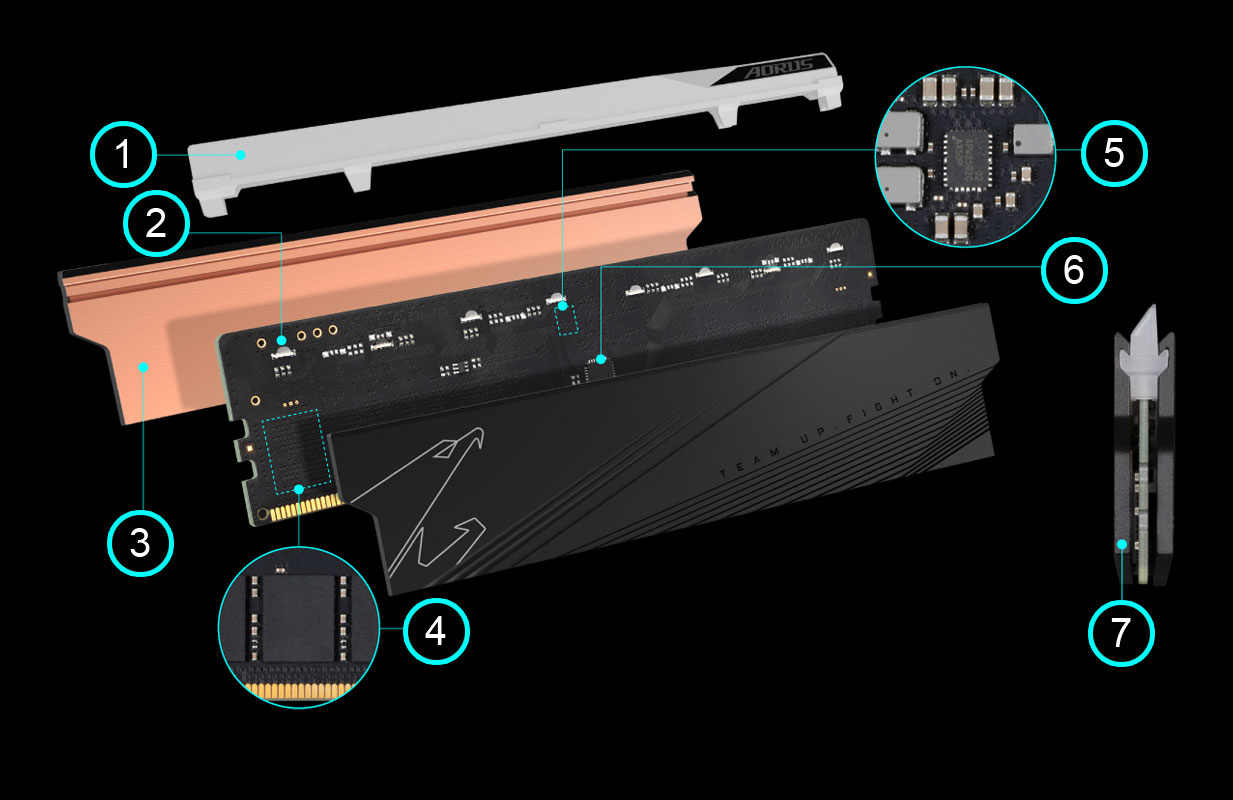 1
Exkluzív fényszórás AORUS mintával
3
Réz-Alumínium kompozit hűtőborda NanoCarbon bevonattal
4
Csúcsminőségű memória IC
5
Csúcsminőségű PMIC IC a stabil áramellátásért
6
MCU a világítás-vezérléshez
7
A hűtőborda 2 mm vastag, ami szintén javítja a hőelvezetés hatékonyságát.
RGB Fusion 2.0
DDR Exkluzív Világítási Effektek
Az AORUS RGB memória számos világítási módot támogat. Egyes világítási módok csak az AORUS RGB memóriához használhatók. Color strobe, Cascade, Color Cascade, Droplet és Color Droplet azok az új módok, amelyek egyedi stílust kölcsönöznek rendszerednek.
Megjegyzés: A látható világítási effektek csupán demonstráció célját szolgálják. A tényleges világítási effektek modellenként változhatnak.
Az integrált, felhasználóbarát kezelőfelületű RGB Fusion 2.0 minden eddiginél jobb megoldást kínál a világítási effektek egyedi beállítására az összes, támogatott eszközön egyszerre. Az alaplaptól a grafikus kártyákon át egészen a perifériákig teljesen egyedivé varázsolhatod gamer gépedet. Megmutathatod stílusodat bárkinek, ugyanis már meg is oszthatod az elkészített világítási profilokat. A legújabb fejlesztéseknek hála a Gaming mód egyedivé varázsolja világításodat az aktuálisan futtatott, a rendszerrel kompatibilis játékok esetén, így a lehető legjobb játékélményben lehet részed.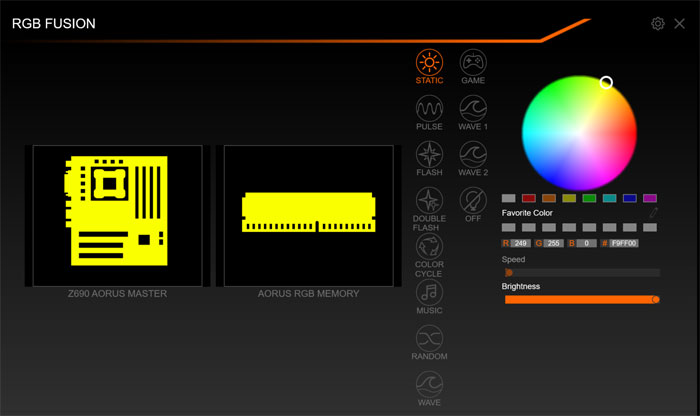 Sync with one click
Individual control as you wish


Tesztelve: Bevetésre készen!
Minden memória szigorú, szabványosított tesztelési folyamaton megy át annak érdekében, hogy garantálni tudjuk a felhasználók számára a tökéletes teljesítményt kompromisszumok nélkül.
XMP 3.0 Támogatás, Határozd meg Saját XMP Profilodat
Az AORUS DDR5 RGB memóriamodul támogatja a legújabb XMP 3.0 specifikációt továbbfejlesztett tuning-képességekkel és profilokkal. A felhasználók meghatározhatják és finomhangolhatják saját XMP-profiljaikat, és elmenthetik ezeket a profilokat az SPD-be.

Élettartam garancia
Minden AORUS RGB Memóriacsomag korlátozott élettartam garanciával érkezik. A GIGABYTE támogatási központja segít a technikai támogatásban, amennyiben hiba adódna.
Méretek
* Product specifications and product appearance may differ from country to country. We recommend that you check with your local dealers for the specifications and appearance of the products available in your country. Colors of products may not be perfectly accurate due to variations caused by photographic variables and monitor settings so it may vary from images shown on this site. Although we endeavor to present the most accurate and comprehensive information at the time of publication, we reserve the right to make changes without prior notice.