You may only add up to 5 items for comparison at one time.
AORUS FV43U Gaming Monitor
4K PRO
GAMINGRE FEL!
4K. Emeld Játékélményedet a Következő Szintre!
Az AORUS FV43U egy 43-inches QLED kijelző UHD-felbontással, a legújabb HDMI® 2.1 interfésszel, 144 Hz-es frissítési rátával és 1 ms MPRT válaszidővel a szaggatásmentes játékélmény és tökéletes képminőség érdekében. A 10 bit/színes szuperszéles színskála 97%-os DCI-P3 és 150% sRGB színtérlefedettséget garantál, hogy kiemelkedő színhelyességet élvezhess. Ez egy Display HDR1000™ tanúsítvánnyal rendelkező, kimagasló képminőséget garantáló monitor, így tökéletesen alkalmas mindenféle játékhoz és szórakozáshoz.
QLED
Élénk és lenyűgöző színek
UHD 4K
3,840 x 2,160 pixel
SPACE AUDIO
Élethű hangélmény
A 4K-ÉLMÉNY
Az egyre több nagyfelbontású játéktartalommal még jobb vizuális élményben lehet részed, így itt az ideje, hogy befektess egy 4K-s kijelzőbe! Az AORUS 4K-s monitorok tűéles, részletgazdag látványt nyújtanak és minden eddiginél valósághűbb élményt nyújtanak!
QUANTUMPONT
A Quantum Dot technológiával az AORUS FV43U sokkal élethűbb, élénkebb képet jeleníthet meg szélesebb színskálát felhasználva, miközben a fényerő is nagyobb és a HDR is látványosabb.
43" VA 4K-BAN
43" VA panel (3840 x 2160 felbontás) 16:9-es képarány és 144 Hz-es frissítés mellett a szakadozásmentes játékélményért.
10 bit & 97% DCI-P3
Az AORUS FV43U egy 10-bit/színes kijelző 97%-os DCI-P3 színtérlefedettséggel, így gazdagabb színárnyalatokat és pontosabb színmegjelenítést téve lehetővé.
VESA DisplayHDR 1000
A nagy dinamikatartomány (HDR - High-dynamic range) kibővíti a kijelző fényerejét, ezáltal élvezheted a felkínált exkluzív HDR módokat, hogy még tovább növeld játékélményed és szórakozásod!
SPACE AUDIO
Az exkluzív hangrendszernek köszönhetően az AORUS FV43U-val minden eddiginél tisztább és magával ragadóbb hangélményben lehet részed, amely extra módokat kínál akár játékhoz, akár más szórakozáshoz egyaránt.
VS
FPS
Film
Élő Koncert
SPACE AUDIO
Az exkluzív hangrendszernek köszönhetően az AORUS FV43U-val minden eddiginél tisztább és magával ragadóbb hangélményben lehet részed, amely extra módokat kínál akár játékhoz, akár más szórakozáshoz egyaránt.
VS
FPS
Film
Élő Koncert
AIM STABILIZER SYNC
A továbbfejlesztett Aim Stabilizer célzássegítővel V-Sync mellett is élvezheted az elmosódás-mentes képet, ami jelentősen javítja a célzásodat!
BLACK EQUALIZER
A Black Equalizer részletgazdagabb sötét részeket eredményez a kijelzőn, anélkül, hogy a kép egyéb részeinek minőségét rontaná. Ezzel a funkcióval felfedheted sötétben rejtőzködő ellenfeleidet!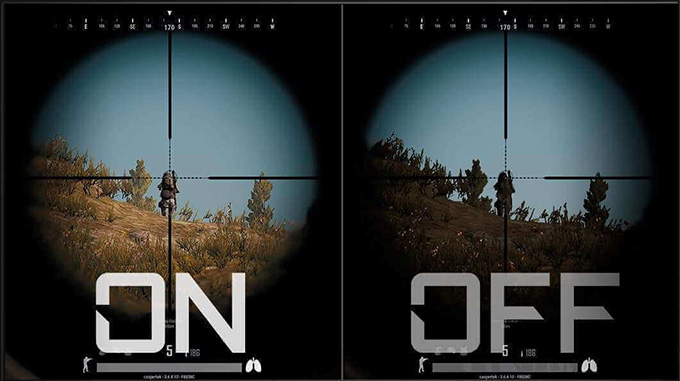 PIP/PBP
A PiP/PBP funkció segítségével eltérő videóbemeneteket jeleníthetsz meg a kijelzőn egyszerre! Ezáltal egyszerűen nézhetsz például játékleírást vagy végigjátszást, miközben játszol is a játékkal - legyen a te titkod, miért is vagy annyival jobb a többieknél!
DASHBOARD
A Dashboard megmutatja a kritikus hardverinformációkat, méghozzá valós időben. Nem számít, milyen felhasználás történik éppen, ezt semmivel sem lehet blokkolni még játékokon belül sem. Az információk ráadásul személyre szabhatók, te adhatod meg, számodra mely adatok a legfontosabbak!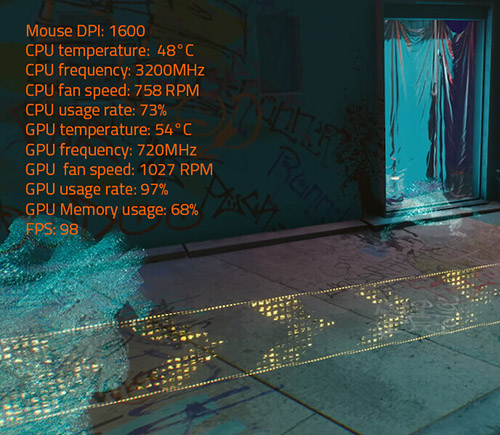 EGYEDI CÉLKERESZT
Az AORUS Célkereszt számtalan különféle célkeresztet képes a kijelzőre varázsolni, sőt, saját célkeresztedet is elkészítheted! A különböző játékokhoz más és más célkeresztet választhatsz, ezek között pedig egyszerűen, gyorsbillentyűvel váltogathatsz.
Időzítő & Számláló
Az Időzítővel számon tarthatod az eltelt időt, a számláló pedig segít számolni az ellenfelek által használt extrákat, vagy bármilyen más számlálni valót.
6-TENGELYES SZÍNBEÁLLÍTÁS
Ezzel a funkcióval lehetőséged nyílik hat színt (piros, zöld, kék, cián, magenta és sárga) külön-külön beállítani a hajszálpontos színtér-lefedettség érdekében.
KVM
A KVM funkció lehetővé teszi, hogy több eszközt kezelj egyetlen billentyűzet, kijelző, egér szettel.
DIZÁJNTERV
Az AORUS világában mindent digitális alapokra helyeztünk. A világítás és az effektek tökéletesen passzolnak a készülékhez, így harmonikus, elegáns, profi megjelenést kölcsönözve. Üdvözlünk a Digitális Érában!

Villódzásmentes
Megelőzi a szemfáradtságot és fájdalmat.
USB Charger
SuperSpeed USB töltő 5V/1.5A teljesítménnyel.
Kompatibilis Fali Konzolok
Még rugalmasabb lehet a felhasználás és jobb az ergonómia VESA konzollal.
Tápegység beépítve
Nincs szükség különálló, nagyméretű adapterre.
* Product specifications and product appearance may differ from country to country. We recommend that you check with your local dealers for the specifications and appearance of the products available in your country. Colors of products may not be perfectly accurate due to variations caused by photographic variables and monitor settings so it may vary from images shown on this site. Although we endeavor to present the most accurate and comprehensive information at the time of publication, we reserve the right to make changes without prior notice.