Elevate Your Computing Experience: Introducing the Enhanced GIGABYTE BRIX Extreme Mini-PCs with AMD Ryzen™ 7040U and 7035U Processors!
Aug 24, 2023 ─ Giga Computing, a trailblazing force in high-performance technology and a distinguished GIGABYTE subsidiary, proudly presents the next evolution in computing. Behold the sleek and powerful ultra-compact mini-PC, a masterpiece meticulously designed for the BRIX Extreme lineup. This dynamic addition harnesses the formidable capabilities of the AMD Ryzen™ 7040U and 7035U series processors. As AMD propels mobile platforms into a new era with the Zen4 architecture and TSMC's cutting-edge 4nm process, the BRIX Extreme rises as the ultimate symbol of performance, style, and innovation.
Enveloped in GIGABYTE's exclusive design, the BRIX Extreme of 2022 boasts an enhanced appearance that seamlessly integrates four display outputs—HDMI 2.1, USB Type C, 2.5G Ethernet, and Wi-Fi 6E. This unleashes the unprecedented power of the most dominant mini-PC, delivering breathtaking performance and responsiveness. Unleash your creativity, dominate your games, and immerse yourself in limitless possibilities.
Ignite Unprecedented Performance
The BRIX Extreme redefines performance standards with the arrival of AMD Ryzen™ 7040U and 7035U processors. Embracing the groundbreaking Zen4 architecture and manufactured at a remarkable 4nm in 7040U, these processors harmonize flawlessly with the latest DDR5 JEDEC standard, enabling memory speeds to soar to an impressive 5600 MHz. Experience a surge in performance, surpassing AMD's previous mobile processors. Witness over 40% improvement in CPU performance compared to the AMD 5000 series, and a dazzling 30% enhancement in graphics performance. For the 7035U series, experience the brilliance of AMD Zen3+ architecture on a 6nm process, further amplified by DDR5 technology. Enhanced multi-tasking and smart power management ensure seamless productivity on the move, preserving long-lasting battery life. Choose your BRIX Extreme performance from the exceptional AMD Ryzen™ 3 7335U to the commanding AMD Ryzen™ 7 7840U, tailored to your needs.
Graphics Marvel and Unmatched Connectivity
Experience visuals like never before with the integrated AMD Radeon™ RDNA graphics. The BRIX Extreme indulges your senses with stunning graphics and leverages the power of AMD RZ608 with Wi-Fi 6E for seamless wireless data transfers. Dive into a world where speed and value harmoniously unite, perfect for your essential BRIX Extreme experience.
Infuse Simplicity into Your Life
A seamless blend of classic aesthetics and cutting-edge technology, the BRIX Extreme offers optimized graphics performance, breathing life into greater-than-4K details. The AMD Radeon Graphics engine supports HDMI 2.1 and Mini DP 1.4, enabling simultaneous use across multiple monitors. Elevate your video playback, editing, and computing performance across four dazzling displays. With display connectors strategically placed on the backside, cable management becomes a breeze.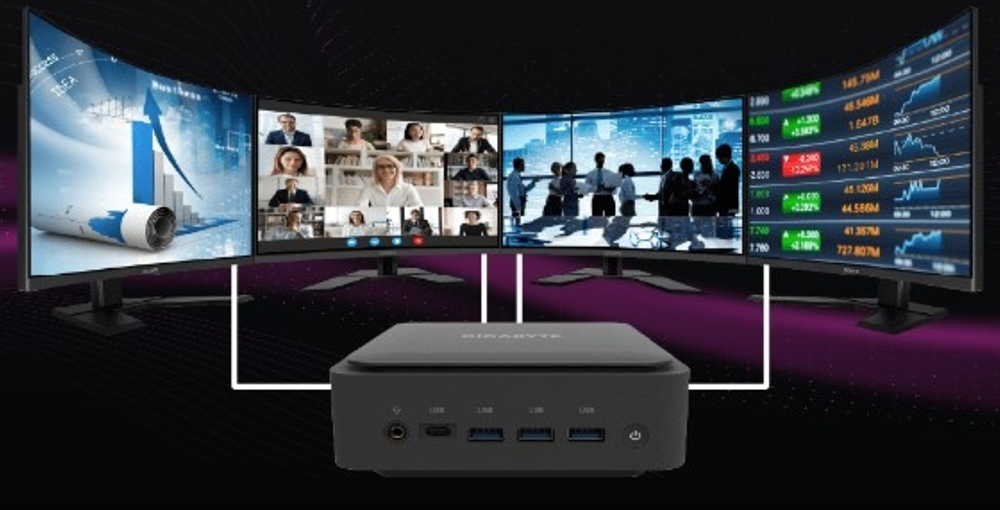 Redefine Your Possibilities
The BRIX Extreme adapts to your needs with the HS version, empowering dual M.2 slots for expanded storage. Choose between the Slim and Tall versions, with the latter accommodating a 2.5" SSD/HDD. Elevate your BRIX Extreme with the optional upgrade kit, featuring an I/O expander for a second LAN connection, RS232 communication port, and an M.2 2280 slot. This kit magnifies flexibility, catering to diverse applications. Combined with various I/O outputs, these mini-size BRIX systems become a canvas for limitless creativity. Bundled with a VESA bracket, the BRIX seamlessly integrates into industries spanning commerce, education, and beyond.
Tailor-Made for Every Space
Challenge conventions with Giga Computing's Ultra-Compact Marvel! Unleash the BRIX Extreme, an epitome of style, power, and efficiency. Perfectly suited for diverse computing applications, from home to school, and the office. The BRIX sets a new benchmark for desktop miniaturization, making it an ideal discreet HTPC/multimedia hub, a supremely efficient family, office, or school PC, or an exceptional digital signage solution. Embrace the BRIX Extreme and Redefine Your Computing Odyssey! Your Future Starts Now.
Model
GB-BER7-7840
GB-BER5-7535
GB-BER3-7335
GB-BER5H-7535
GB-BER3H-7335
GB-BER5HS-7535
CPU / Freq
AMD Ryzen™ 7 7840U, 8C, 16T, up to 5.1GHz, 15W
AMD Ryzen™ 5 7535U, 6C, 12T, up to 4.5GHz, 15W
AMD Ryzen™ 3 7335U, 4C, 8T, up to 4.3GHz, 15W
AMD Ryzen™ 5 7535U, 6C, 12T, up to 4.5GHz, 15W
AMD Ryzen™ 3 7335U, 4C, 8T, up to 4.3GHz, 15W
AMD Ryzen™ 5 7535U, 6C, 12T, up to 4.5GHz, 15W
Graphic
AMD Radeon™ RDMA3 780M
AMD Radeon™ RDMA2 660M
Memory
2 x SO-DIMM DDR5 5600MHz, Max. 64GB
2 x SO-DIMM DDR5 4800MHz, Max. 64GB
Storage
x M.2 – PCIe x4
1 x M.2 - PCIe x4 / SATA
1 x M.2 - PCIe x4 / SATA
1 x 2.5" HDD/SSD
1 x M.2 - PCIe x4 / SATA
2 x M.2 - PCIe x1 / SATA
1 x 2.5" HDD/SSD
Networking / Wireless
2.5G LAN
Wi-Fi 6E / BT
Graphic Output
2x HDMI 2.1; 1x mini DP (DP1.4); 1x USB type C (with alt DP mode; DP1.4)
USB
3 x USB 3.2 gen2 Type A
1 x USB 3.2 gen2 Type C
1 x USB Type C/DP
2 x USB 2.0 Type A
To submit a query: Contact Sales
Follow Giga Computing on Twitter: https://twitter.com/GIGABYTEServer
Follow Giga Computing on LinkedIn: https://linkedin.com/company/giga-computing
Follow Giga Computing on Facebook: https://facebook.com/gigabyteserver
Media Contact: Liam Quinn liam.quinn@gigacomputing.com
About Giga Computing
Giga Computing Technology is an industry innovator and leader in the enterprise computing market. Having spun off from GIGABYTE, we maintain hardware expertise in manufacturing and product design, while operating as a standalone business that can drive more investment into core competencies. We offer a complete product portfolio that addresses all workloads from the data center to edge including traditional and emerging workloads in HPC and AI to data analytics, 5G/edge, cloud computing, and more. Our longstanding partnerships with key technology leaders ensure that our new products will be the most advanced and launch with new partner platforms. Our systems embody performance, security, scalability, and sustainability. To find out more, visit https://www.gigacomputing.com/ and join our newsletter.
* AMD, the AMD arrow logo, Ryzen, Radeon and combinations thereof are trademarks of Advanced Micro Devices, Inc