GeForce RTX™ 3060 EAGLE OC 12G (rev. 1.0)
PUNTOS CLAVE
Multiprocesadores de Streaming NVIDIA Ampere
2°.- Generación de núcleos RT
3°.- Generación de núcleos Tensor
Potenciada por GeForce RTX™ 3060
Integrada con 12GB GDDR6 192-bit de interface de memoria
Sistema de enfriamiento WINDFORCE 2X con ventiladores de giro alterno
Ventiladores de 100mm con aspa única
RGB Fusion 2.0
Placa trasera protectora

CORE CLOCK
1807 MHz (Reference Card: 1777 MHz)
ARQUITECTURA NVIDIA AMPERE
La nueva arquitectura NVIDIA Ampere ofrece el mejor estilo de juego, presentando la la 2°.- Gen. de núcleos Ray Tracing y la 3°.- Gen. de núcleos Tensor con mayor rendimiento.
RTX. IT'S ON.
Viva los juegos recientes más éxitos como nunca antes con la fidelidad visual del trazado de rayos en tiempo real y el máximo rendimiento de DLSS con tecnología IA.
VICTORIA MEDIDA EN MILISEGUNDOS
NVIDIA Reflex ofrece la máxima ventaja competitiva. La latencia más baja. La mejor capacidad de respuesta. Potenciada con GPUs GeForce RTX Serie 30 y monitores NVIDIA® G-SYNC®. Adquiere objetivos más rápido, reacciona más rápido y mejora tu puntería a través de un revolucionario conjunto de tecnologías para medir y optimizar la latencia del sistema durante la práctica de juegos competitivos.
ELEVA TU JUEGO CREATIVO
Lleva tus proyectos creativos a un nuevo nivel con las GPU GeForce RTX Serie 30. Ofreciendo aceleración de IA en las mejores aplicaciones creativas. Respaldado por la plataforma NVIDIA Studio de controladores dedicados y herramientas exclusivas. Construido para operar en un tiempo récord. Ya sea que esté renderizando escenas 3D complejas, editando video 8K o transmitiendo en vivo con la mejor calidad de imagen y codificación, las GPU GeForce RTX te brindan el rendimiento para crear lo mejor.
STREAM LIKE A BOSS
Robe el show con gráficos increíbles y transmisión en vivo fluida y sin stuttering. La codificación y decodificación de hardware de última generación se combinan para mostrar todos tus mejores momentos con exquisito detalle. La nueva aplicación NVIDIA Broadcast te brinda potentes capacidades de IA para mejorar la calidad de audio y video con efectos como fondo virtual, fotograma automático de cámara web y eliminación de ruido del micrófono. Para que puedas brindarle a tu audiencia lo mejor en todo momento.
DIRECTX 12 ULTIMATE
Los desarrolladores ahora pueden agregar efectos gráficos aún más sorprendentes a los juegos de PC basados en Microsoft Windows. Las tarjetas gráficas GeForce RTX ofrecen funciones DX12 avanzadas, como trazado de rayos y sombreado de velocidad variable, que dan vida a los juegos con efectos visuales ultrarrealistas y velocidades de cuadro más rápidas.
GIRO ALTERNO
Reduce la turbulencia de los ventiladores adyacentes y aumenta la presión del aire.
FLUJO DE AIRE SUAVE
GIGABYTE gira los ventiladores adyacentes en la dirección opuesta, de modo que la dirección del flujo de aire entre los dos ventiladores sea la misma, reduciendo la turbulencia y mejorando la presión del flujo de aire.
VENTILADOR 3D ACTIVO
El Ventilador 3D Activo proporciona enfriamiento semi-pasivo y los ventiladores permanecerán apagados cuando la GPU esté en un juego de baja carga o baja potencia.
VENTILADOR DE ASPA ÚNICA
Los extremos triangulares del ventilador esparcen el flujo de aire, que es guiado a través de las lineas curvas 3D en su superficie.
NANO LUBRICANTE DE GRAFENO
El nano lubricante de grafeno puede extender la vida útil del ventilador y su rodamiento en 2.1 veces, cerca de la vida útil de rodamientos de doble bola y es más silencioso.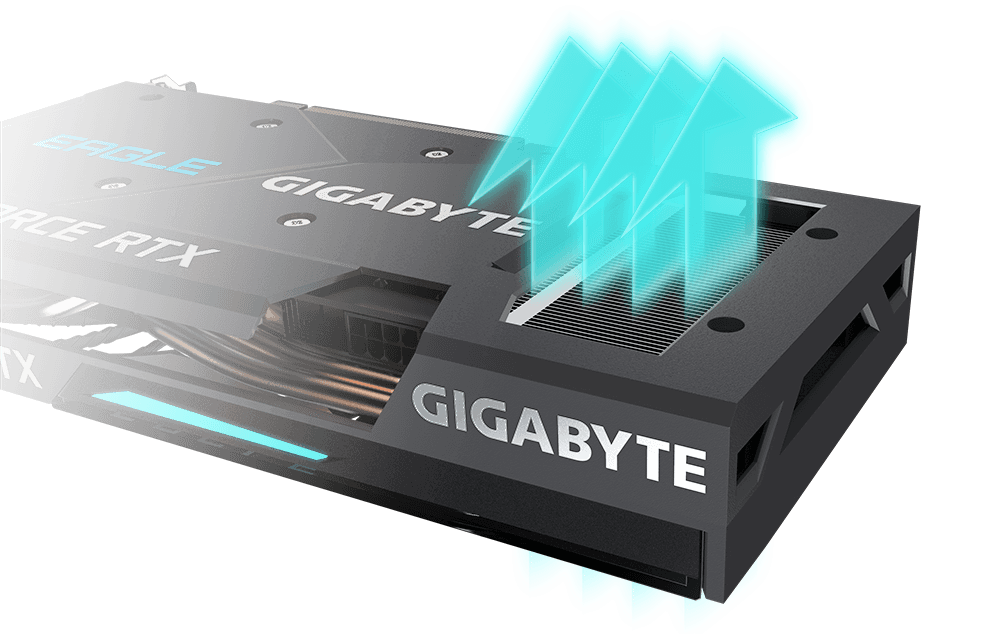 SCREEN COOLING
El diseño extendido del disipador pemite que el aire pase a través de él, lo que proporciona una mejor disipación del calor.
TUBOS DE CALOR DE CONTACTO DIRECTO
La forma del tubo de calor de cobre puro maximiza el área de contacto directo con la GPU. Estos tubos también cubren la VRAM a través del contacto con una placa metálica larga para garantizar un enfriamiento adecuado.
RGB FUSION 2.0
Con 16.7 millones de opciones de color personalizables y numerosos efectos de iluminación, puede elegir efectos de iluminación o sincronizar con otros dispositivos AORUS.
CICLO DE COLOR
ESTÁTICO
FLASH
FLASH DOBLE
PULSO
PLACA TRASERA
La placa posterior no solo proporciona una forma estética, sino que también mejora la estructura de la tarjeta gráfica para brindar una protección completa.
EXTREMA DURABILIDAD Y OVERCLOCKING
La tarjeta gráfica utiliza el mejor diseño de fases de poder para permitir que el MOSFET funcione a una temperatura más baja, el diseño de protección contra sobrecalentamiento y el equilibrio de carga para cada MOSFET. Además, los chokes y capacitores certificados Ultra Durable, para proporcionar un rendimiento excelente y una vida útil más prolongada del sistema.
DISEÑO DE PCB AMABLE
El proceso de producción totalmente automatizado garantiza la máxima calidad de las placas de circuito y elimina las protuberancias afiladas de los conectores de soldadura que se ven en la superficie de la PCB convencional. Este diseño amigable evita que sus manos se corten o dañen inadvertidamente los componentes al realizar su construcción.
AORUS ENGINE
La interfaz intuitiva de vanguardia te permite ajustar la velocidad del reloj, el voltaje, el rendimiento del ventilador y el objetivo de potencia en tiempo real de acuerdo con los requisitos de tu juego.
© 2020 NVIDIA Corporation. NVIDIA, el logotipo de NVIDIA, GeForce, GeForce Experience, GeForce RTX, G-SYNC, NVLink y ShadowPlay son marcas comerciales registradas y / o marcas comerciales de NVIDIA Corporation en los Estados Unidos y otros países. Todas las demás marcas comerciales y derechos de autor son propiedad de sus respectivos dueños.
* Todas las imágenes de esta página son solo ilustrativas.

* Los términos HDMI, HDMI High-Definition Multimedia Interface (Interfaz multimedia de alta definición), HDMI Trade Dress (diseño e imagen comercial HDMI) y los logotipos HDMI son marcas comerciales o marcas registradas de HDMI Licensing Administrator, Inc.
* Las especificaciones del producto y su apariencia pueden ser diferentes de un país a otro. Te recomendamos que compruebes las especificaciones y apariencia disponibles en tu país con tu vendedor local. Los colores de los productos pueden no ser perfectamente exactos debido a las variaciones causadas por las variables fotográficas y los ajustes de color de tu monitor, por lo que pueden ser diferentes a los colores mostrados en esta página web. Aunque nos esforzamos por ofrecer la informacion más exacta y detallada en el momento de su publicación, nos reservamos el derecho de realizar cambios sin notificación previa.
* GIGABYTE graphics cards, except those labeled "Mining Series", are intended only for use with desktop PCs. Other types of use, such as blockchain computing or cryptocurrency mining, will render the product warranty void.