Intel® H510M Ultra Durable Motherboard with 6+2 Phases Digital VRM, PCIe 4.0* Design, Realtek GbE LAN, Anti-Sulfur Resistor,  Smart Fan 6
Supports 11th and 10th Gen Intel®  Core™ Series Processors
Dual Channel Non-ECC Unbuffered DDR4, 2 DIMMs
Ultra-Fast M.2 with PCIe Gen3 X4 & SATA Interface
Realtek GbE LAN with Bandwidth Management
High Quality Audio Capacitors and Audio Noise
Smart Fan 6 Features Multiple Temperature Sensors , Hybrid Fan Headers with FAN STOP
GIGABYTE APP Center, Simple and Easy Use
Anti-Sulfur Resistors Design

* Actual support may vary by CPU.
1
Solid Pin Power Connector
8
High Quality Onboard Audio Design
9
6+2 Phases Hybrid Power Design
Low RDS(on) MOSFETs
Solid Capacitor
4 Layer PCB
PCIe 4.0 Ready PCB
10
Supports 11th Gen. Intel® Core™ Processors
11
PCI Express 4.0 Design
1*PCIe 4.0 x16 slot
* PCIe 4.0 support varies by processor installed, refer product spec for further details.
POWER
6+2 Phases Hybrid Power Design
6+2 Phases Hybrid Power Design
Cleaner and more efficient power delivery to the CPU with better thermal performance ensure stability under high CPU frequencies and heavy loading.
6+2 Phases Low RDS(on) MOSFETs
Solid capacitors to improve transient response and minimize oscillation.
8-pin Solid Pin CPU Power Connector.

Smart Fan 6 contains several unique cooling features that ensure gaming PC maintain its performance while staying cool and quiet. Multiple fan headers can support PWM/DC fan and pump, and users can easily define each fan curve based on different temperature sensors across the board via intuitive user interface.
Headers & Sensors
2 PWM/DC Fan Headers
4 Internal Temperature Sensors
Cooling Features
High Current Support

Each fan headers support PWM and DC fan and Water cooling Pump , and up to 24W (12V x 2A) with Over-Current Protection

Precision Control

Up to 7 temperature/fan speed control points for precise fan curve

Dual Curve Mode

Slope/Stair dual mode for different user scenario

Fan Stop

Fan can stop completely below users' specified temperature point
Smart Fan 6 BIOS UI
We increase control points from 5 to 7 and larger fan speed graph for precise and easier fan curve control.
2
Slope/Stair dual graph mode
Fan curve can be quickly switch with Slope and Stair modes for different user scenario. Slope is traditional and intuitive linear fan speed curve. With newly added Stair non-linear mode, fan keeps at same speed between specified temperature interval.
For advanced users, we provide fan speed manual input for more precise control.
Use can place 4 EZ Tuning points at rough temperature/fan speed, and Smart Fan 6 can quickly generate a fan curve.
Fan curve profile can be saved in BIOS ROM, profile will be kept after updating BIOS.
Achieve fan silence. With Fan Stop, map any fan to stop completely when temperatures drop below a specified threshold. Which fan stops, based on readings from which sensor, and at what temperature—all of it can be customized to your liking.
Intelligent Fan Control Design
Single 32GB Support
The maximum memory capacity on the H510 motherboard is 64 GB. After Intel updated the memory reference code, a single slot can support up to 32GB. Therefore with populated 2 DIMM per channel on both channel, total memory capacity is 64GB, which was only available on High End Desktop (HEDT) platforms. For users who always run out of memory capacity, there is more bandwidth now for memory-intensive application such as rendering and video editing.
Reinforced PCIe 4.0 x 16.
* PCIe 4.0 support varies by processor installed, refer product spec for further details.
High-End Audio Capacitors
GIGABYTE motherboards use high-end audio capacitors. These high quality capacitors help deliver high resolution and high fidelity audio to provide the most realistic sound effects for gamers.
Audio Noise Guard
GIGABYTE motherboards feature an audio noise guard that essentially separates the board's sensitive analog audio components from potential noise pollution at the PCB level.
Realtek GbE LAN with Bandwidth Management
Realtek Gigabit LAN features a network bandwidth management application which helps to improve network latency and maintain low ping times to deliver better responsiveness in crowded LAN environments.
NVMe PCIe Gen3 x4 22110 M.2 Connector
GIGABYTE Motherboards are focused on delivering M.2 technology to enthusiasts who want to maximize their system's potential.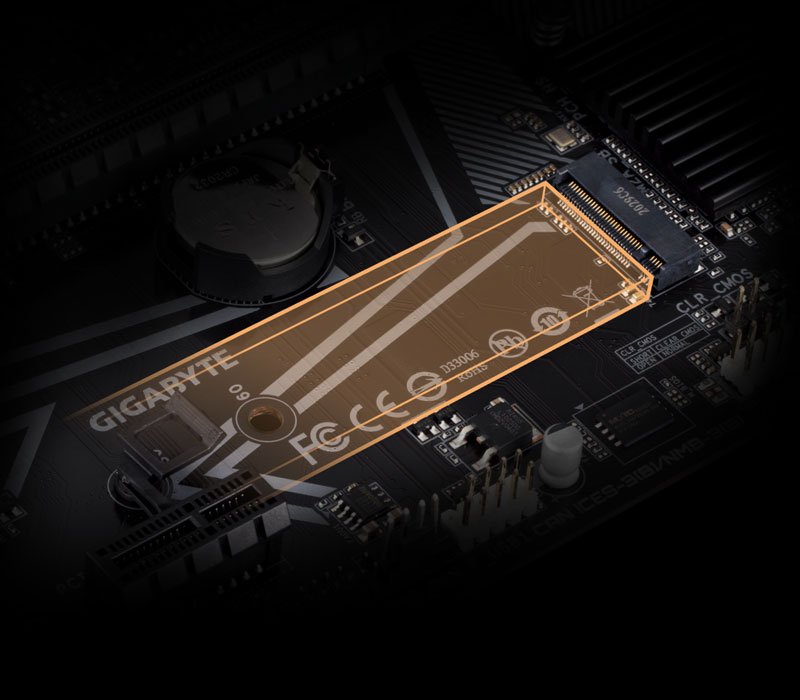 START SULFURIZATION PROTECTION
Sulfur compounds in the air can penetrate tiny onboard resistors creating chemical change and causing these resistors to open or short. If either of these occurs the motherboard will fail to function. By equipping resistors with an Anti-Sulfur Design GIGABYTE gives Ultra Durable Motherboards a whole new meaning.

SOFTWARE
System Information Viewer
BIOS
The BIOS is essential for users during initial setup to allow for the most optimal settings. With a new GUI and easier to use functionalities, GIGABYTE has been able to reinvent the BIOS to give users a better experience while setting up their new system.
* Photos are for reference only. Product features may vary by model.
APP CENTER
GIGABYTE APP CENTER is a useful portal of all GIGABYTE MB utilities and drivers, you can choose any utility you want to install from APP CENTER and keep updated with the latest utilities and drivers version.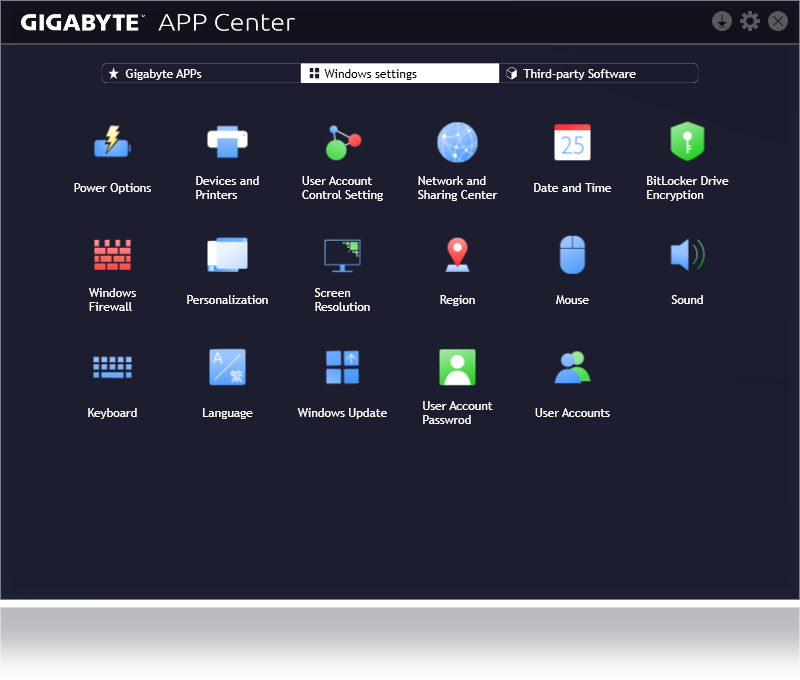 EasyTune™
GIGABYTE's EasyTune™ is a simple and easy-to-use interface that allows users to fine-tune their system settings or adjust system and memory clocks and voltages in a Windows environment.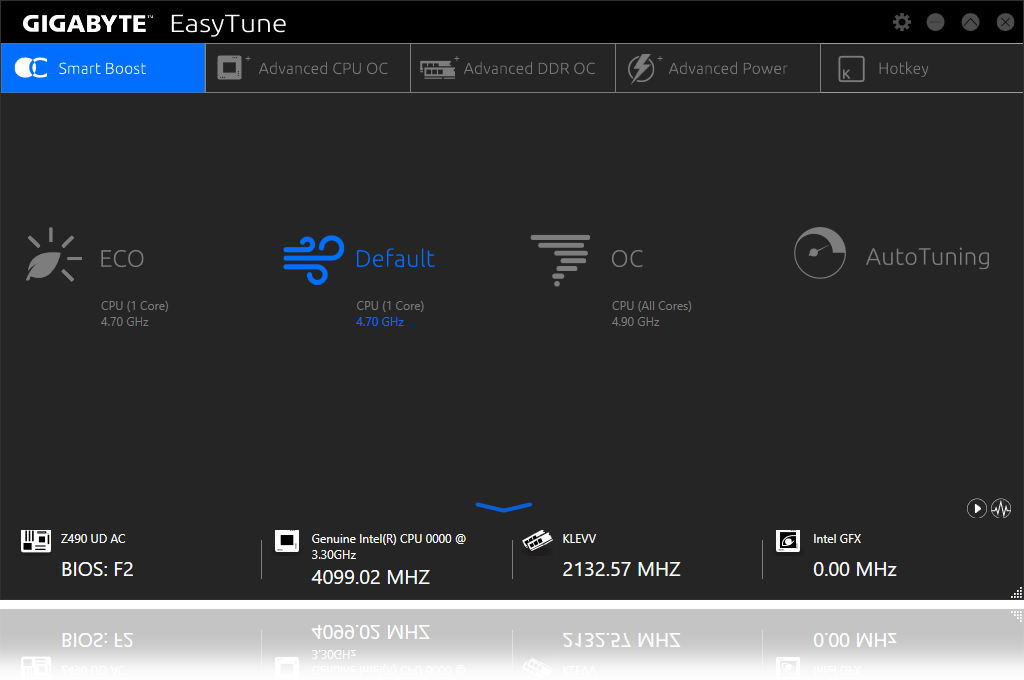 System Information Viewer
GIGABYTE System Information Viewer is a central location that gives you access to your current system status. Monitor components such as the clocks and processor, set your preferred fan speed profile, create alerts when temperatures get too high or record your system's behavior; these are the possibilities of the System Information Viewer.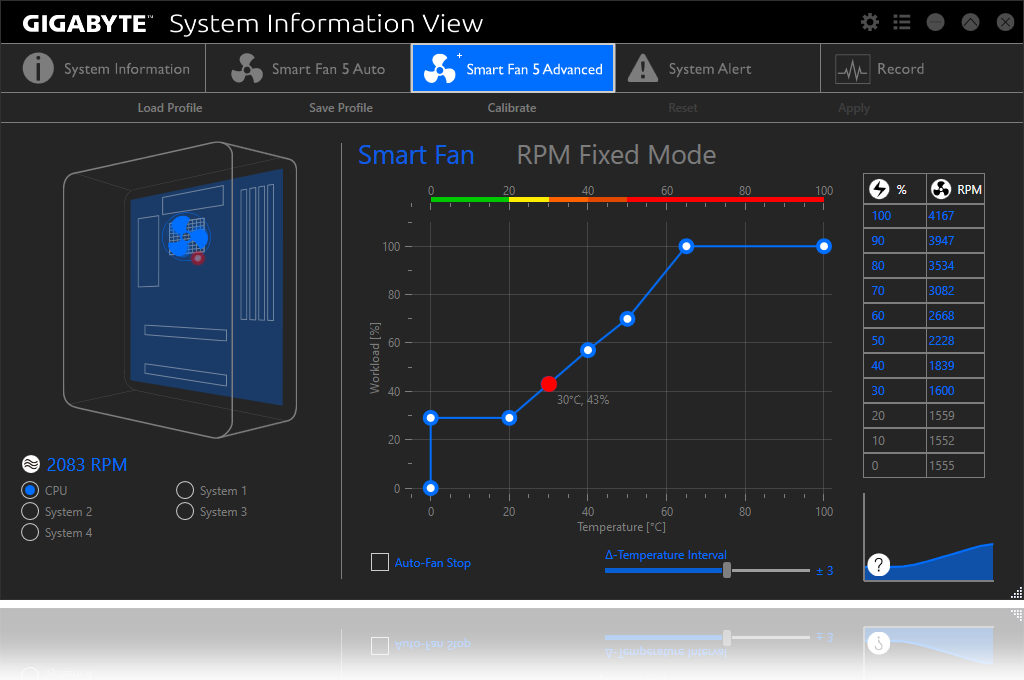 * Los términos HDMI, HDMI High-Definition Multimedia Interface (Interfaz multimedia de alta definición), HDMI Trade Dress (diseño e imagen comercial HDMI) y los logotipos HDMI son marcas comerciales o marcas registradas de HDMI Licensing Administrator, Inc.
* Las especificaciones del producto y su apariencia pueden ser diferentes de un país a otro. Te recomendamos que compruebes las especificaciones y apariencia disponibles en tu país con tu vendedor local. Los colores de los productos pueden no ser perfectamente exactos debido a las variaciones causadas por las variables fotográficas y los ajustes de color de tu monitor, por lo que pueden ser diferentes a los colores mostrados en esta página web. Aunque nos esforzamos por ofrecer la informacion más exacta y detallada en el momento de su publicación, nos reservamos el derecho de realizar cambios sin notificación previa.