You may only add up to 5 items for comparison at one time.
GA-X170-WS ECC (rev. 1.0)

Intel® Thunderbolt™ 3 Certified Motherboard
Supports the Intel® Xeon® E3-1200 v5/E3-1200 v6 processor and 7th/6th Gen. Intel® Core™/Pentium®/ Celeron® Processor
Dual Channel, ECC Unbuffered / Non-ECC Unbuffered DDR4, 4 DIMMs
Intel® USB 3.1 with USB Type-C™ & PD 2.0 36W Support
2-Way SLI™ & 3-Way CrossFire™ Multi-Graphics Support
NVMe PCIe Gen3 x4 22110 M.2 Interface & U.2 Interface for Intel® SSD 750
2 SATA Express Connectors for Up to 16Gb/s Data Transfer
Supports 2 SATA Disk on Modules for Storage Expansion
Dual Intel® GbE LAN with cFosSpeed Internet Accelerator Software
115dB SNR HD Audio with Built-in Rear Audio Amplifier
High Quality Audio Capacitors and Audio Noise Guard with Ambient LED Trace Path Lighting
Ultra Durable Metal Shielding over PCIe and DDR Slots
GIGABYTE UEFI DualBIOS™ Technology
Next Generation 40 Gb/s Thunderbolt™ 3

Thunderbolt™ 3 – The fastest 40Gb/s single-wire connection

Intel® Thunderbolt™ 3 Certified Motherboard

Powered by Intel's own Thunderbolt controller the new Thunderbolt™ 3 protocol, which is available over a USB Type-C™ connector on the back I/O of the GIGABYTE X170-WS ECC, brings an unprecedented single-wire bandwidth of up to 40 Gb/s -- twice more than the previous generation of Thunderbolt! This incredible increase in bandwidth is also accompanied with support for different protocols such as Mini DisplayPort 1.2 and USB 3.1, which is backwards compatible with USB 3.0 and USB 2.0, opening up a world of new possibilities.

Daisy-chain Multiple Devices

Support for Mini DisplayPort 1.2 makes Thunderbolt™ 3 a must have for any enthusiast. The X170-WS ECC is able to support a display in 4K resolution at 60 FPS. In addition, Thunderbolt™ 3 over USB Type-C™ has revolutionary industry-first features such as Power Delivery 2.0, and the ability to daisy-chain up to 6 devices thanks to the X170-WS ECC 's USB Type-C™ port.

Compatibility may vary according to system configuration and device specifications.

Thunderbolt™ 3
 

Built for Professionals

GIGABYTE Professional Motherboards

GIGABYTE Professional Motherboards, part of GIGABYTE's award-winning Ultra Durable lineup, embrace a range of exclusive technologies that guarantee our customers the absolute best protection for their PC, such as built-in features that prevent common malfunctions users encounter on a day-to-day basis.

GIGABYTE's factory and testing facility use the latest in quality control measures to ensure that our products meet the highest standards for stability and reliability.

To ensure GIGABYTE Ultra Durable Motherboards are able to work with various computer components out in the market, GIGABYTE also runs a barrage of tests on each GIGABYTE Ultra Durable Motherboard model with a variety of different components on a base system during the R&D stage to provide customers the highest stability and the best compatibility while maintaining high performance under long term usage.

Professionals need systems that are stable and reliable as system failures means money lost. GIGABYTE's industry leading standards of quality control and testing means that you can rest assured that GIGABYTE's Professional Motherboards will not fail when you need them the most.
Built for Professionals
Define Your Professional Platform
Define Your Professional Platform
GIGABYTE Ultra Durable ™ Motherboards
GIGABYTE C236 Series motherboards support the Intel® Xeon® E3-1200 v5 processor and 6th Gen. Intel® Core™/Pentium®/Celeron® processors, bringing cutting edge features and ultimate performance to your next PC build.
NVIDIA® QUADRO® Professional Graphics Supports
NVIDIA® QUADRO® 3D Workstation Professional Graphics Solutions are designed and built specifically for artists, designers, and engineers, NVIDIA Quadro GPUs power more than 100 professional applications across a broad range of industries. Professionals trust them to enable their best work using applications such as Adobe® Creative Cloud, Avid Media Composer, Autodesk Suites, Dassault Systemes, CATIA and SOLIDWORKS, Siemens NX, PTC Creo, and many more.
NVIDIA® QUADRO® Professional Graphics Supports
The Intel® USB 3.1 controller utilizes 4 PCIe Gen3 lanes, offering up to 32 Gb/s total bandwidth, for uncompromised transfer speeds of up to 10 Gb/s per USB 3.1. With twice the bandwidth compared to its previous generation, and backwards compatibility with USB 2.0 and 3.0, the much improved USB 3.1 protocol is available over the new reversible USB Type-C™ and the traditional USB Standard-A connector for better compatibility over a wider range of devices.

Intel USB 3.1
Connecting the Future - USB Type-C™:
The World's Next Universal Connector


Reversible USB Type-C™ with USB 3.1
The USB Type-C™ is a new reversible connector that is loaded with useful features such as USB 3.1 support for 10 Gb/s transfer speed and DisplayPort 1.2 support to connect 4K monitors. Powered by the Intel® controller, this little port is the better USB Type-C™.



* Display feature may vary by model.
USB Type-C

PCIe Gen3 x4 M.2
With PCIe Gen3 x4 M.2 connectors onboard, GIGABYTE brings to the user PCI-Express connectivity for SSD devices. Delivering up to 32 Gb/s data transfer speed per connector, the dual M.2 provides an ideal storage solution as it also supports RAID modes.


* The above photos are for reference only.



Support for DDR4 2133 MHz Memory Modules
The next generation of DRAM is here with DDR4. Featuring stock frequencies starting at 2133 MHz, DDR4 delivers up to 20% less energy consumption and twice as much density as the previous generation DDR3. DDR4 can help GIGABYTE users to load their programs faster, increase responsiveness of their system and help them to handle heavy data tasks in a flash. GIGABYTE motherboards provide Dual Channel DDR4 memory support across the entire range, bringing exceptionally fast memory access.
Support for DDR4 2133 MHz Memory Modules
ECC Memory (Error-correcting code)
Utilizing specialized memory chips on the RAM modules, it can eliminate small data discrepancies and prevent data corruption to ensure reliability for critical applications while helping to reduce system crashes.


* ECC (Error Correcting Code Memory)
** ECC support varies by CPU.
Dual Intel® GbE LAN
Primary LAN Intel® I210-AT support the best virtualization compatibility and performance.
Secondary LAN Intel® I219LM supports Intel vPRO technology.
Intel® GbE LAN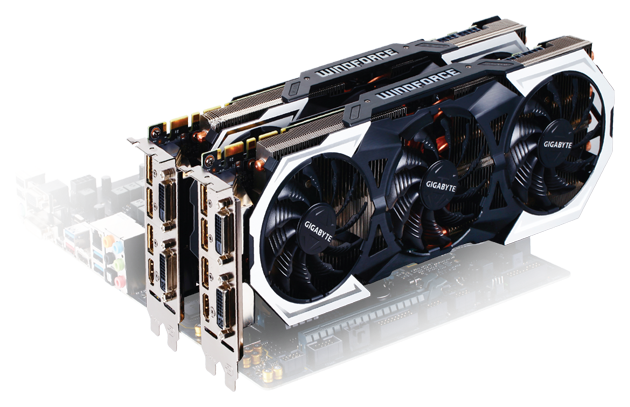 2-Way SLI™/3-Way CrossFire™ Multi-Graphics
Multi-graphics configuration offers better graphics performance for gaming enthusiasts who demand the highest frame rates without compromising on resolution.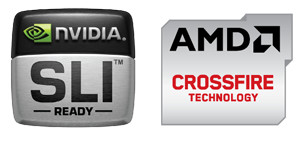 2-Way SLI™/3-Way CrossFire™ Multi-Graphics
Industry Leading Ultra Durable™ PCIe Metal Shielding
The innovative one piece stainless steel shielding design from GIGABYTE reinforces the PCIe connectors to provide the extra strength required to support heavy graphics cards.


* The above photos are for reference only.
Next Generation SATA Express
SATA Express combines the benefits of PCI Express and SATA to provide much higher bandwidth, featuring data transfer rates of up to 16Gb/s.
The above photos are for reference only.
Next Generation SATA Express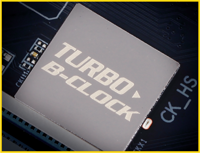 Turbo B-Clock:
Built-in Advanced Performance Tuning IC
Thanks to the onboard TURBO B-Clock Tuning IC, GIGABYTE Motherboards enable Overclockers to have the ability to change their BCLK Frequency to a desired value of their choice. With the new linear range adjustment option of the Tuning IC, ranges from 90MHz to 500MHz are now possible, so that overclockers are not limited to the 5% ranges of traditional straps.
* Turbo B-Clock overclocking range may vary according to CPU capabilities.
Turbo B-Clock
Long Lifespan Durable Black™ Solid Caps
GIGABYTE motherboards integrate the absolute best quality solid state capacitors that are rated to perform at maximum efficiency for extended periods, even in extreme performance configurations. With ultra-low ESR no matter how high the CPU load, this provides peace of mind for end users who want to push their system hard, yet demand absolute reliability and stability. These exclusive capacitors also come in customized jet black, exclusively on GIGABYTE motherboards.

Durable Black™ Solid Caps
Gold Plated CPU Socket Design
GIGABYTE motherboards come equipped with a gold plated CPU socket, which means that enthusiasts can enjoy absolute reliability and longevity for the CPU socket overtime, without having any concerns about corroded pins or bad contacts.
Gold Plated CPU Socket Design
Intel® vPro™ Technology
Intel
®
vPro™ technology is a set of security and manageability capabilities built into Intel
®
Core™ processor family, Intel
®
chipsets, and network adapters which can simplify and accelerate critical IT functions...
more
Intel® vPro™ Technology
* The entire materials provided herein are for reference only. GIGABYTE reserves the right to modify or revise the content at anytime without prior notice.
* Advertised performance is based on maximum theoretical interface values from respective Chipset vendors or organization who defined the interface specification. Actual performance may vary by system configuration.
* All trademarks and logos are the properties of their respective holders.
* Due to standard PC architecture, a certain amount of memory is reserved for system usage and therefore the actual memory size is less than the stated amount.