¡Máximo 5 modelos para comparar! Por favor borra algunos modelos antes de añadir más. Gracias.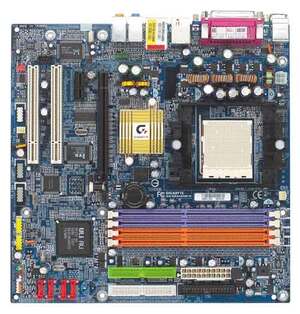 Descargas
Lista de Soporte para CPUs
Manual
Preguntas frecuentes
Descargas
Lista de Soporte para CPUs
Lista de Soporte
Manual
Preguntas frecuentes
Descargue desde el servidor más cercano a usted: Asia, China, América del Norte, Europa, Rusia.
Necesitas ver estos archivos PDF con Acrobat Reader

Descargas
Audio

Audio

Versión

Tamaño

Fecha

Realtek Function driver for Realtek Azalia audio chip (Including Microsoft UAA Driver in English edition)

S.O.

: Windows XP 64bit,Windows XP 32bit,Windows Vista 64bit,Windows Vista 32bit,Windows 7 64bit,Windows 7 32bit

[5.10.0.6662]

118,29 MB

2012/10/25

Chipset

LAN

SATA RAID

VGA

BIOS(+9)

Versión

Tamaño

Fecha

Descripción

F4

0,46 MB

2005/06/09

Default set GPP Links to 21111 mode
Added support K8 dual-core CPU
Added support SATA CDROM boot

F3

0,46 MB

2005/03/14

Fixed system can't boot with USB device.
Set setup item default of Init display first to on-chip VGA.
Change Uli raid bios to V1.0E.
Lista de Soporte para CPUs