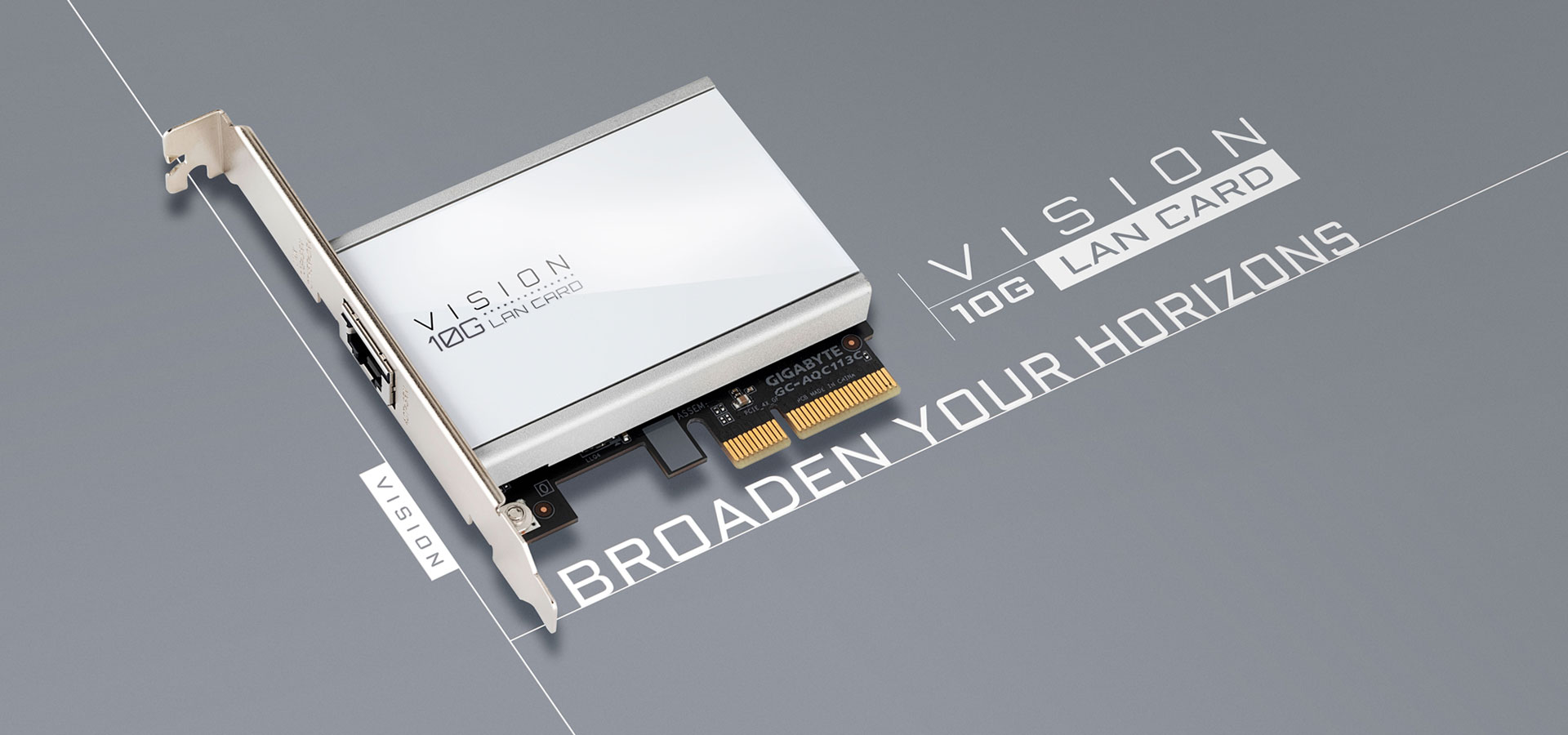 VISION 10G LAN Card satisfies the excellent data transfer performance and impressive connectivity to deal with heavy workloads. Blazing-fast network access speed up your workflows and provide an immediate benefit.
Lightning-fast and Professional Grade Connectivity
VISION 10G LAN Card delivers 10X faster speed than Gigabit Ethernet, bringing for the best transfer speed. It could enhance the bandwidth of virtualization applications, the large file transfers, video editing, professional workloads, and meet the more bandwidth requires at your network infrastructure.
8K Video Download Time Calculator
Easy to upgrade to take you further
VISION 10G LAN Card is equipped with a single RJ45 port, offering a cost-effective and easy to install via existing copper cabling at distances up to 100 meters. It supports backward compatibility and auto-negotiation between 10Gbps, 5Gbps, 2.5Gbps, 1Gbps, 100Mbps, and 10Mbps. Furthermore, the included full-height and low-profile brackets are compatible with most installations.
1.
10Gbps RJ45 Ethernet port
VISION 10G LAN Card Specifications
GC-AQC113C
LAN Controller
Marvell® AQtion AQC113C
LAN Spec
10GBASE-T
Transmission rates
10Gbps / 5Gbps / 2.5Gbps / 1Gbps / 100Mbps / 10Mbps
Cable Type
CAT6A / CAT7 up to 100m
Interface
PCI Express 3.0 x4
Port
Single 10GbE LAN (RJ45)
Operating System
Support for Windows 10 (64-bit)
VISION 10G LAN Card
Lightning-fast and Professional grade 10GBASE-T Connectivity, Easy to upgrade by PCIe x4 Interface, Standard CAT-6a cabling with RJ45 connector
To deliver 10x faster than standard Gigabit Ethernet for greatly boost data transfer performance
Backward compatible with 10GBASE-T / 5GBASE-T / 2.5GBASE-T / 1000BASE-T / 100BASE-TX / 10BASE-Te
Easy to upgrade PC by PCIe3.0/PCIe2.0 interface
Equipped with an RJ45 connector and easy to install via existing copper cabling
* Product specifications and product appearance may differ from country to country. We recommend that you check with your local dealers for the specifications and appearance of the products available in your country. Colors of products may not be perfectly accurate due to variations caused by photographic variables and monitor settings so it may vary from images shown on this site. Although we endeavor to present the most accurate and comprehensive information at the time of publication, we reserve the right to make changes without prior notice.