You may only add up to 5 items for comparison at one time.
GeForce® GTX 1660 SUPER™ D6 6G
Vlastnosti
GeForce® GTX 1660 SUPER™
Architektura NVIDIA Turing™ a GeForce Experience™
Integrovaných 6 GB GDDR6 se 192b paměťovým rozhraním
Chladicí systém WINDFORCE 2X s protiběžnými ventilátory
90mm ventilátory
Ochranný zadní plát

Takt jádra
1785 MHz

CHLADICÍ SYSTÉM WINDFORCE 2X
NAVRŽENA PRO DLOUHOU VÝDRŽ
Chladicí systém WINDFORCE 2X
Chladicí systém WINDFORCE 2X je vybaven dvěma jedinečnými 90mm ventilátory, opačně točícím se ventilátorem, kompozitní měděnou heatpipe s přímým dotykem na GPU a technologií 3D aktivního ventilátoru. To vše společně poskytuje efektivní odvod tepla pro vyšší výkon při nižších teplotách.
ALTERNATE SPINNING
Technologie Alternate Spinning společnosti GIGABYTE je jediným řešením, které si dokáže poradit s turbulentním prouděním u sousedících ventilátorů. Pokud se oba ventilátory otáčejí stejným směrem, v místě, kde se jejich lopatky míjejí, tlačí proud vzduchu proti sobě, což způsobuje turbulentní proudění a snižuje odvod tepla. U GIGABYTE mají sousední ventilátory opačný směr otáčení, takže oba tlačí vzduch stejným směrem, což snižuje turbulence a zvyšuje tlak vzduchu.
Klidné proudění vzduchu: lepší odvod tepla
Turbulentní proudění vzduchu: horší odvod tepla
UNIKÁTNÍ LOPATKY VENTILÁTORU
Průtok vzduchu je rozdělen trojúhelníkovým okrajem ventilátoru a plynule veden přes 3D křivku proužků na povrchu lopatek, což efektivně zvyšuje proudění vzduchu.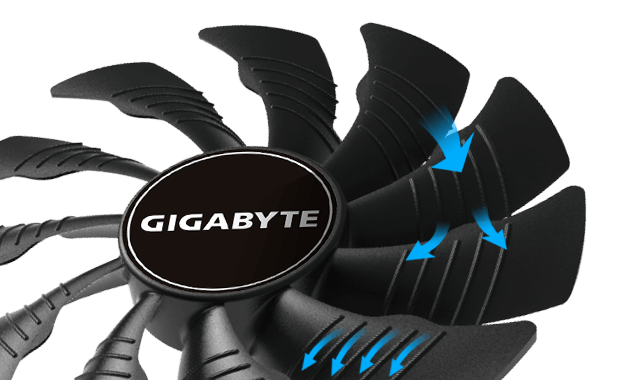 3D AKTIVNÍ VENTILÁTOR
3D Active Fan poskytuje částečně pasivní chlazení, ventilátory stojí, pokud je grafický čip málo zatížený anebo na něm běží nenáročná hra. Hráči si tak mohou vychutnat si zcela tiché hraní, když je sestava jen málo zatížená nebo je v klidu.
Heat-pipe s přímým dotykem
Tvar trubic z čisté mědi maximalizuje plochu přímého kontaktu s GPU a zvyšuje efektivitu přenosu tepla. Heatpipe pokrývají také VRAM prostřednictvím velkého kovového plátu, aby bylo zajištěno správné chlazení.
KOMPOZITNÍ HEATPIPE
Kompozitní heatpipe kombinují tepelnou vodivost a fázový přechod pro efektivní řízení přenosu tepla mezi dvěma pevnými rozhraními, což zvyšuje kapacitu chlazení.
NAVRŽENA PRO VYSOKOU ODOLNOST
EXTRÉMNÍ ODOLNOST
Grafická karta využívá lepší design napájecích fází, aby MOSFETům umožnila pracovat při nižších teplotách a chránila je před přehřátím, a vyvažování zátěže pro každý MOSFET plus certifikované tlumivky a kondenzátory Ultra Durable, které poskytují vynikající výkon a delší životnost.
Ochranný zadní plát
Zadní kovový plát má nejen estetickou úlohu, ale také posiluje strukturu grafické karty tak, aby byla karta kompletně chráněna.
DOKONALE POD KONTROLOU
Skutečné funkcionality softwaru a podoba uživatelského rozhraní závisí na konkrétním modelu grafické karty.
AORUS Engine
Špičkové intuitivní grafické rozhraní vám umožní přizpůsobit takty, napětí, výkon ventilátorů i cílovou spotřebu v reálném čase podle požadavků vaší hry.
* Všechny obrázky na této stránce jsou pouze ilustrační.
* Product specifications and product appearance may differ from country to country. We recommend that you check with your local dealers for the specifications and appearance of the products available in your country. Colors of products may not be perfectly accurate due to variations caused by photographic variables and monitor settings so it may vary from images shown on this site. Although we endeavor to present the most accurate and comprehensive information at the time of publication, we reserve the right to make changes without prior notice.
* GIGABYTE graphics cards, except those labeled "Mining Series", are intended only for use with desktop PCs. Other types of use, such as blockchain computing or cryptocurrency mining, will render the product warranty void.