AORUS RGB Memory DDR5 32GB (2x16GB) 6000MT/s
ARS32G60D5R
AORUS RGB Memory DDR5 6000MHz 32GB Memory Kit, XMP 3.0, Supports AORUS Memory Boost and RGB Fusion 2.0, Selected High Quality Memory ICs, INTEL Z690 certified.
Memory Size :32GB Kit (2 x 16GB)
Frequency : DDR5-6000 MHz
Timing : 40-40-40-76 (XMP 6000MHz)
Performance Profile : XMP 3.0
Copper-aluminum composite heat spreaders with nano carbon coating to keep performance
Intel Z690 certificated
Lifetime warranty
Comply with industrial standard JEDEC DDR5
RGB Fusion 2.0 Supported
* Please refer to support list for more detail
Nová generace, nová zkušenost
AORUS RGB Memory DDR5 6000MHz (2x 16GB) Memory Kit
Copper-aluminum Composite with
NanoCarbon Heat Spreader
AORUS DDR5 RGB memory adopts a new copper-aluminum composite material heat spreader. Combine the advantages of copper's heat conduction and aluminum's heat dissipation, make sure no compromise when overclocking. Besides, with NanoCarbon coating, enhance passive thermal spreader when under ultra-high performance. The coating material covers the entire heat spreaders. In that way, heat is dissipated more quickly. High voltage may cause a memory peak over 70°C and failure. However, Copper-aluminum composite with NanoCarbon heat spreader, a dedicated design for DDR5, greatly helps to avoid any potential problem when overclocking; moreover, keep the temperature under 70°C.
Pro rychlejší odvod tepla
Nižší pracovní teploty použitému kompozitu mědi a hliníku s rozptylovačem tepla využívajícím NanoCarbon (Napájecí napětí: 1.35V)
AORUS DDR5 RGB memory with heatsink
DDR5 module without heatsink
* Výsledek testu je založen na interním testování pouze pro referenční účely, skutečný výkon se může za různých okolností lišit.
Vyšší stabilita a efektivita
All the multilayer PCB are conducted by strict quality control to make sure the stable performance.
AORUS DDR5 RGB memory module features new function, on-die ECC which allows to self-correct DRAM cell. On-die ECC brings reliability and makes your PC stable than before.
3.
Integrovaný obvod pro řízení napájení (PMIC)
Nejnovější moduly DDR5 jsou vybaveny integrovaným obvodem pro řízení napájení (PMIC). Ten otevírá možnost řízení napětí DDR5, což zvedá výkon i potenciál pro přetaktování.
Podpora nového XMP 3.0, definujte si vlastní profil XMP
Paměťový modul AORUS DDR5 podporuje nejnovější specifikace XMP 3.0, vylepšuje možnosti přetaktování a profilů. Nejenže mohou uživatelé zvolit předem odladěný profil XMP, ale mohou si také definovat a vyladit své vlastní profily XMP a uložit je do paměti SPD ROM. Využijte výhod XMP 3.0 u paměťového modulu AORUS DDR5.
Navrzený tak, abyste poznali rozdíl
Tento zbrusu nový paměťový kit AORUS RGB Memory byl navržen tak, aby byl nejlepší a poskytoval absolutní výkon.
Vyniknou nad konkurencí svým stylovým luxusním design a lesklým povrchem.
RGB LED s difuzorem nabízejí společně s hliníkovými chladiči účinný odvod tepla a impozantní vzhled. Pokud chcete paměťový kit, který povznese váš počítač na vyšší úroveň, kit pamětí AORUS RGB jen tím, který váš počítač rozzáří!
Konstrukce paměti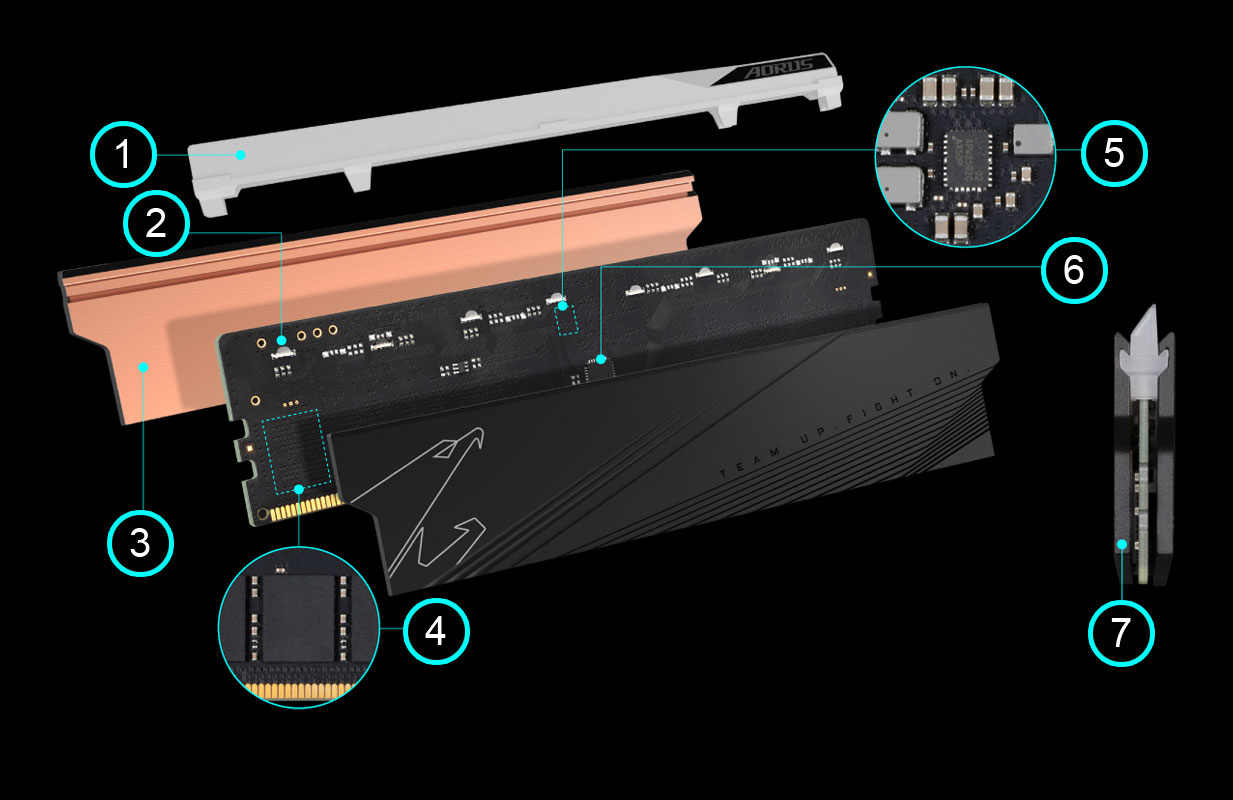 1
Exclusive light diffuser with AORUS pattern
3
Kompozit mědi a hliníku s NanoCarbonovým rozvaděčem tepla
4
Vysoce kvalitní integrovaný obvod paměti
5
Vysoce kvalitní integrovaný obvod PMIC pro stabilní napájení
6
MCU for lighting control
7
Chladič má tloušťku 2 mm, což zlepšuje účinnost odvodu tepla.
RGB Fusion 2.0
DDR Exclusive Lighting Effects
AORUS RGB Memory supports a variety of lighting modes. Some of the lighting modes are only for the AORUS RGB Memory. Color strobe, Cascade, Color Cascade, Droplet and Color Droplet are the new modes that adds unique style to your system.
Poznámka: Zobrazené světelné efekty jsou pouze pro demonstrační účely. Skutečné světelné efekty se mohou lišit podle modelu.
Díky integrovanému intuitivnímu uživatelskému rozhraní vám RGB Fusion 2.0 nabízí lepší řešení pro přizpůsobení světelných efektů u všech podporovaných zařízení. Od základních desek, grafických karet až po periferie můžete přizpůsobit svou herní sestavu podle vlastního stylu a předvést ji sdílením profilů. Navíc jsou osvětlovací efekty díky novému hernímu režimu interaktivní s vybranými hrami, abyste si mohli vychutnat co nejvíce pohlcující herní zážitky.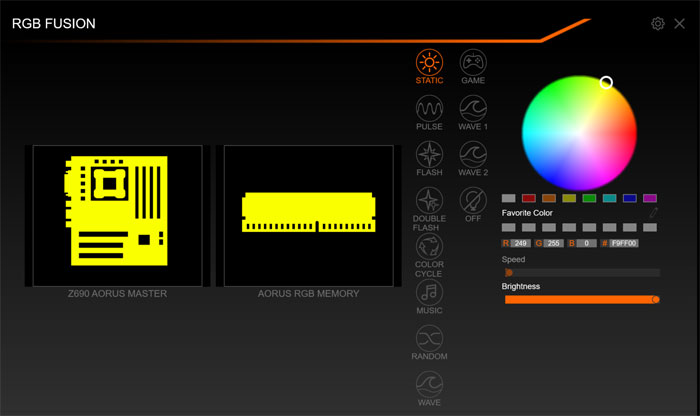 Sync with one click
Individual control as you wish


Testovany a pripraveny k bitve
Všechny paměťové moduly byly testovány přísnými standardními zkušebními postupy, aby měli uživatelé zaručen maximální výkon bez kompromisů.
XMP 3.0 Supported, Define Your Own XMP Profile
AORUS DDR5 RGB memory module supports the latest XMP 3.0 specification, improves overclocking capabilities and profiles. Users can define and fine-tune their own XMP profiles and save profiles into SPD ROM.

Doživotní záruka
Všechny kity AORUS RGB Memory nabízí doživotní záruku. V případě výskytu problému jsou servisní centra společnosti GIGABYTE schopny nabídnout technickou podporu .
Rozměry
* Product specifications and product appearance may differ from country to country. We recommend that you check with your local dealers for the specifications and appearance of the products available in your country. Colors of products may not be perfectly accurate due to variations caused by photographic variables and monitor settings so it may vary from images shown on this site. Although we endeavor to present the most accurate and comprehensive information at the time of publication, we reserve the right to make changes without prior notice.