Maximaal 5 modellen om te vergelijken! Verwijder een paar modellen voordat je er toevoegd. Bedankt.
B550 AORUS ELITE AX V2 (rev. 1.0)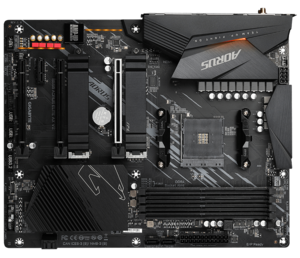 Downloads
CPU Support
Handleiding
Support List
FAQ
Downloads
CPU Support
Support List
Handleiding
FAQ
Download from the server closest to you – Asia, China, North America, Europe, Russia.
U kunt de PDF bestanden openen metAcrobat Reader

Downloads
Audio

Chipset

LAN

SATA RAID

WLAN+BT

BIOS(+5)

Omschrijving

Versie

Groote

Datum

APP Center

(Note) Support AMD 500 series motherboards (support may vary by model).

(Note) Please install Microsoft .NET Framework 4.5 first before install APP Center utility.

B20.0803.1

5‎3,62 MB

2‎020-11-26

Easy Tune

(Note) Support AMD 500 series motherboards (support may vary by model).

(Note) Please install APP Center first before install this utility.

B20.1030.1

1‎2,49 MB

2‎020-11-26

System Information Viewer

(Note) Support AMD 500 series motherboards (support may vary by model).

(Note) Please install APP Center first before install this utility.

B20.1105.1

1‎2,95 MB

2‎020-11-26

On/Off Charge™ / On/Off Charge™ 2

(Note) Support Intel 500/400 and AMD AM4 series motherboards (support may vary by model).

(Note) Please install APP Center first before install this utility.

B20.717.1

1‎2,14 MB

2‎020-07-17

@BIOS

(Note) Please install APP Center first before install this utility.

B20.0709.1

1‎3,66 MB

2‎020-07-09

Realtek Gaming LAN bandwidth Control Utility

(Note) Support AMD 500 series motherboards (support may vary by model).

4‎.10.3001.1

7‎3,60 MB

2‎020-05-29

Fast Boot

(Note) Support Intel 500 series and AMD AM4 /TRX40 series motherboards (support may vary by model).

(Note) Please install APP Center first before install this utility.

B20.0420.1

8‎,60 MB

2‎020-05-28

Smart Backup

(Note)

Support Intel 500/400/300/X299 and AMD TRX40/AM4 series motherboards (support may vary by model).

(Note)

Please install APP Center first before install this utility.

OS

: Windows 7 64bit,Windows 7 32bit,Windows 10 64bit

B18.0911.1

4‎9,49 MB

2‎018-10-05
Support List

Support List(+5)

Name

Groote

Datum

Omschrijving

Handleiding

Handleiding(+6)

Taal

Versie

Groote

Datum

Omschrijving

Arabisch, Bulgarian, Croatian, Tsjechisch, Engels, Frans, Duits, Grieks, Hebrew, Hongaars, Indonesisch, Italiaans, Japans, Koreaans, Perzisch, Pools, Portugees, Romanian, Russisch, Vereenvoudigd Chinees, Serbian, Spaans, Thai, Traditionele Chinese, Turks, Vietnamese

1‎03

9‎,03 MB

2‎019-11-25

Multilingual Installation Guide
CPU Support