AORUS RGB Memory DDR5 32GB (2x16GB) 6000MT/s
ARS32G60D5R
AORUS RGB Memory DDR5 6000MHz 32GB Memory Kit, XMP 3.0, Supports AORUS Memory Boost and RGB Fusion 2.0, Selected High Quality Memory ICs, INTEL Z690 certified.
Memory Size :32GB Kit (2 x 16GB)
Frequency : DDR5-6000 MHz
Timing : 40-40-40-76 (XMP 6000MHz)
Performance Profile : XMP 3.0
Copper-aluminum composite heat spreaders with nano carbon coating to keep performance
Intel Z690 certificated
Lifetime warranty
Comply with industrial standard JEDEC DDR5
RGB Fusion 2.0 Supported
* Please refer to support list for more detail
Nova generacija, novo iskustvo
AORUS RGB Memory DDR5 6000 MHz (2x 16 GB) memorijski komplet
Copper-aluminum Composite with
NanoCarbon Heat Spreader
AORUS DDR5 RGB memorija usvaja novi bakarno-aluminijumski kompozitni hladnjak Kombinujte prednosti toplotne provodljivosti bakra i rasipanja toplote aluminijuma, tako da nema kompromisa prilikom overkloka. Pored toga, sa nano-karbonskim premazom se poboljšava pasivno odavanje toplote hladnjaka pod ultra-visokim performansama. Materijal za premazivanje pokriva čitave hladnjake, pa se na taj način toplota brže rasipa. Visoki napon može da izazove visoku temperaturu memorije preko 70°C i prestanak rada. Međutim, bakarno-aluminijumski spoj sa nano-karbonskim hladnjakom, namenskim dizajnom za DDR5, u velikoj meri pomaže da se izbegne bilo kakav potencijalni problem prilikom overklokovanja i održava temperaturu ispod 70°C.
Za brže rasipanje toplote
Za brže provođenje toplote
Niža radna temperatura korišćenjem bakarno-aluminijumske legure sa NanoCarbon hladnjakom (Napon: 1.35V)
AORUS DDR5 RGB memorija sa hladnjakom
DDR5 modul bez hladnjaka
* Rezultati testova su bazirani na internim testiranjima i tu su samo kao referenca. Realne performanse mogu varirati pod drugim uslovima.
Visoka stabilnost i bolja efikasnost
Svi višeslojni PCB-ovi prolaze strogu kontrolu kvaliteta koja osigurava stabilne performanse.
AORUS DDR5 RGB memorijski modul poseduje novu funkciju, ECC na jezgru, koja omogućava samostalnu ispravku DRAM ćelije. ECC na jezgru donosi pouzdanost i čini vaš PC stabilnijim nego pre.
3.
Integrisano kolo za upravljanje potrošnjom (PMIC)
najnoviji DDR5 moduli imaju ugrađeno integrisano kolo za upravljanje potrošnjom (PMIC). Ono otključava kontrolu DDR5 napona, unapređujući overklok performanse i mogućnosti.
Podržava novi XMP 3.0, Definišite svoj XMP profil
AORUS DDR5 memorijski modul podržava najnovije XMP 3.0 specifikacije, poboljšava overklok mogućnosti i profile. Korisnici ne samo da mogu da primenjuju unapred pripremljene XMP profile, već i da definišu i da fino podešavaju svoje XMP profile, i da čuvaju profile u SPD ROM. Uživajte u prednostima XPM 3.0 sa AORUS DDR5 memorijskim modulima.
Osmišljena da napravi razliku
Potpuno novi AORUS RGB memorijski komplet je osmišljen da bude najbolji i da isporuči apsolutne performanse.
Stilizovani, luksuzni dizajn i sjajna završnica omogućavaju mu da se istakne u odnosu na konkurenciju.
Difuzni RGB LED-ovi, upareni sa aluminijumskim hladnjakom obezbeđuju efektivnu toplotnu disipaciju i impresivan stil u isto vreme. Ako želite memorijski komplet koji će podići vaš PC na viši nivo, AORUS RGB memorijski komplet je ono što vam treba da vam sistem zasija!
Sastav memorije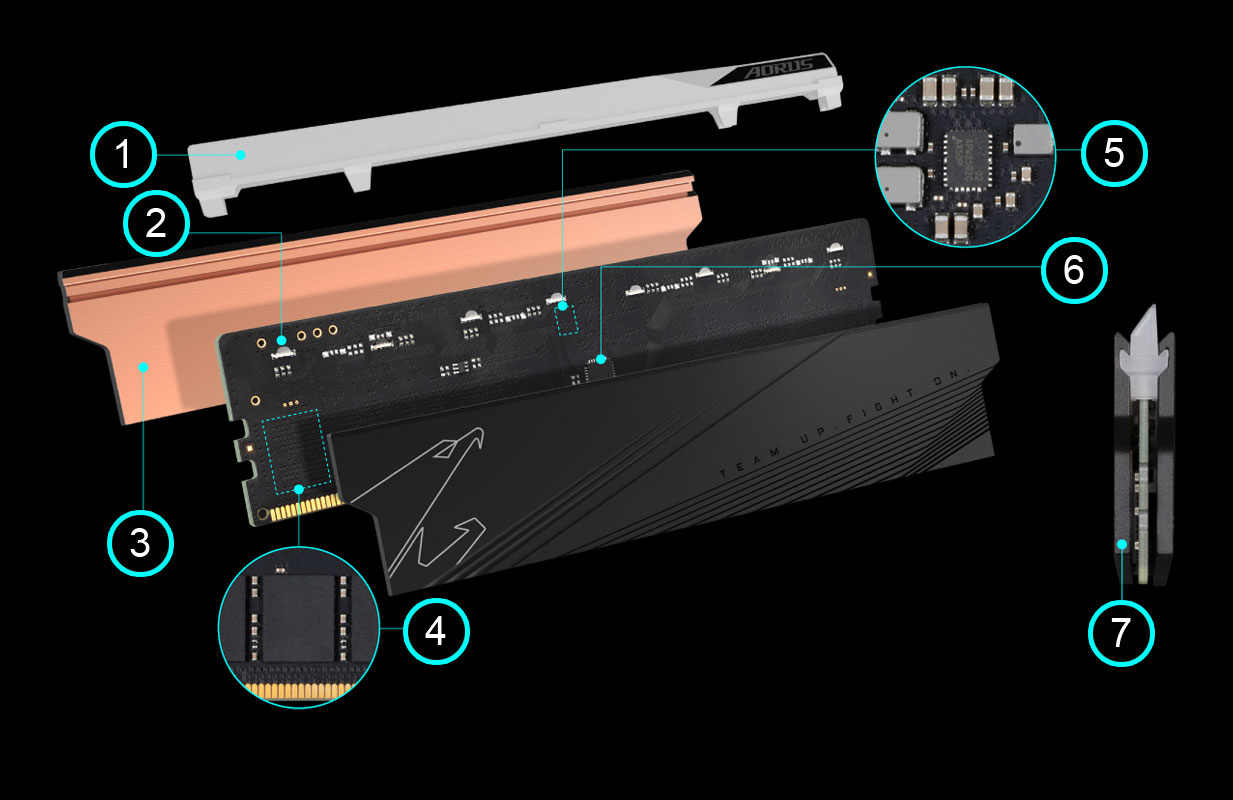 1
Ekskluzivni svetlosni difuzer sa AORUS šablonom
3
Bakar-aluminijum legura sa NanoCarbon hladnjakom
4
Memorijsko IC visokog kvaliteta
5
PMIC IC visokog kvaliteta za stabilno napajanje
6
MCU za kontrolu osvetljenja
7
Hladnjaci su 2 mm debeli, poboljšavaju efikasnost rasipanja toplote.
RGB Fusion 2.0
DDR ekskluzivni svetlosni efekti
AORUS RGB Memory podržava različite svetlosne režime. Neki od svetlosnih režima su samo za AORUS RGB Memory. Svetlosni strob, kaskada, kaskada boja, kapi i kapi u boji su novi režimi koji dodaju jedinstven stil vašem sistemu.
Napomena: Prikazani svetlosni efekti su tu samo zarad demonstracije. Pravi svetlosni modeli mogu se razlikovati po modelu.
Sa integrisanim, intuitivnim korisničkim interfejsom, RGB Fusion 2.0 vam obezbeđuje bolje rešenje za prilagođavanje svetlosnih efekata za sve podržane uređaje. Od matičnih ploča, grafičkih karti do periferija, možete personalizovati svoju gejming mašinu svojim stilom i hvaliti se deljenjem profila. Dodatno, novi gejming režim čini svetlosne efekte interaktivnim sa određenim igrama, kako bi se kreiralo okružujuće gejming iskustvo.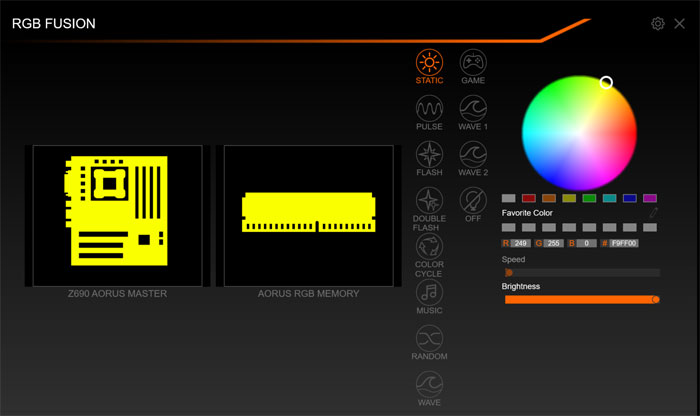 Sync with one click
Individual control as you wish


Testirana i spremna za borbu
Svi memorijski moduli su testirani putem striktnih standardnih test procedura kako bi garantovali da korisnici dobiju ultimativne performanse bez kompromisa.
XMP 3.0 podrška, Definišite svoj XMP profil
AORUS DDR5 RGB memorijski modul podržava najnoviju XMP 3.0 specifikaciju, poboljšava overklok mogućnosti i profile. Korisnici mogu da definišu i fino podese svoje XMP profile i sačuvaju profile u SPD ROM.

Doživotna garancija
Svi AORUS RGB memorijski kompleti nude ograničenu doživotnu garanciju. GIGABYTE-ovi servisni centri nude tehničku podršku u slučaju da se desi neki problem.
Dimenzije
* Product specifications and product appearance may differ from country to country. We recommend that you check with your local dealers for the specifications and appearance of the products available in your country. Colors of products may not be perfectly accurate due to variations caused by photographic variables and monitor settings so it may vary from images shown on this site. Although we endeavor to present the most accurate and comprehensive information at the time of publication, we reserve the right to make changes without prior notice.