Enterprise Solutions for 4th Gen Intel® Xeon® Scalable Processors
Time and productivity matter. For the 4th Gen Intel Xeon platform, GIGABYTE has solutions ready to ensure the best performance from new, leading technology.
Accelerating Artificial Intelligence and Leading Efficiency
Engineering richer features in a revolutionary platform, Intel has made an incredible jump in processor performance in the business transformation journey. AI and deep learning performance will benefit from the built-in AI acceleration engines, while networking, storage, and analytics leverage other specialized accelerators in the 4th Gen Intel Xeon Scalable processor. Adding a host of new features to target a wide range of workloads, the new family of Xeon processors will deliver even better CPU performance and performance per watt, and do so on a PCIe 5.0 platform with 2x the prior gen throughput to greatly speed up data movement to and from GPUs and storage. Another new addition is High Bandwidth Memory (HBM) in the Intel Xeon Max series CPUs. For this new platform, GIGABYTE has products ready to get the most out of Xeon CPU-based systems that support fast PCIe Gen5 accelerators and Gen5 NVMe drives, in addition to support for high performant DDR5 memory.
Redefine Performance with 4th Gen Intel® Xeon® Scalable Processors
Acceleratorsbuilt-in
Increase ROI while improving efficiency and performance
Up to

60performance cores

More tasks can be done simultaneously and faster with dedicated cores
PCIe 5.0lanes
Increased IO throughput achieving 128GB/s bandwidth in PCIe x16 lanes
HBMmemory
Xeon Max CPUs for HPC and memory bound workloads
DDR5memory
Increased memory throughput and higher DDR5 capacity per DIMM
CXL 1.1support
Disaggregated compute architecture possible via Compute Express Link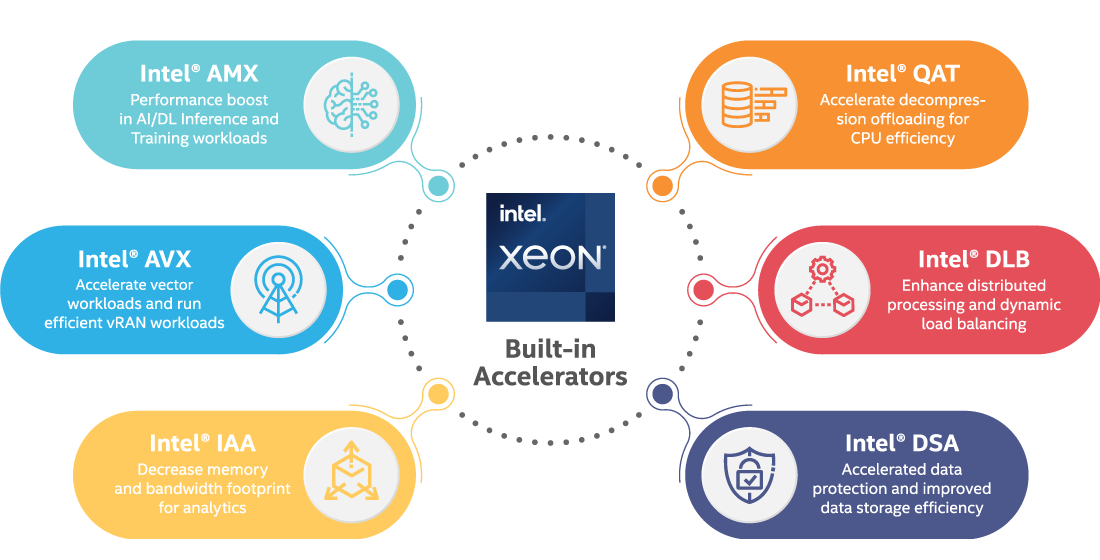 Select GIGABYTE for the 4th Gen Intel Xeon Scalable platform
High CPU Performance

The best in computational performance relies on a system well designed by our engineers to adequately dissipate heat to achieve peak performance.

Energy Efficiency

Our engineers have baked in features to achieve higher efficiency from power supplies and server fans. Along with Titanium and Platinum offerings.

Optimal Price

GIGABYTE releases multiple product models and configurations to target exactly what users want without paying for extra features that go unused.

Ease of Administration

GIGABYTE servers come with GIGABYTE Management Console for server management. Using a web based browser remotely is key to easing management.

Continuous Operation

Systems are rigorously designed and tested to ensure downtime will not occur. Customers have come to expect stable performance.
Introducing an Innovative Portfolio for the 4th Gen Intel Xeon Scalable Platform
Join our veteran product marketing team member, Akira Hoshino, as he provides an overview of our new GIGABYTE products for the 4th Gen Intel ® Xeon ® Scalable processor. With built-in accelerators, the new Xeon CPU offer greater possibilities, in addition to PCIe Gen5 and DDR5 technologies.
Akira Hoshino
Head of Product Planning
Featured New Products
4th Gen Intel® Xeon® Scalable DP Motherboard

4th Gen Intel® Xeon® Scalable Server System - 2U DP 12+2-Bay NVMe/SATA/SAS | Application: Networking

4th Gen Intel® Xeon® Scalable UP Motherboard

Edge Server – 1U UP 4th Gen Intel® Xeon® Scalable Server System NVMe/SATA/SAS | Application: Networking & Edge