Advanced Cooling Solutions

Liberating the Max Potential of Your Data Center with the Minimal Business Expense

Save Big
Save Big
《

Liberating the Max Potential of Your Data Center with the Minimal Business Expense

》
Your Hot Innovation Deserves a Cool Solution
Overcoming the challenges of today's hiking power consumption in data centers with optimized operation stability and PUE (Power Usage Effectiveness) by implementing servers designed for cooling methods that fit your IT strategy, from air, liquid, to immersion.
Get to Know Your Cool
Air Cooling

Cool air is pumped through floor vents into the data center's "cold aisle" and channeled through the server racks, transferring heat to the "hot aisle". The heated air is drawn into ceiling vents and chilled by the computer room air conditioning (CRAC) unit, thus renewing the cycle.

GIGABYTE servers are designed with optimized air flow to maximize the density of the servers and provide the highest computing performance which is achieved with Automatic Fan Speed Control that allows individual fan speeds to be automatically adjusted according to temperature sensors strategically placed in the servers.

Liquid cooling

DLC uses warm liquid rather than cold air to dissipate heat from computer and server components by capturing component heat in a closed liquid path. The heated liquid is then sent to the CDU to exchange for warm liquid and loop back for cooling.

GIGABYTE servers are designed with passive cold plate loops to eliminate separate pumping mechanisms to minimize system failure rate. The factory-installed liquid-cooled servers are drop-in ready to provide efficient cooling & heat dissipation for performance-demanding workloads.

Immersion Cooling

Immersion Cooling

Servers are submerged into a bath of non-conductive liquid to allow thermal generated by computer components to be transmitted into the fluid and cooled using either a single-phase method, which requires the dielectric coolant to be pumped by CDU to the heat exchanger outside the tank; or a two-phase method, in which the heat is removed through a cycle of liquid phase change of vaporization and condensation.

GIGABYTE servers are modular designed to quickly respond to customer needs and modify other air-cooled servers for submerged cooling systems. The

immersion cooling servers

are installed with brackets to support vertical installation/removal for easy management, and fanless server design deliver 10-20% lower power draw.

GIGABYTE immersion tanks are self-contained which need less servicing. The tanks are also equipped with sensors to maintain ideal operating temperature, and provide greater operation stability with redundant CDU.
Which Cooling Solution Fits Your Current IT Strategy?
What's the power consumption of your current data center?
How much space is available for your data center?
Barely room to walk
Room to expand
Empty lot to leverage
How flexible is your IT upgrade option?
I'd like it to stay the same
I can make some change
I want a new infrastructure
What budget do you have for a cooling upgrade?
Keeping it light
Highest CP Ratio
Spare no expense
What's the main purpose of your data center?
Virtual machine
Cloud services
AI / HPC Computing
Based on your results,
we recommend for you
Interested in making a cool integration?
Inquire more information
Our Suggestion
Trusted by the World's Leading Innovators
See Advanced Cooling in a Different Perspective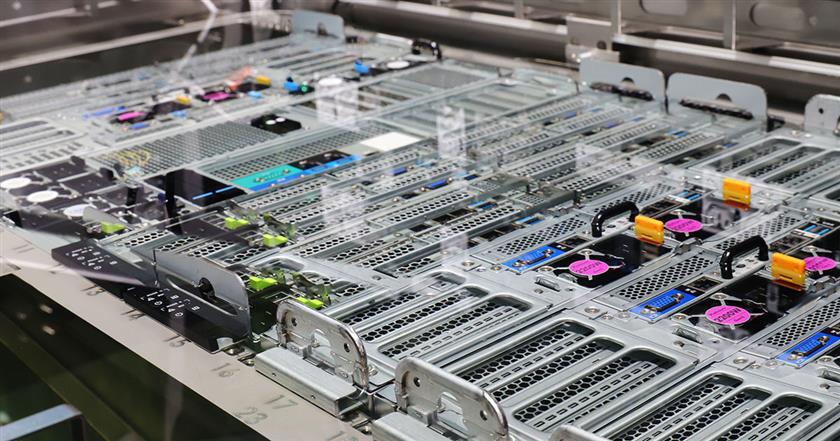 Getting Started with Your Cooling Solutions
May We Suggest
a Cool Idea