AORUS WATERFORCE X 280 ( with LCD display AIO liquid cooler )
New high performance pump efficiently dissipates heat from high end CPUs.
Unique 60x60mm circular full color LCD, video play/ custom text support.
Adjustable screen orientation can be rotated 330 degrees.
High performance, low-noise level, Graphene Nano Lubricant ARGB fans.
Supports RGB FUSION 2.0 synchronization with other AORUS devices.
Universal design for fan & pump RPM control, supports all MB brands.
Radiator and Fans

WATERBLOCK

SUPPORT NEXT-GEN AMD Ryzen™ 7000 PROCESSORS
Current mounting kit compatible with new coming AM5 (LGA 1718) motherboard.
EXCLUSIVE CIRCULAR LCD DISPLAY MODES
Customize your screen! The LCD display have brand new enthusiast modes and a special Chibi Time Mode. It also supports playing your own MP4/GIF/JPG formats for even more customization.
ENTHUSIAST MODE

ENTHUSIAST


MODE 1

ENTHUSIAST


MODE 2

ENTHUSIAST


MODE 3

ENTHUSIAST


MODE 4

ENTHUSIAST


MODE 5
FUNCTION MODE

Custom MODE

Custom text
Mode
Custom video/GIF/JPG
Mode
CHIBI TIME

ROTATABLE DESIGN
330 degrees manual rotatable design.
Free to adjust your preferred angle.
MICRO SD SUPPORT
AORUS exclusive design Micro SD port support. Through Micro SD card expands the storage space, it allows user loading more videos and pictures in RGB Fusion 2.0.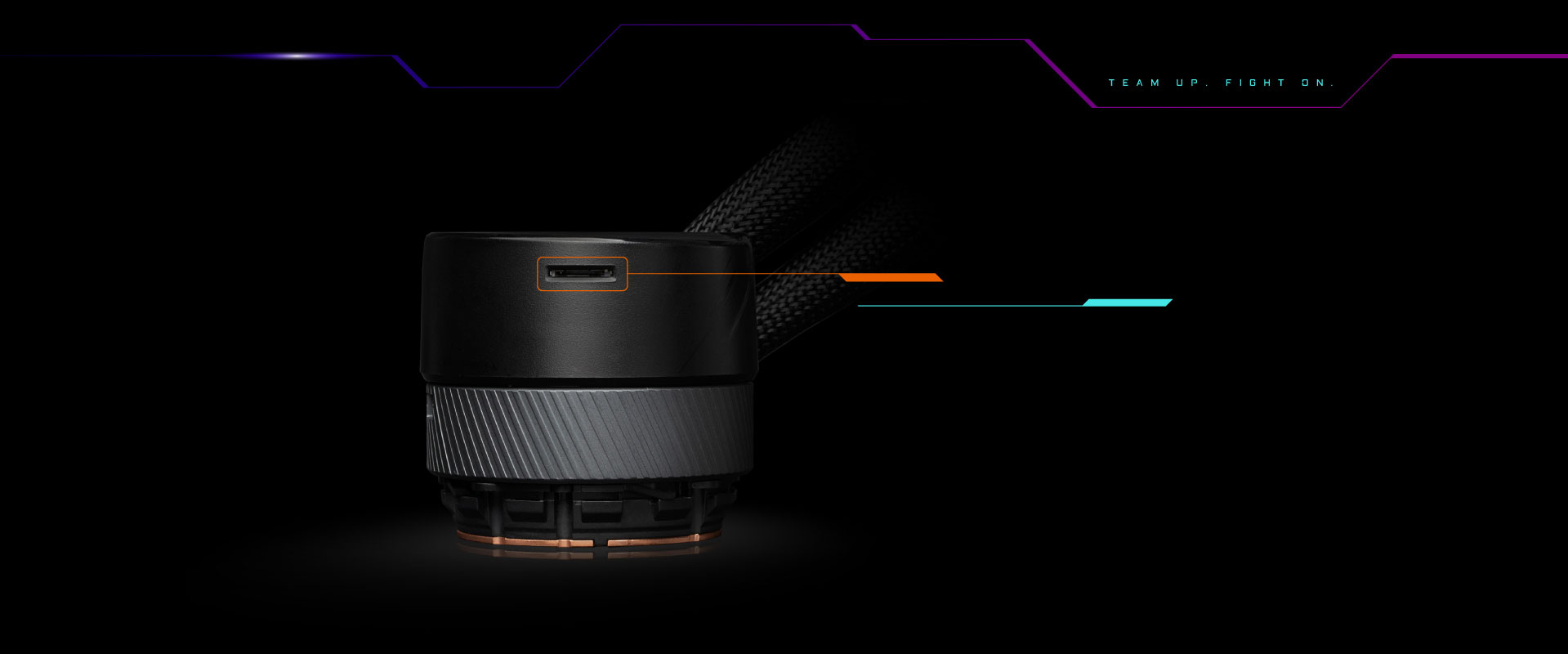 WATER TUBE DIAMETER ENLARGE
Tube diameter 5.1 mmØ enlarge to 7.8 mmØ, Raise up 37 % water flow and make heat dissipate quicker and more efficient.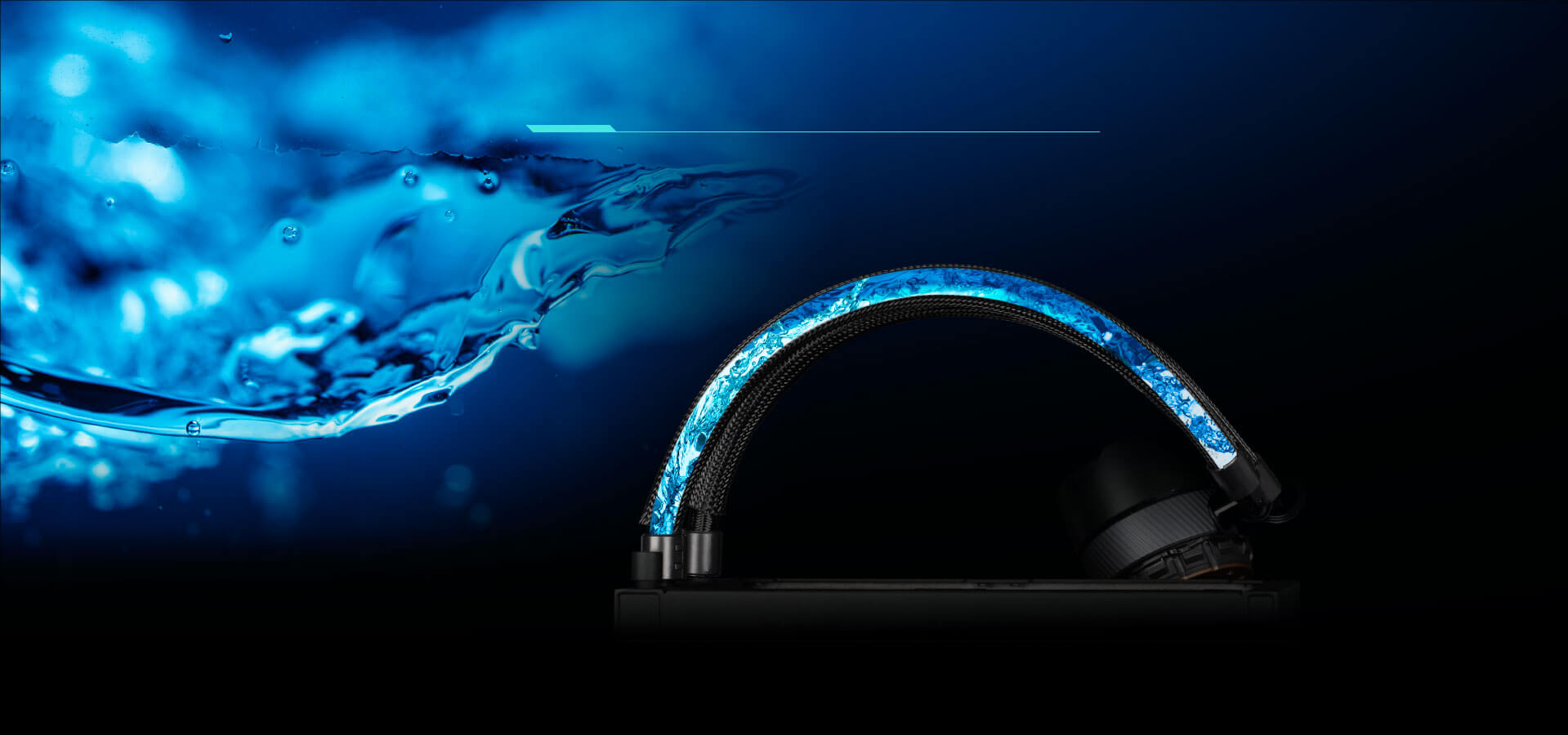 CERAMIC AXIS LONGER LIFE TIME
Ceramic axis has longer life time (376,715hrs) compared to traditional metal axis. Also, It is more durable and has anti-corrosion properties.
AORUS SILENT FANS EFFICIENT HEAT-DISSIPATING
Through extensive testing, AORUS have developed the most synergistic 140mm fan blade design to go with the 280mm radiator. It will deliver the most efficient heat dissipation while maintaining the lowest noise levels, even at the maximum speeds.
GRAPHENE NANO LUBRICANT FAN STRUCTURE
Graphene nano lubricant in the sleeve bearing fan reduces the noise levels while extending the life of the fan by 2.1x (73,500hrs), matching the life of double ball bearing design while being quieter.
UNIQUE FAN BLADE DESIGN
The 140mm dynamic adjusting fan provides the silent operation. The airflow is split by the triangle fan edge, and guided smoothly through the 3D stripe curve on the fan surface, effectively enhancing the airflow by over the traditional fans.
SYNCHRONIZE MORE AORUS FANS LIGHTING
Each AORUS fan provide ARGB male and female header.
User can connect more AORUS fans synchronize lighting pattern create cool and uniform lighting system.
CABLE ARRANGEMENT
Fan and LED cables have been moved to the side of the radiator. More easy and quick way to connect the fans.
RGB Fusion 2.0
All-new RGB LED Design. RGB Fusion 2.0 Software allows users to control the lighting patterns on the AORUS Falcon logo and fan blades and enables lighting synchronization with peripherals so that users can showcase their own style.
Note: Lighting effects depicted are for demonstration purposes only. Actual lighting effects may vary by model.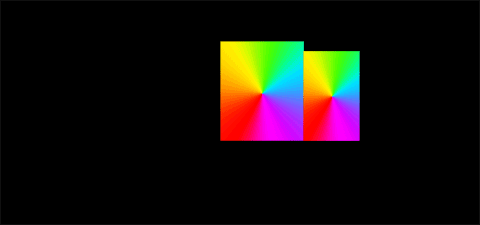 * Product specifications and product appearance may differ from country to country. We recommend that you check with your local dealers for the specifications and appearance of the products available in your country. Colors of products may not be perfectly accurate due to variations caused by photographic variables and monitor settings so it may vary from images shown on this site. Although we endeavor to present the most accurate and comprehensive information at the time of publication, we reserve the right to make changes without prior notice.