You may only add up to 5 items for comparison at one time.
B450M AORUS ELITE (rev. 1.x)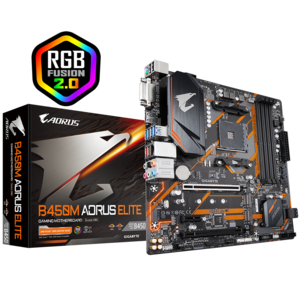 Downloads
CPU Support
Manual
Support List
FAQ
Downloads
CPU Support
Support List
Manual
FAQ
Download from the server closest to you – Asia, China, North America, Europe, Russia.
You will need to view these PDF files with Acrobat Reader.

Downloads
BIOS(+7)

Version

Size

Date

Description

F62

10.72 MB

2021/07/22

Update AMD AGESA ComboV2 1.2.0.3 B for Ryzen 5000 G-Series processors support

F61

10.62 MB

2021/03/12

Update AMD AGESA ComboV2 1.2.0.0 for Ryzen™ 5000/ 4000 series processors support
AMD Smart Access Memory function support

F3

10.19 MB

2020/08/03

Update AMD AGESA ComboV1 1.0.0.6 for 3rd Gen AMD Ryzen XT series processors
Fix AMD security vulnerabilities for SMM Callout Privilege Escalation

F2

10.14 MB

2019/11/27

Update AMD AGESA 1.0.0.4 B
Improve system boot time
Improve RAID function compatibility
Improve PCIe device compatibility
Support List

Support List(+8)

Name

Size

Date

Description

Manual

Manual(+6)

Language

Version

Size

Date

Description

Arabic, Bulgarian, Croatian, Czech, English, French, German, Greek, Hebrew, Hungarian, Indonesian, Italian, Japanese, Korean, Persian, Polish, Portuguese, Romanian, Russian, Simplified Chinese, Serbian, Spanish, Thai, Traditional Chinese, Turkish, Vietnamese

103

9.03 MB

2019/11/25

Multilingual Installation Guide
CPU Support