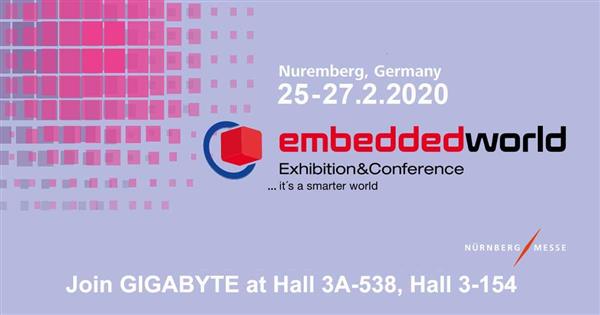 Nuremberg, Germany |
embedded world 2020
embedded world – the leading international fair for embedded systems
Barcelona, Spain |
MWC 2020
The largest mobile event in the world brings us the latest innovations and leading-edge technology.
Las Vegas, USA |
CES 2020
CES is the world's gathering place for all those who thrive on the business of consumer technologies. It has served as the proving ground for innovators and breakthrough technologies for 50 years.
Los Angeles, CA |
Adobe MAX 2019
Join GIGABYTE at Adobe MAX, where designers and developers come together!
Dubai |
39th GITEX Technology Week
The fastest growing global startup event in the Middle East, Africa & South East Asia for rule breakers, game changers & dream makers.
Amsterdam, Netherlands |
OCP Regional Summit
The Open Compute Project (OCP) is a collaborative community focused on redesigning hardware technology to efficiently support the growing demands on compute infrastructure.
Kuala Lumpur, Malaysia |
Mobile 360 Digital Societies
Under the theme Platforms for the Digital Economy, a line-up of industry leading speakers discuss how technologies including AI, Blockchain, Fintech, and 5G are being developed and deployed throughout APAC.
San Francisco, USA |
VMworld US
VMworld 2019 captures the momentum of today's rapidly changing IT environment and puts it within your grasp so you can accelerate your cloud journey to support your business.
Penang, Malaysia |
Taiwan Expo 2019 in Penang, Malaysia
Taiwan Expo presents and shares Taiwan's experience in various industries such as technology, agriculture, design, medical care, education, and tourism. This year GIGABYTE is proud to be part of Taiwan Expo 2019 in Penang, Malaysia and very excited to bring successful solutions such as smart IoT, Hybrid Cloud and Software Defined Storage solutions to your eyes.