A world-renowned automotive manufacturer uses Computational Fluid Dynamics (CFD) simulation software, analyzing huge amounts of data to optimize the design of their vehicles. They selected GIGABYTE's high density multi-node servers to build a high-performance computing cluster for their vehicle design center, making the most efficient use of the limited space available to deliver maximum computing power to their aerodynamic engineering team.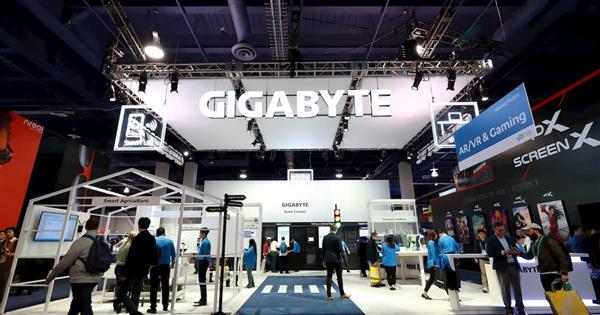 Our CES booth is luminously lit to disseminate a futuristic aura, and live at the booth are tech demos available for visitors to touch and experience. On the show floor are our product experts providing insights and sharing technology experience. Let's take a look at how you can find your smart innovations in GIGABYTE's solutions!
High Performance Computing (HPC) can complete complex and large-scale computational analysis workloads in a relatively short amount of time, bringing about many breakthroughs in scientific and technological development. HPC is also an indispensable tool for contemporary scientific research, and the number of fields that it can be applied to is constantly growing, such as for weather forecasting, earthquake imaging or genetic analysis. Even oil extraction can now rely on HPC to improve process efficiency and accuracy, allowing mining companies to save a huge amount of money and giving them a greater competitive advantage in the energy market.
In the 21st century, various breakthroughs in image creation and animation have been made using powerful computer graphics capabilities. Whether it is a perfect montage of virtual and real images, or exquisitely gorgeous visual effects, High Performance Computing (HPC) empowers artists using technological media to convey a wealth of ideas that will exceed your wildest imagination. Taiwan's National Center for High-Performance Computing has adopted GIGABTYE's GPU servers to provide the best computing performance capabilities possible for their Render Farm service.
The application of technological innovation to the financial industry has made the availability of information channels for investors ever more extensive. Investors want to keep their finger on the pulse of global finance, whether it is the price of stocks or futures in important financial markets, or receiving the most immediate financial news available. When processed by GIGABYTE's Rack Servers, this huge and complex amount of data can be swiftly and systematically analyzed before being immediately transmitted and presented, helping people in the financial industry make more accurate decisions and seize more profitable opportunities.
This article will take a closer look at two usage example, one is for the production crew for YouTubers and the other is for photographers. Let's see how the all-new AERO 15 OLED can assist these creative professionals achieve their goals quickly and effectively.
As environmental protection is becoming a pressing issue in recent years due to climate change and global warming, data centers – which traditionally consume a huge amount of electricity – are being designed to better meet the goals of energy efficiency and carbon reduction. When a national aerospace center in Europe wanted to expand their data center, with a requirement for servers that could maintain normal operation in an ambient temperature environment of 40°C without the need for air conditioning systems, GIGABYTE's server team provided a solution with Hyper-Converged Infrastructure (HCI), combining compute, storage and networking into a single system, and equipped with liquid cooling technology to successfully overcome the harsh high temperature environment, enabling the data center to efficiently process an enormous amount of space-related research data within a limited space.
We can't take you to the future with a post, but we can take you to our GIGABYTE booth, and show you what we have on display this year.
GIGABYTE can now offer various server platforms with liquid cooling technology, such as direct-to-chip liquid cooling (liquid to liquid or liquid to air), one-phase oil immersion or two-phase liquid immersion technologies. Liquid cooling systems can support a greater density of CPUs and GPUs, enabling better compute performance in a given amount of space, as well as helping customers to reduce their power consumption for cooling infrastructure, to achieve a better data center PUE.